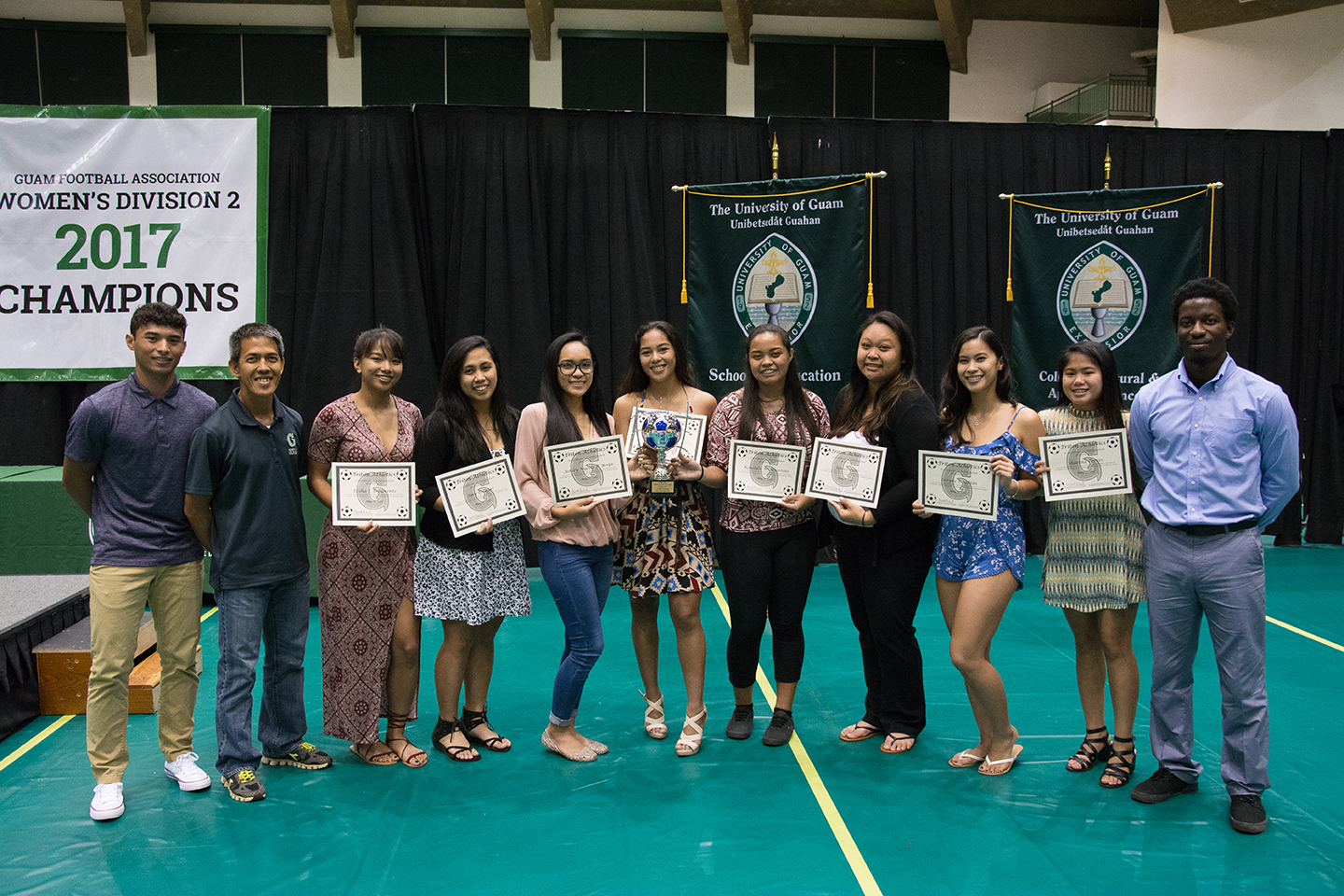 PRESS RELEASE – The University of Guam Triton Athletics presented over 20 awards on Monday night at the UOG Student-Athlete Awards Reception held in the UOG Calvo Field House.
More than 50 student-athletes were present, in addition to UOG administrators including UOG President Dr. Robert A. Underwood, Senior Vice-President of Academic and Student Affairs Dr. Anita Borja Enriquez and Vice-President of Administration and Finance Randy Wiegand.
Others in attendance were former Guam Senator Nerissa Underwood, UOG Chief Planning Officer David Okada, UOG Chief Information Officer Rommel Hidalgo, Dean of the College of Liberal Arts and Social Sciences James Sellmann, Director of Development and Alumni Affairs Norman Analista, Director of Integrated Marketing Communications Jonas Macapinlac, Acting Director of the RFK Library Monique Storie, and Student Government Association President Samantha David. Also in attendance were family and friends of the student-athletes.
The award ceremonies started out with welcoming remarks and congratulations to the student-athletes from President Underwood and Vice President Wiegand, followed by a short update on the positives of the year from Athletic Director Doug Palmer. Palmer also noted the challenges the new Triton Athletics program has faced to get four varsity athletic programs started.
Some of the "Positives" For 2016-17 mentioned were:
Women's Soccer – Spring 2017 Guam Football Association Women's Division 2 Champions
Men's Basketball – Guam Men's Basketball College League Champions
Women's Volleyball – Guam Women's Volleyball College League Champions
Women's Volleyball – Trip to Taiwan
Scholarships – Athletics to give sport scholarships in the Fall of 2017
Summer Camps – UOG Athletics begins summer camps in 2017
Additional Varsity Sports – UOG plans to add other sports in the near future to include baseball, women's basketball, men's volleyball, softball and women's rugby
Athletic Hall of Fame – UOG plans to start an Athletic Hall of Fame and will begin inductions in the Fall of 2017The reception then moved to award portion of the program and UOG Volleyball Head Coach Tatiana Sablan came forward to give out the volleyball awards:

Academic Awards (4.00 GPA for Fall 2016) were given to:
Jestyne Sablan
Jasmine Almoguera
Beeheartly SibaVolleyball Awards:
Most Improved – Lori Okada
Sportsmanship – Beeheartly Siba
Best Defense – Jasmine Almoguera
Best Offense – Andriana Chang
Most Valuable Player – Jestyne SablanHead Coach Brent Tipton then stepped up to the microphone for the UOG Men's Basketball Team to present four awards to his Triton team to include:

Men's Basketball Awards:
Sportsmanship – Tony Taianao
Best Defense – Rafael Sablan
Best Offense – Andrew Carlos
Most Valuable Player – Ryan NangautaThen Men's and Women's Soccer Coach Rod Hidalgo came forward to give awards to his Triton teams:

Appreciation Awards were given to two men's soccer players who are transferring to mainland universities in 2017-18:
Ben Wiegand, Jr.
Tyler GeorgeMen's Soccer Awards:
Sportsmanship – Dominic Gadad
Best Defense – Kautong Omengkar
Best Offense – Jacques Diambra
Most Valuable Player – Dylan NaputiWomen's Soccer Awards
Sportsmanship – Amy Dydasco
Best Defense – Koholali'i Maertens
Best Offense – Elisha Benavente
Most Valuable Player – Shaeina Torres

QUICK HITS
Guam MTB National Championship: Edward Oingerang and Jennifer Camacho are your 2023 MTB national champions. Oingerang finished the course in 1:13:24 while Camacho won her second straight title in 54:08.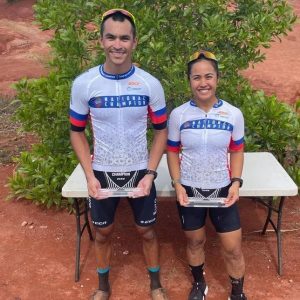 ——————————————
Kobe Miyashita, with St. John's coach Arvin Flores, was named the 2023 IIAAG Middle School Boys Volleyball MVP!