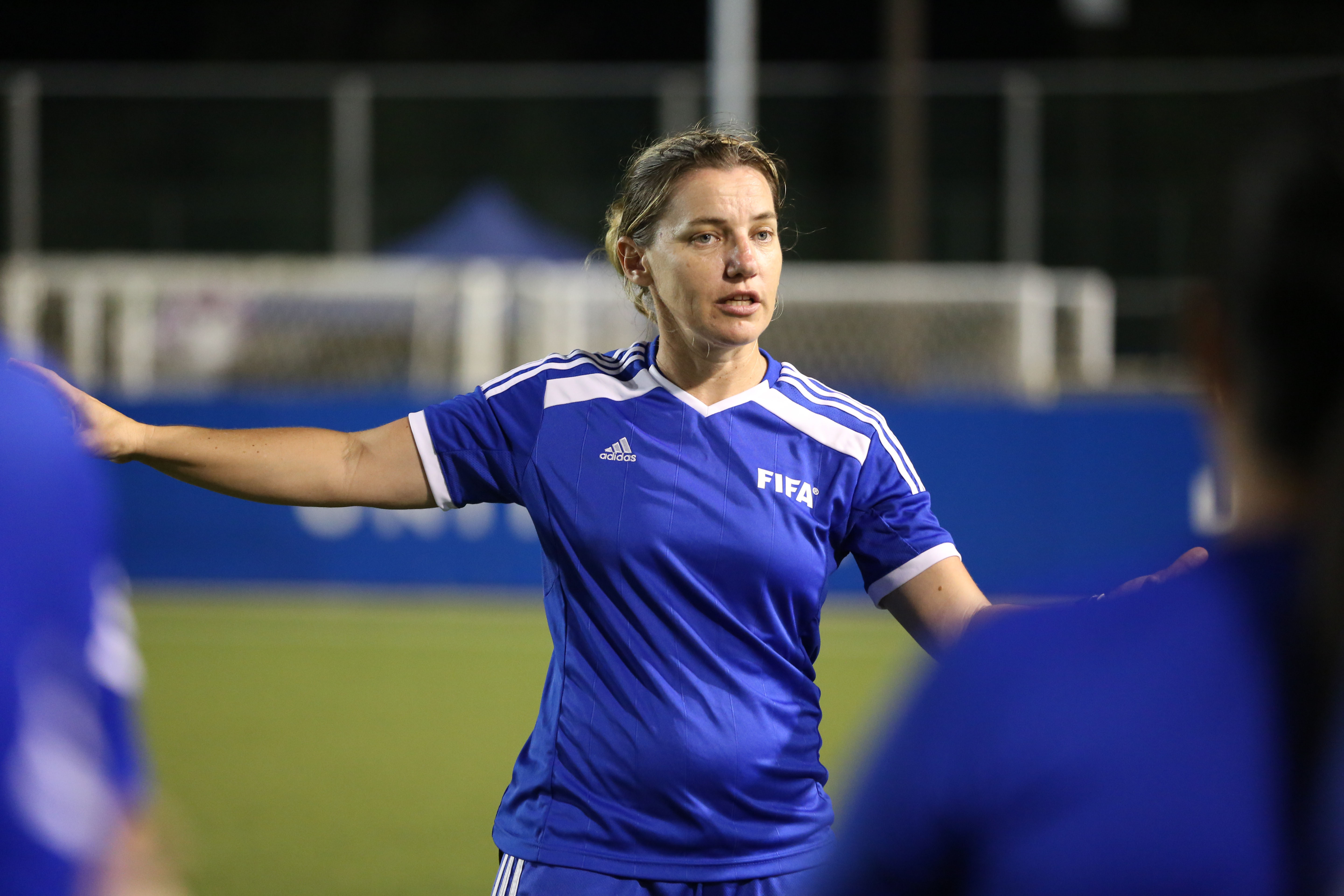 PRESS RELEASE – Highly decorated professional coach and FIFA Technical Study Group member Belinda Wilson of Australia officially has been named Technical Director of Guam Football Association and head coach of the Masakåda, Guam women's national team.
Wilson arrived in Guam May 16 after signing a two-year contract, with an option to renew, for the positions at GFA.
"Most of all it's exciting obviously getting to know the people involved in football in Guam, but also understanding where we are from a footballing perspective," Wilson said. "I think the overall impression I've gotten so far is that everyone is keen and passionate about football and developing the game on the island, with the focus around youth development.
"What I've noticed during the FIFA coaching course I facilitated last year in Guam and my time recently watching IIAAG girls high school games, is we need to work more on building a better understanding of the key principals in each moment of play enabling our youth players to develop into senior leagues with a better base, while also looking at more coach education on island to help our coaches develop more players at a higher level as well," Wilson added.
Wilson first visited Guam in July 2016 as a FIFA instructor for a FIFA Women's Coaching Course and later in the year, assisted coaches on staff and players called up to the Masakåda for the EAFF E-1 Football Championship Semifinal Round Women's Competition in Hong Kong.
Before accepting the technical director position in Guam, Wilson was formerly head coach of the Brisbane Roar Women, a professional football team in the W-League in Australia. While with the Roar, the team won the premiership in her first season and was runner up in the championship series the following season. Wilson also held the title of Head of Performance for Women's Football with Queensland Academy of Sport and served as head coach of Australia's U17 women's national team, the U17 Matildas, from 2013-2014.
Outside of Australia, Wilson was formerly Women's Football Coach Education and Development Officer for Asian Football Confederation (AFC) from 2006 to 2007 before becoming AFC Director of Women's Football the following year. Wilson continues as both a FIFA and AFC instructor and a FIFA TSG member.

COMING SOON …
GUAM SPORTS ON HOLD DUE TO SUPER TYPHOON MAWAR
QUICK HITS
Bishop Obispos beat Mt. Carmel for the IIAAG Middle School Girls Basketball championship 37-25.
—————————————-
The Benavente Roadrunners crushed the Agueda Pirates 17-1 to win the 76 PONY Middle School Baseball League. Rodney San Nicolas was a beat, striking out 13 batters in a complete game while going 4-for-4 at the plate, including a homer and 4 RBI.