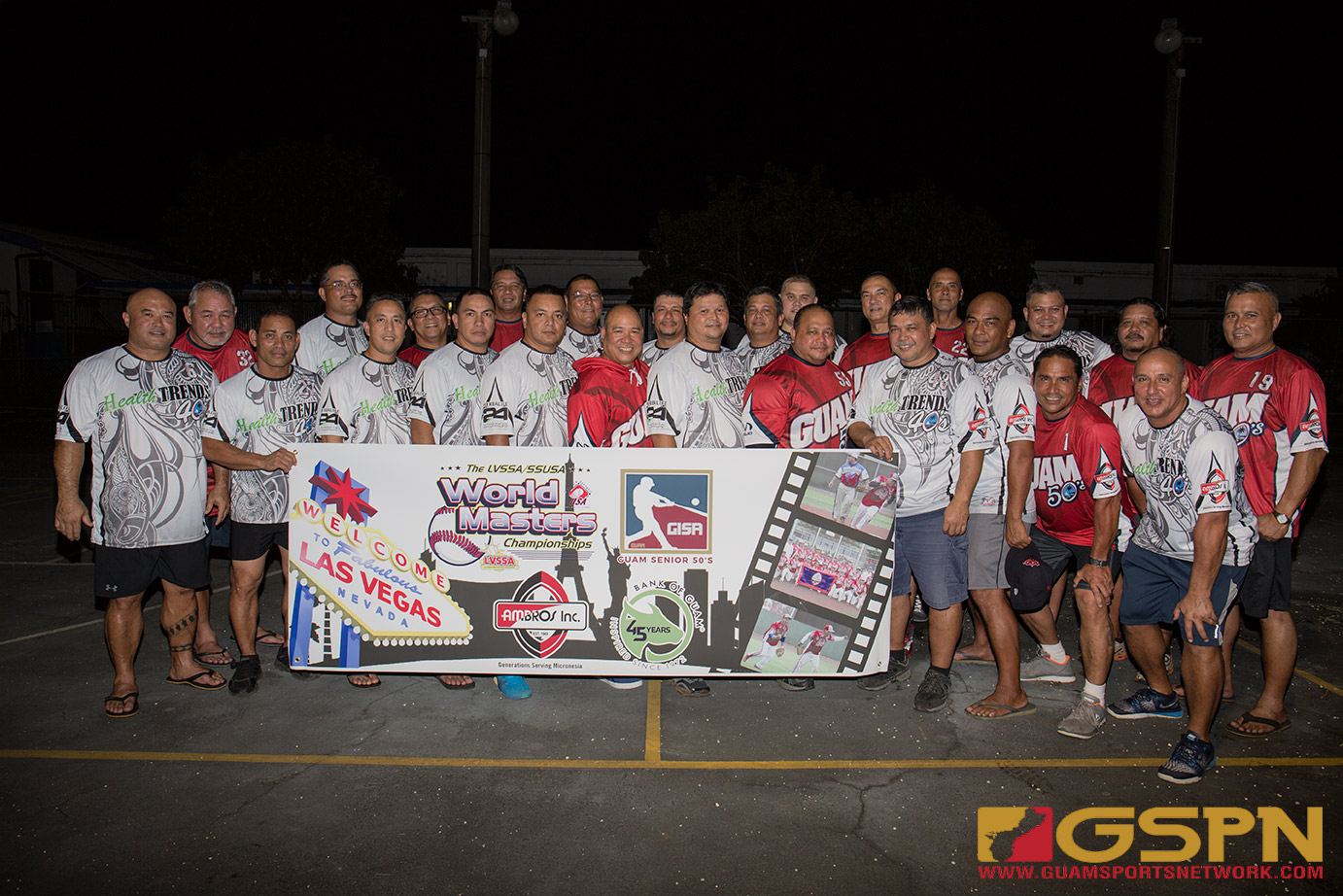 By Patrick Lujan
After coming up just short the last two years, the Guam Islander Softball Association (GISA) Bud Light 40s are hoping that the third time's a charm.
Facing the best players in the world at the World Masters Softball Championships in Las Vegas, GISA 40s came home with bronze medal in a division of over 80 teams in both 2015 and 2016.
The hopes are high to finally break the golden nugget this time around.
"We're hoping we can do it the third time around," said baseball legend and team captain Keith Hattig, who has been on both bronze medal teams. "We know what it takes to get it done and I think we have a very good team once again this year."
Returning for another run along with Hattig are fellow baseball legends Benjie Pangelinan, Patrick Alvarez and Jimmy Reyes. The big sticks are intact with Pete Concepcion, Jay Flores and Mike Pereda. Add newcomers Tony Yatar and John McDonald to the battering ram and you have a dangerous lineup.
"It's fun to go out there and prove to the rest of the nation that Guam can play with the big boys at that level of competition," Pangelinan chimed in. "But it hurts when you come so close, sometimes out of over 80 teams, only to settle for the bronze. It leaves a bad taste where you want to go back and win it all. We hope we can get it done this time around."
GISA 40s (two-time defending bronze medalists)
Patrick Alvarez
Keith Hattig
Robert Meno
Luis Camacho
Jimmy Reyes
Pete Concepcion
Mike Cepeda
John McDonald
Jay Flores
Jarvis Quenga
Peter Aguon
Tony Yatar
Laurence Idelbong
Russell Maratita
Herbie Hattig
Joe Rivera
Chris Guzman
Benjie Pangelinan
Jess Sablan
Glen Nelson
Mike Schneip
SEVEN TEAMS FROM GUAM
Four men and three women teams will be representing Guam for the upcoming tournaments. The aforementioned bronze medalists are stacked with talent.
Sindalun Guahan is making their return to Vegas. The team originally was mostly made up of Guam Air Force Reservists but has evolved into a more seasoned squad headed by Jesse Aguon.
Manager/Player – Jesse Aguon
Coach – John Leon Guerrero
Edwin Aguigui
John Balajadia
Jesse Bamba Jr.
Gerard Mendiola
Edward Gumataotao
Jesse Cruz
Jimmy Rosete
Joshua Anderson
Ron Shimizu
Rhodel Sevilla
Manuel Babauta
Paul Taisipic
Robert Castro
Steven Munoz
Robbie Rabago
Ally Sarapio
Jay Perez
Ralph Reyes
There's a team from made up of the Armed Forces as well as GISA 50s that is just as star-studded as their 40s brothers.
Team Manager: Jess Sablan
Peter Aguon
Tim Aguon
Pete Benavente
Frank Cepeda
Patrick Corpuz
Harry Crisostomo
John Flores, Sr.
Herbert Hattig
Roland Lumongsud
John Manibusan
Ed Mendiola
Vince Meno
Roque Munoz
Jay Perez
Johnny Quenga
Joe Rivera
Robert Santos
Dominic Terlaje
THREE WOMEN'S TEAMS
The three women's teams representing our island are the Figo Islanders, Mighty 50s and Sotta.
The Figo Islanders (40s) are: Jojo Aguero, Judy Arturi, Jek Concepcion, Bek Concepcion, Annie Cruz, Julz Cruz, Bianca DeSoto, Faithe Escalona, Joanne Gogue, Jen Leon Guerrero, Lynn Pernet, Rose Plais, Bern Reyes, Nadine Reyes, Chelle Sakaba-Reyes, Chris San Nicolas, Betto Ueki and Maymay Yobei. David Aguon (coach), Albert Tudela (manager) and MariaElisa Sakaba-Reyes (equipment) round out Figo.
Team Sotta (40s) is made up of: Suzan Lupola, Youli Pelep, Prilihda Luther, Rose Taman, Melissa Cruz, Nannette Weilbacher, Karen Santos, Memo Chisato, Cathy Santos, Michelle Perez, Yuri Nakamura, Melva Sudo, Marcy Perez, Gloria Kioshi, Evelyn Franklin, Lillian Taijeron, Mike Cruz (equipment manager/assistant coach) and Alvin Fejeran (coach).
The Mighty 50s are: Rita Aguon, Del Balajadia, Annie Bordallo, Arlene Borja, Marie Cambonga, Maria Cruz, Elizabeth Dibene, Loli Duenas, Moniza Fernandez, Robyn Masnayon, Sue Miner, Rosa Palomo, Sandra Perez, Lulu Ramirez, Ar Sahagon, Tish Sahagon, Norma Salas, Flo Santos, and Rie Tenorio. Gerald Santos is the coach and Roman Sablan-Cruz is the manager.
There will also be representation from the CNMI at the tournament amongst the 600+ teams over a four-week span that goes as high as an 85+ division.
SPORTSMANSHIP AWARD
The highlight of the fourth week will be the teams from Guam receiving the 2017 Steve Simmons Memorial Team Sportsmanship Award, the top award given by Senior Softball-USA annually.
"This award transcends the game itself," said Terry Hennessy, SSUSA CEO. "It stands for all that is good in the sport: passionate competition played with good humor and good fellowship – that is the formula for good sportsmanship. The beauty of good sportsmanship is that it incites a love of the game for all who witness it.
"The teams from Guam have demonstrated the highest level of sportsmanship and provide an example to teams throughout the sport."
SCHEDULE
The 50s are first up playing this weekend from Sept 29-Oct 1 then the 40s conclude the Championships Oct 6-8.

QUICK HITS
Guam MTB National Championship: Edward Oingerang and Jennifer Camacho are your 2023 MTB national champions. Oingerang finished the course in 1:13:24 while Camacho won her second straight title in 54:08.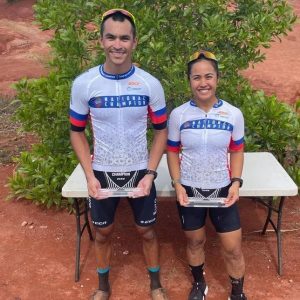 ——————————————
Kobe Miyashita, with St. John's coach Arvin Flores, was named the 2023 IIAAG Middle School Boys Volleyball MVP!