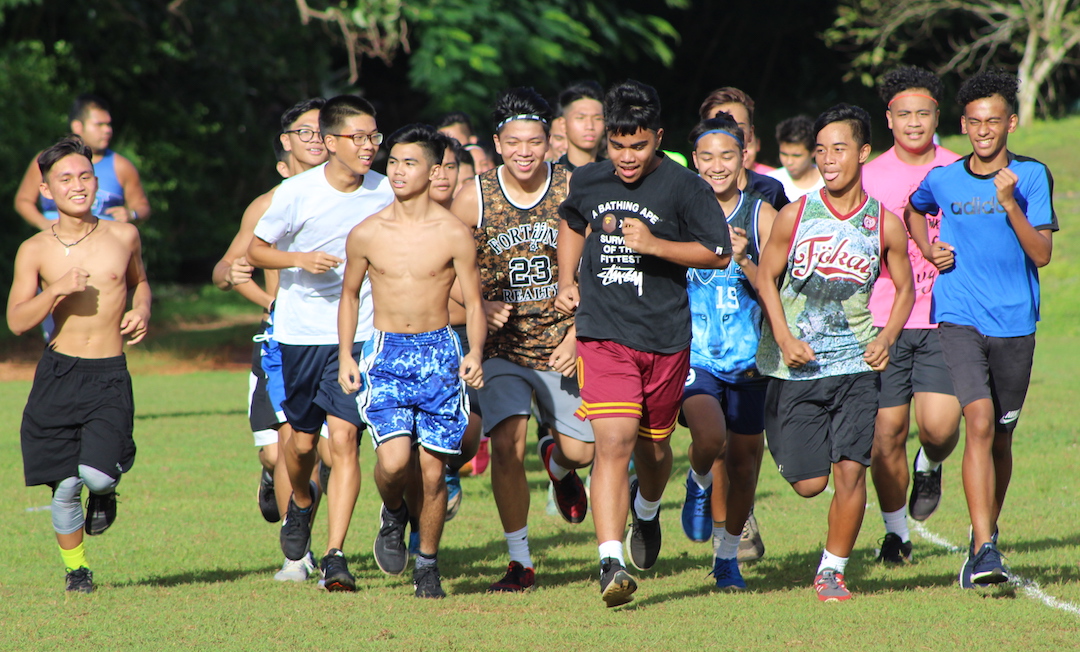 By Robert Balajadia
For the first time in five years, the St. Paul Warriors have hit the ground running right alongside the rest of the IIAAG for the 2017 Cross Country season. Head coach Eric Cortez and assistant coach Sherwin Paet have revitalized the running scene at St. Paul, using 2017 as a building block full of eager underclassmen.
Cortez had tried to start the program in 2016, but not enough runners came out which forced St. Paul into another half-empty 1st quarter of IIAAG sports. Since getting an influx of runners to fully compete in meets, the Warriors are seeing a positive start to the program.
"The support of the parents has been great and I think they've enjoyed seeing that the Warriors are competing in more than just one 1st quarter sport. Having a lot of underclassmen really gives us the opportunity to be consistent and it will also inspire others to come out and join the team," said Cortez.
Winning the basketball title earlier this year played a big part of the spike in cross-country involvement with basketball coach Neo Pineda pushing for his players to stay in shape year-round, which explains a healthy part of the roster being ballers.
Sophomore speedster Brandon Miranda has taken his court speed off-road, which has evolved into quite the weapon for the Warriors boys team, who, even though sport a winless record, have been in nearly every race they've competed in.
"We trust our coaches and we trust the process," said Miranda, quoting the famous words of NBA star of the Philly 76ers Joel Embiid, on the Warriors 2017 turnaround.
Miranda clocked in his fastest time under 19 minutes, which is on par with the leagues best. His secret? Yup, we're talking about practice.
"I never miss a practice, never miss speed workouts. I'm always going 100% in races and I put in a lot of hard work," said Miranda. "Sky is the limit," as he pointed a laughed with Paet whom he stole the quote from.
Fellow runner, and basketball teammate, Audrey Dela Cruz has fully embraced the grind as he aspires to improve his time every meet.
"Running has helped with my stamina for basketball and explosiveness," said Dela Cruz.
Cortez and Paet don't just run the team, they run with them during practice. Seeing the coaches fully committed also plays a big part in the teams commitment level as well as some early season defiance.
"It really inspires the team a lot," said Dela Cruz on running with his coaches. "We also heard that some people didn't think our coaches should take the job, but we told coach we're committed to it and we could do it. I'll be coming out every year until I graduate," said the sophomore Dela Cruz.
No slow start for Lady Warriors 
The boys struggle to earn a win is expected of a new program, but not for the Lady Warriors who stand (5-3) with losses coming from the leagues best. Led by soccer stars sophomore Lily Franklin and junior Alana Aguon, the Warriors have become a respected team in their return.
Franklin credits her teammates ability and determination for their winning record. For her personally, being a mid-fielder in soccer has conditioned her for the sport.
"The determination of the girls, despite it being their first year as runners, plays a big part," said Franklin on the teams successes. "Soccer has helped with the long distance since the position I play in soccer requires the most running, so I'm used to running without stopping."
Franklin didn't really know what to expect when she signed up, but she's found a new love for running and hopes the team can stay together for years to come.
"I didn't expect our team to have so many runners. I like the bond that our team has created. If this group is coming out again next year then I too will be inspired to come out again."
Aguon has seen growth in every race, notching her best time in her last meet at 25:31. From taking the 1st quarter off of sports to becoming a vital part of the Lady Warriors running squad, Aguon has found a new way to stay active.
"I don't usually join volleyball so I wouldn't normally have a sport to play to stay in shape. I was happy when I saw this opportunity to do something, besides not do anything, to stay in shape. I don't normally like running, but seeing me improve is something I can be proud of," said Aguon.
The Warriors coaching staff hopes 2016 will be the last year St. Paul doesn't field a cross country team and their 2017 rebuild looks as promising as ever.
But don't call it a run-back: their youthful exuberance and positivity assumes they'll be running for years.
PHOTO GALLERY BROUGHT TO YOU BY:

QUICK HITS
Guam MTB National Championship: Edward Oingerang and Jennifer Camacho are your 2023 MTB national champions. Oingerang finished the course in 1:13:24 while Camacho won her second straight title in 54:08.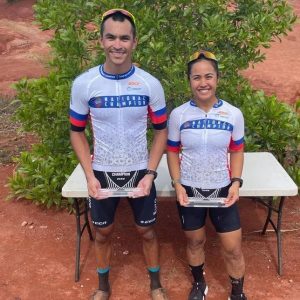 ——————————————
Kobe Miyashita, with St. John's coach Arvin Flores, was named the 2023 IIAAG Middle School Boys Volleyball MVP!