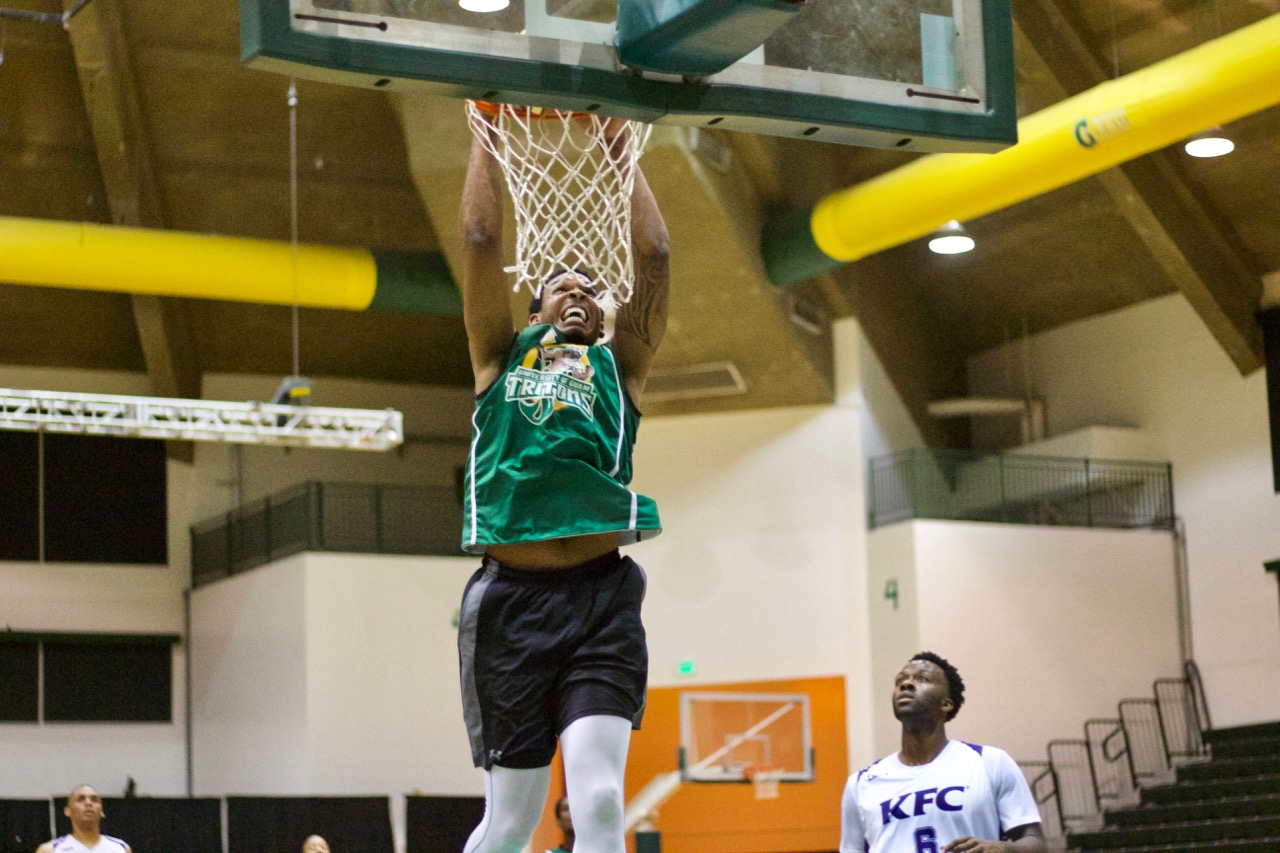 By Jay Leon Guerrero
There is a new sheriff in town. The revamped UOG Triton men's basketball team proved they are one of the best organizations on island after defeating the Andersen Bombers 104-91 Wednesday night at UOG Calvo Field House.
It was a physical battle as the new rivals battled in an entertaining game that featured six dunks from UOG's new center Blake Jenkins.
"We are going to try and go undefeated this season," said Jenkins. "We're going to try and put up triple digits every game and give the fans a good show."
Jenkins had 23 points, seven rebounds and five big blocks in his debut at the Field House.
Both teams traded leads in a first half that featured 10 lead changes. UOG shooting guard Billy Belger opened up the contest swishing a pair of three-point baskets to go ahead early. Andersen's Jonathan Triplett made a pair of jump shots to counter Belger's shooting.
The Bombers went on a 7-2 run in the second period with Charles Nallie and Chris Torres scoring from offensive rebounds to go ahead by three points. UOG's AJ Brown and Geno Anderson each scored in the paint to lead by a bucket. A Triplett basket tied the contest at 45-45 with five ticks remaining before halftime but the Tritons re-gained the lead after Aaron Castro made a running lay-in at the buzzer to take the 47-45 lead heading into the locker rooms.
Brown, Jenkins provide offense in 3rd quarter
The Tritons came out firing after halftime, going ahead 56-47 with Anderson making the 'and 1' bucket and Jenkins converting an alley oop dunk.
The Tritons continued to roll in the third period, leading 74-59 with Brown and guard Ryan Nangauta converting mid-range jumpers. The Bombers came back into the game with superb play from Terrance Jackson in the final 30 seconds of the period. Jackson made a lay-in, scored again off on an offensive put back and made a running three-pointer at the buzzer to trail just 74-64 at the end of three quarters.
Despite the late surge from the Bombers, the Tritons continued to make plays on both sides of the court. UOG continued to rotate fresh players throughout the game and continued with the full court man-pressure defense which caused turnovers.
Belger put the game out of reach with two steals, two assists and a three-pointer to go ahead by 15 points with six minutes remaining in regualtion. Nangauta ended any hopes of a comeback with a transition basket and a three-pointer as both teams emptied their benches in the final two minutes of the game.
Triplett led all scorers with 27 points for the Bombers. Jackson had 20 points and seven rebounds, Nallie contributed eight points and nine rebounds before picking up his second technical foul.
Nangauta converted on all of his field goal attempts and scored 20 points. Belger had 17 points, five assists and three steals. Brown had 15 points and nine rebounds.
"After half time we moved the ball around more on offense and tightened up on defense," said Belger. The Tritons forced eight turnovers in the decisive third period as they pulled away.
"We came out flat to start the game, it's a new season and a new crowd. But in the second half we came out and played UOG Basketball by focusing on winning each possession," said Jenkins.
The victory was instrumental for UOG head coach Brent Tipton with the Tritons looking like they are the team to beat in the inaugural league.
"Coach Tipton is a good young coach and a leader. He pushes us every day in practice and wants us all to get in shape; that's the difference between our team and the other teams in the league," said Jenkins.
Belger played under Tipton as youth national team member for Guam. "His defensive strategy is still the same but the offense is different to suit this team's style of play," said Belger.
PHOTO GALLERY BROUGHT TO YOU BY:

QUICK HITS
3rd place: Big ups to the Para Todu Rugby Club for finishing 3rd out of 16 teams in the Manila 10's Rugby Tournament today. Biba Guam Rugby!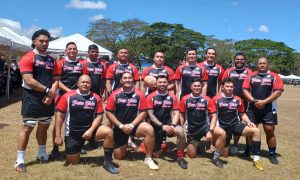 ——————————————
Guam MTB National Championship: Edward Oingerang and Jennifer Camacho are your 2023 MTB national champions. Oingerang finished the course in 1:13:24 while Camacho won her second straight title in 54:08.