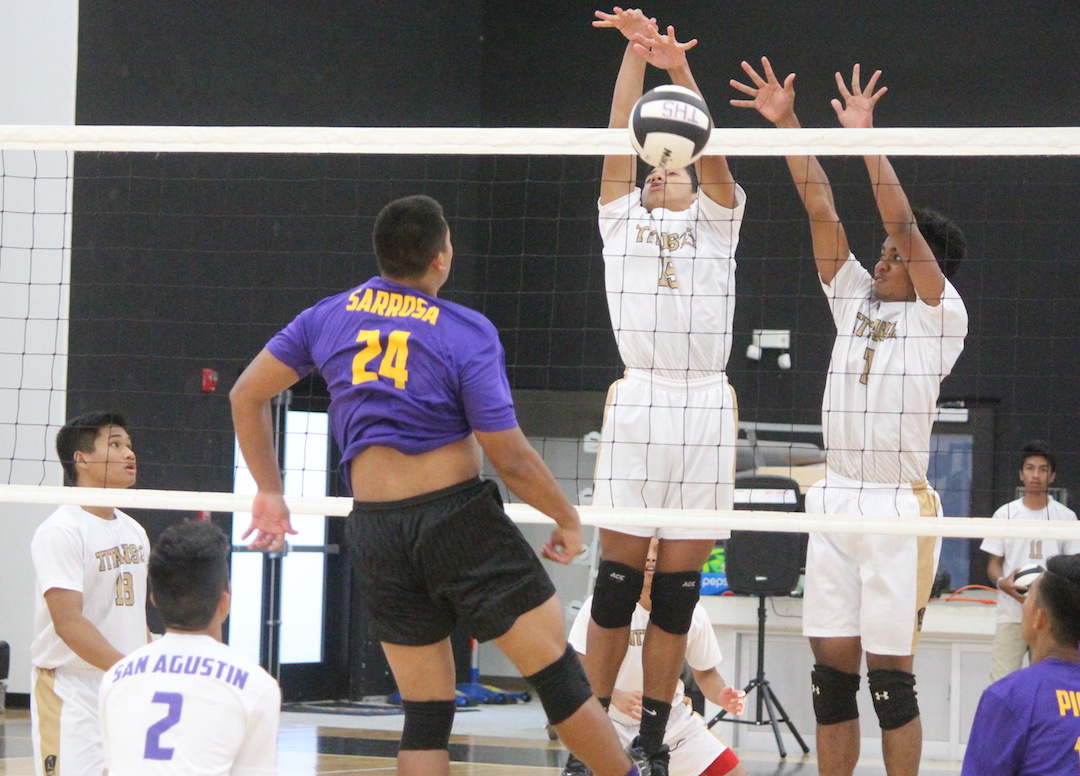 By Robert Balajadia
The Tiyan Titans made history Friday evening by advancing to the IIAAG boys volleyball semifinals, the furthest the school has ever gone in volleyball, with a straight set win over the GW Geckos 25-22, 25-17, 25-12 in front of their home crowd.
Tiyan started to settle into their game after the first set, overwhelming the Geckos with a heavy hitting attack as setter Johnsey Hagel utilized the plethora of Titan hitters all game long. Hagel struggled with his timing in the opening set, but a few perfect passes later, the talented passer found his rhythm.
"It took me a little while to warm up, but my hitters really picked me up and I give a lot of credit to them. I started to get more comfortable as the game went on," said Hagel.
Hagel was also aware of the Geckos game-changing blocker Jarred Sarrosa, so Hagel's gameplay started to change.
"[Sarrosa] is a really big block so I worked the ball outside to get the hits away from him," admitted Hagel.
Titan All-Island 1st Team middle blocker Giovanni Manglona had himself a night with 11 total kills, three blocks and a pair of serve aces. The 2nd set was all Gio as he opened the set with a bone-rattling kill. Manglona continued to impress as he went off-hand on a kill to give his team a 9-5 set lead.
"I started to feel locked in during warmups, we had a great warmup that really got us into focus," said Manglona on his big night.
His set dominance would continue by grabbing his third kill to take a commanding 13-6 lead. Titan teammates started to open up the Gecko defense as Ramil Padigos and Jude Cruz found success attacking the Gecko backline.
GW's Jarred Sarrosa and Kyler Diego sparked a short rally with Sarrosa getting a pair of kills to tune a 7-1 run for a 17-14 deficit, all the while Deigo was serving. Manglona put an end to the run with a thunderous kill, followed by a Cruz kill to give Tiyan set leverage 20-15.
A Manglona block followed by a dazzling jump serve put GW in a two-set hole. Even Tiyan head coach Rod Pama was sharing smiles with his team during their play, which lifted the team spirits aside from his more serious game-time demeanour.
"It felt like practice," said Manglona on seeing his coach enjoy the game. "It allowed us to really just play the way we practice."
The 3rd set belonged to Hagel as he too started to unload smooth jump serves while getting his hitters to do damage from all angles, en route to a game-sealing 25-12 set win.
Now, the Titans have to face the FD Friars, one of the only two teams to beat them in the regular season. The Titans already made history, but they aren't satisfied just yet.
"We know what it's going to take to beat a really good team like that, our coaches and managers have been great on preparing us mentally for it. It's really up to us, the players now," said Hagel.
"We have a goal, to become champions. But we know we have to work harder if we want to achieve that goal," added Manglona.
The Titans will face FD next week Tuesday (TBA) while the Harvest Eagles will face the Okkodo Bulldogs.
Other Scores 
Harvest def. ND in four sets
Tiyan def. GW 25-22, 25-17, 25-12
FD def. JFK 25-10, 25-22, 25-16
Okkodo def. Southern 25-19, 17-25, 25-15, 25-21

QUICK HITS
Guam MTB National Championship: Edward Oingerang and Jennifer Camacho are your 2023 MTB national champions. Oingerang finished the course in 1:13:24 while Camacho won her second straight title in 54:08.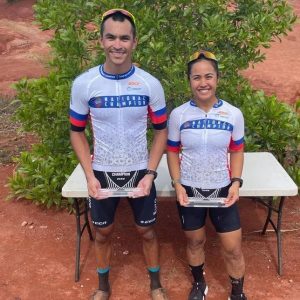 ——————————————
Kobe Miyashita, with St. John's coach Arvin Flores, was named the 2023 IIAAG Middle School Boys Volleyball MVP!