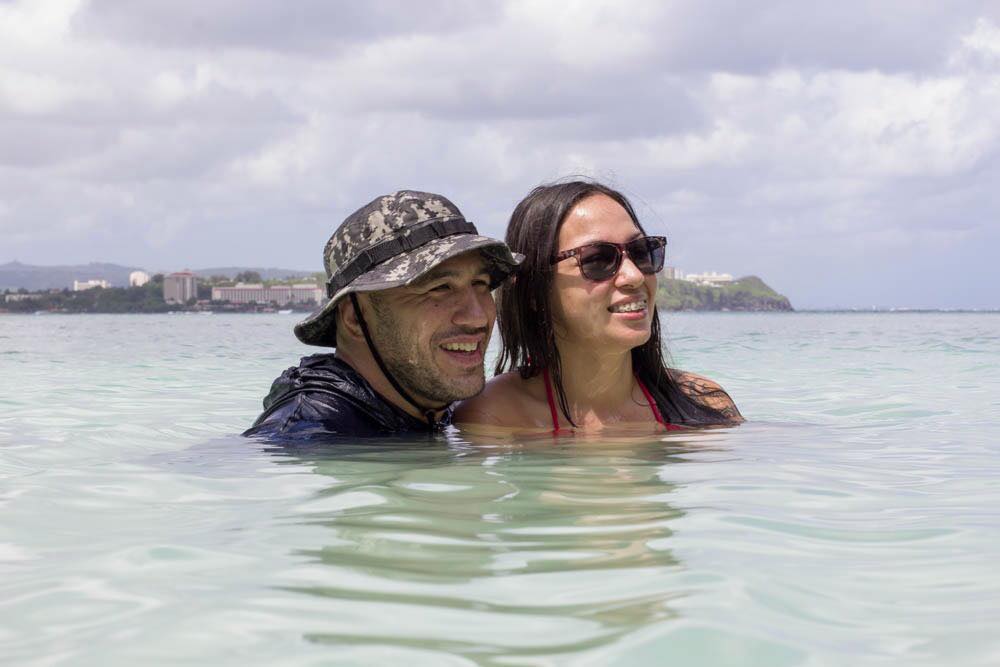 By Patrick Lujan
MMA superstar Brandon 'The Truth' Vera made yet another mark on Guam when he popped the big question on his lady Jessica Craven on a quick stop over a few weeks ago.
Vera, who last was on Guam during GSPN's Anti-Bullying Campaign in March along with Royce Gracie, made it a point to make the nuptial plea to his new life partner. Craven, who has family and roots on Guam, is fondly named Nenja by Vera. And Nenja said yes!
The proposal occurred in the chapel at Nikko Hotel. Vera shared the experience with GSPN.
GSPN: Out of anywhere in the world, you chose Guam to get married. Why?
Vera: Guam has always been so good to us; from the people, the food, to the overall vibe and beauty of the island.
Nenja was with me every step of the way through one of the toughest times in my life, I needed some time away and went to Guam for my first time. It's been years since I talked to the Fokai boys about going there. As soon as the sun rose up I saw how beautiful the island was. I called her to come see this place with her own eyes. It's the least I can do for her since she was  there with me through the tough times. We explored around island for a couple days and connected with each other in a different way then before. This trip was the beginning of us officially being together. That is why Guam is one of the reasons why we want to get married here.
GSPN: When you popped the question recently, was it a surprise or did she know it was coming?
Vera: We have always made plans in our life including one another. We were talking about getting married but I needed to do it the proper way and ask her Papa for her hand in marriage before I did. We were looking at diamonds and rings and she didn't know we were going to buy one. She wasn't allowed to see the set engagement ring until I asked but she didn't know when I was going to ask. We had a meeting with Nikko Hotel to see the wedding packages. She had no clue that I was proposing right then and there. So I guess she knew it was coming at some point but it was a surprise to her at that time.
GSPN: You're looking at the Nikko Hotel as the location. What drew you to that hotel?
Vera: We actually don't have a location yet. We visited there as one of our options but we still have other places to look at. We initially liked that place because when we visited back in April 2015 (the 20th to be exact), we were paddle boarding at sunset with Frank & Sarah Camacho, Roman from Fokai and a friend of theirs. We saw the sun shining on this building and Sarah told us that it was a chapel. I looked over at Nenja and said, " I know where I'm getting married at. Do you?" And she said the same thing back.
GSPN: Location and date is set for 2018. You're like a big romantic. Is that the soft side of the fighter we all know?
Vera: I wouldn't say a big romantic but I don't believe in only showing your love to your loved ones on holidays.
GSPN: Are you planning a big Chamorro/Filipino style wedding or a smaller intimate kind?
Vera: We are trying to incorporate both Chamorro/Filipino culture into the wedding. We are going over the guest list and we are shooting for 300 people maximum.
Vera is currently back in the Philippines filming a big movie. He could be back in the One FC cage defending his belt in the upcoming months.

COMING SOON …
High School Football starts Sept. 29
Brawl 3: Oct 13
Guam's Strongest Man and Woman Competition October 29
QUICK HITS
The Figo Islanders 40s women's softball team took gold in the Senior Softball World Championship in Las Vegas. Figo came out of the loser's bracket and beat the Arizona Belles 17-3 in the AA division championship game Sunday afternoon.
Other Guam teams that played in the 40s tournament were: Team SOTTA (women's) and Bud Light Guam, Friars 671 and Sindalun Guahan (men's).
Sindalu finished a respectable 4th out of 24 AAA division teams.