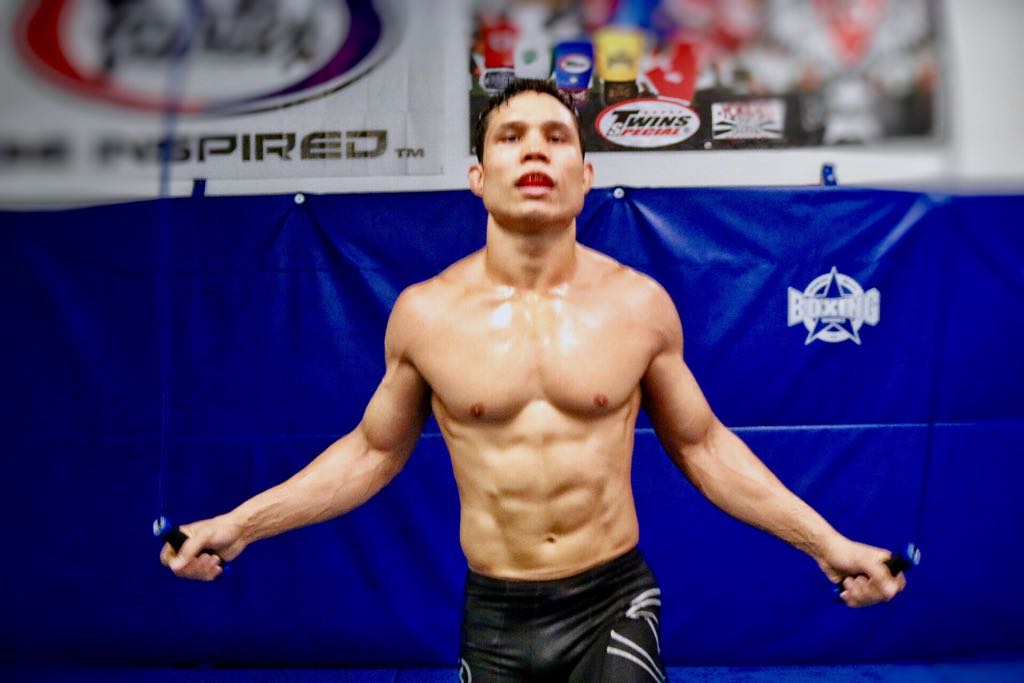 By Patrick Lujan
Chamoru Warrior versus Japanese Samurai.
The stars have aligned in the mixed martial arts world, setting up a showdown between Guam's Jon Tuck and Japan legend Takanori Gomi in UFC Singapore on June 17th.
(read Gomi's interview with GSPN here)
"Takanori Gomi will be the biggest named opponent I will be fighting," Tuck said.  "I was so excited once I found out that they had offered me to fight Gomi that I yelled 'YES!!!' in the airport once I received the message…so loud that the everyone stared at me and luckily the airport police didn't feel threatened and take me down."
Gomi, no doubt, is the biggest name Tuck will face in combat. An opponent he couldn't sign up to face quick enough.
"It is amazing when dreams come into fruition," Tuck explained. "When I received my bout agreement, I went straight to signing on the dotted line. I just kept hoping and wishing that everything locks in and squares away so I could get straight to work."
Since the signing, Tuck has split his training camp to Abu Dhabi and San Diego – with a short break to attend the UFC Athletes Retreat in Las Vegas.
"I'm just keeping the training tight and working on strengths with attack and defense in every area."
With the excitement of fighting a legend aside, Tuck knows that a win is almost required to keep his UFC dreams alive, especially coming off of two tough losses to UFC newcomers.
"I've taken a lot into account with Gomi's game. He's been in there with the best of the best. He's scrappy and always looks to trade. Staying sharp is key and what is going to lead me to victory.
"Coming off of two losses I definitely take great wealth of  knowledge into my next fight. Taking all the negatives and converting them into positives. I will definitely be my best form going into this fight and will put on the best performance of my life. That I can guarantee."
ROYCE'S TAKE
MMA pioneer Royce Gracie said this about the matchup.
'Gomi has a heavy hand. As long as Tuck gets him in a clinch and takes him down, I think he's a much better grappler. For Tuck to win, he's going to have to take it to the ground. He doesn't want to stand with Gomi and exchange with him. Gomi has knocked a lot of people out.'

QUICK HITS
The Okkodo Bulldogs secured third place at the Far East Division I Girls' Basketball Tournament in Camp Humphreys, South Korea. Jasmine Samson and Haley Cabrera were named All-Tournament selections in recognition of their hard work on the court. Vaysia Blas won the 3-point shooting contest. The Bulldogs played nine games in three days with a squad of eight:
Erin Moldez
Jasmine Samson
Haley Cabrera
Sharm Tauiwei
Hanna Meinik
Jordyn Zacarias
Jordin Hernandez
Vaysia Blas