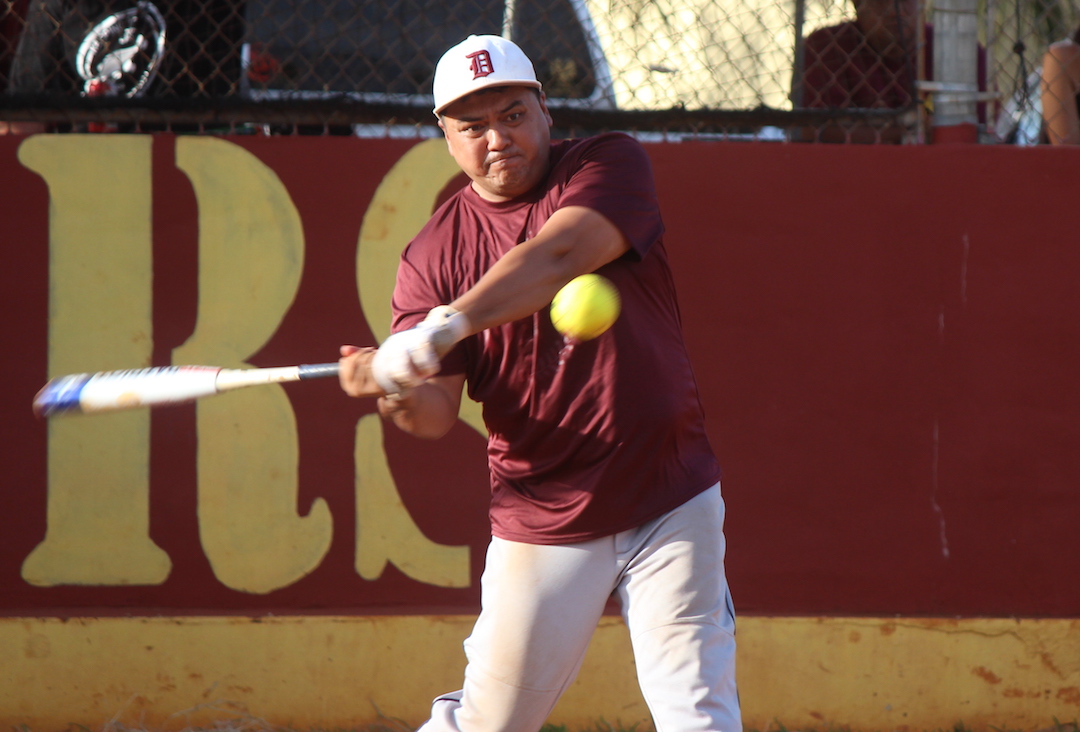 After two months of intense action, the 2nd Annual FDAA Softball League is down to its final four. GSPN takes a closer look at each semifinal team.
masterbatters vs. Beer Batters (Sat. 5 pm)
1st meeting: 16-15 masterbatters, 8 innings
masterbatters
Made up primarily of 2008 and 2015 grads, the masterbatters have talked a big game all season, but have sure backed it up.  Led by power hitting pitcher, Mike Bautista, the masterbatters head into the playoffs as the #1 overall seed and lone undefeated team.  Other than an extra inning game against the ultra-talented Beer Batters and tight 1-run win over the defending champs, Team J.U.G., no one has been able to take them past the 5th inning, winning their games by an average of 13 runs.  Bautista leads the league in HRs, with three clearing the fence and a pair of inside the parks.  The infield looks like the who's who of FD baseball with Mikey Concepcion, Napu San Miguel, Jason Baza and Kel Francisco anchoring the interior.  Not to be outdone, the outfield includes Kiko Santos, Cam Mantanona and Javin Delgado. The masterbatters lead the league in runs scored and with a defense backing up the quick, rhythmic pitching Bautista, it'll be hard for other teams to take down these young bucks. They are clearly the favorites to win it all, but can they hold off the hottest team in the league in the Beer Batters, a team they only beat by one run in extra innings?  
Beer Batters
After a rough start against two of the better teams, the Beer Batters have run off three straight wins heading into the playoffs. 94's Gerson "Smiley" Hoebing and Corey Paulino lead an experienced and hungry team, made up primarily of grads from 90, 93, 94 and 95.  Hoebing has anchored the pitching the past few games, adding another star defensive ace to an already solid defense.  Along with Hoebing, Paulino brings a wealth of experience at 3rd base. Julian Duenas and Johnny Cruz add depth to an already solid infield. Steve Munoz is solid at 1st base and brings a left-handed base clearer to the mix. 95's Brian "BQ" Quichocho and Bruce Meno, along with 93's Erwin Manibusan bring some experienced, southern bats and present an outfield most batters don't want to hit to. Rich Devera and  Alvin "I play anything" Alvarez adds depth to an already talented team. Big bats and a strong defense have them as one of hottest teams heading into the semifinals. Can they keep the momentum going?  If they are able to field a full team, they will be a huge test for the masterbatters.
Long Duck Dongs vs. GSPN (Sat. 3:30 pm)
1st meeting: 16-9 GSPN
Long Duck Dongs
Let's face it…no one takes these guys seriously. Not even themselves! Made up primarily of 96 and 97 grads, and the addition of 2004's Bert Manibusan and 2002's Shaun Perez, this is one of those sleeper teams no one wants to face in the playoffs. Chuck Baker anchors an outfield that, outside of him, is 50/50 on catching, well, anything. The infield is anything but pretty. Chris Santos, Joey Atalig, Glenn Camacho and Chris Ogo rotate all over the infield, with Billy Bob Roth and 04's Bert Manibusan controlling 1st base. All everything pitcher, Eddie "The Commish" Pelkey keeps batters guessing and  Erik "Peskadot" Flores is arguably the best defensive catcher behind the plate. Throw in Jake LG, Ollie "Rustans" Valencia, Uriah Perez, and Gerard Bale2, and the bats keep coming. But bats aren't the problem…fielding is! The only thing holding back this group is themselves. But after achieving one of the greatest upsets  after upending the defending champs, Team J.U.G.G. last weekend, LDD is riding into their rematch with GSPN with a heap of confidence. Can they put together one more complete game to give themselves a shot at the ship?  
Team GSPN
Mr. GSPN himself and starting pitcher, Patrick Lujan, leads this bunch of talented ballers,  primarily made up of 91 and 92 grads. GSPN is looking for some redemption after last season's early playoff exit to eventual champ, Team J.U.G.  Lujan's speed led him to a league-leading four inside-the-park HRs. But he's not the only playmaker. Roy Abril, Lynnwood Baker ('89), Mike Cooper-Nurse ('90) and Gene McDonald make up one of the most talented infields in the league, with lots of experience behind them and consistent bats. Brian Moylan, Vince Cruz, Jay Perez, Mike Limtiaco and Micheal Terlaje have been holding-down-dem in the outfield. Roland "Tiny" San Nicolas is a big target at 1st, with a heavy stick. Honorary '91 Juan Muna also patrols first base for GSPN. Other than a letdown against the Beer Batters, GSPN has held every other team to nine runs or less, behind the left-handed Lujan and talented defensive group. GSPN rebounded nicely in their 1st playoff game, ousting the ultra-talented and quick 2017 grads. Next up are the unpredictable Long Dock Dongs, whom they beat by seven runs earlier in the season. Can they keep the momentum going and make it to the big game? Come down to the FD field this Saturday and find out.

QUICK HITS
Bishop Obispos beat Mt. Carmel for the IIAAG Middle School Girls Basketball championship 37-25.
—————————————-
The Benavente Roadrunners crushed the Agueda Pirates 17-1 to win the 76 PONY Middle School Baseball League. Rodney San Nicolas was a beat, striking out 13 batters in a complete game while going 4-for-4 at the plate, including a homer and 4 RBI.