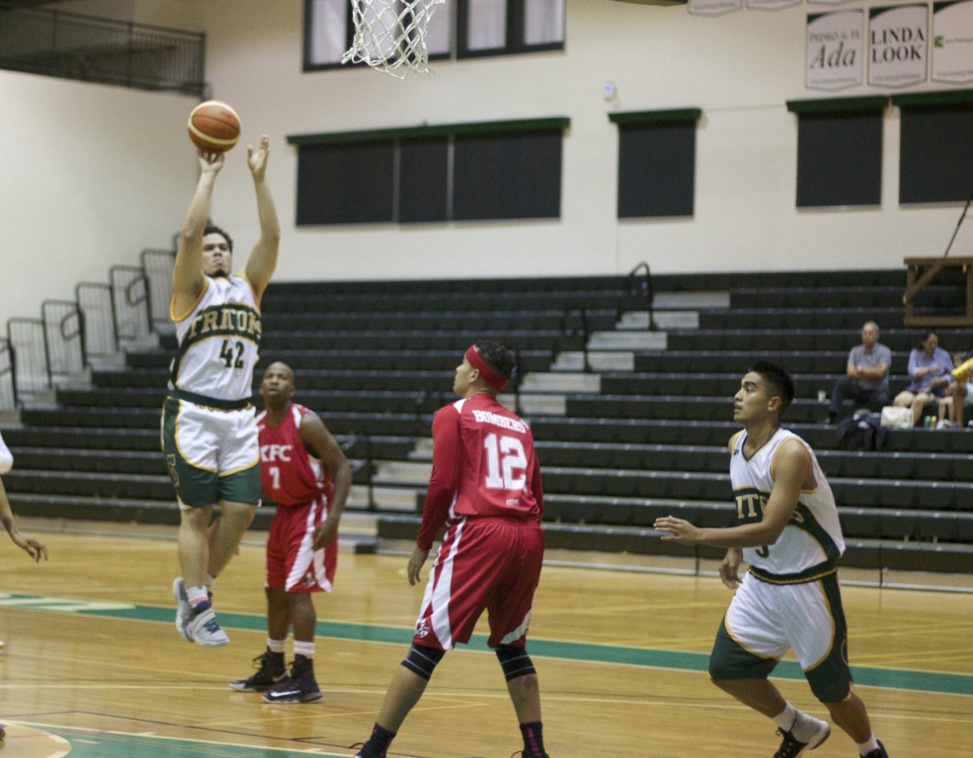 By Jay Leon Guerrero
The University of Guam Triton basketball program is moving in the right direction after a resurgence took place last year. Led by head coach Brent Tipton, the Tritons look ahead to a bright future with good management and better recruitment.
The Tritons started the GBA last year going winless, lacking height and experience.  But moving into the GBA's third season, the program managed to beat some quality teams and move up the rankings.
Team Name:  University of Guam Tritons
Head coach: Brent Tipton
Assistant Coach: Steve Yates
Assistant Coach: Josh Torres
Team manager: Gabe De Luna
Team Roster: 15 players
Team colors: Green & White
Home court: University of Guam Calvo's Field House
With the support from the UOG administration, the Tritons look to bigger and better things in the future. According to assistant coach Josh Torres, the guidance of Dr. Robert Underwood and UOG Athletic Director Mr. Doug Palmer has helped tremendously. "It has been a long time coming and we're glad to be able to have a platform to help Guam athletes reach new heights in their prospective sports," said Torres.
To play for the Tritons, students must meet certain criteria. First and foremost, players must be attending the University under a full-time status. Second, players must maintain a certain grade point average to be eligible. "All athletes that play for the University of Guam have to maintain a full time student status (12 credits or more) and 2.0 GPA or better with zero failing grades. In order to become a scholarship athlete, on top of the on the court accolades, one must achieve and maintain a 2.5 GPA," said Torres.
Giorgio "Gio" Meneses is a current scholar athlete for the Tritons. He's been on the court and competed against the decorated local superstars and big men in the GBA.
"Our coaches have done their best to instill both a culture and a system we would buy in to which was to play together and stay together. We obviously lacked height and big-name talents on our squad at the GBA-level, so I believe us as a team buying in and being together for a longer amount of time compared to the first season helped us improve," said Meneses.
Meneses saw the Tritons go from a winless team in the GBA in season 2 to a respectable 5th place finish in season 3. Prior to season 3, the Tritons won the collegiate CBLG league championship. The Tritons look to continue the upward trend with new recruitment.
New Editions
The Tritons look to add key players in Geno Anderson, AJ Brown, Blake Jenkins, and Demadjeo Simon to their roster to add athleticism as well as skill level. All four players will be eligible in August to play for the Tritons. "Their ties to the community made our University an appealing destination," said Torres.
"Four of our five players had ties to Guam's community or someone on island. Our 5th player is interesting. He is an Australian recruit named Austin Treweek who passed up a professional contact to finish his schooling," said Torres.
The 6'1″ point guard chose to come to Guam not just for the basketball program, but for the academic benefits that UOG offers. According to Torres, the new players are all paying their own tuition.
"I'm very excited to start playing with UOG. The Coaching staff has been very helpful and supportive," said Simon.
With the new recruits, the Tritons are instant contenders in the GBA. "I feel like the sky is the limit when it comes to these types of things. Our intention as a team is to compete for a title. It will take some work but I believe that we can pull through and be the best that we can be together".
"These are some reputable names coming in to play with us. I'm definitely lookin forward to be learning from these guys and try and make some noise in the upcoming season," said Meneses.
Long term goals
 The Triton program is still in its infancy stages, there are more plans for the future of the organization.
"The mission is to compete against other colleges in the region and hopefully be on the path to becoming a powerhouse. We want to create better opportunities for players in the future, so they can have the chance to play at the next level and becoming professional players," said Torres.
Another future goal is to compete against international competition in China, Taiwan, Korea, Australia, New Zealand, Russia and throughout Europe and the states. With the right leadership and energy, the Tritons look to make a big name for themselves.
"We believe that basketball is a universal language that we can use to unite people from all around the world. Through friendly competition and wearing the pride of our island on our chest, Guam! THE University of Guam," said Torres.

COMING SOON …
High School Football starts Sept. 29
Brawl 3: Oct 13
Guam's Strongest Man and Woman Competition October 29
QUICK HITS
The Figo Islanders 40s women's softball team took gold in the Senior Softball World Championship in Las Vegas. Figo came out of the loser's bracket and beat the Arizona Belles 17-3 in the AA division championship game Sunday afternoon.
Other Guam teams that played in the 40s tournament were: Team SOTTA (women's) and Bud Light Guam, Friars 671 and Sindalun Guahan (men's).
Sindalu finished a respectable 4th out of 24 AAA division teams.