FOR IMMEDIATE RELEASE- Over a thousand participants and attendees gather at the Trench Challenge Obstacle Course Race.
TRENCH™ CHALLENGE, Guam's Obstacle Course Race took place at the Guam International Raceway this past Sunday filling the entire parking lot.
Despite the Tropical Storm that put Guam into COR-3 on Friday (9/28) evening, the rough weather conditions that blew away course markers, delayed obstacle and festival setup, event officials pushed through and produced the race as the storm passed south of Guam.
"With over 30 obstacles spread out on the 250 acre property, it was definitely one of the most logistically difficult events we've had to prepare." –Tom Akigami, Event Director
The 2018 Trench Challenge featured a very unique element for racing on Guam. Motivational Speaker and emcee for the World Championships "Coach Pain" was flown in to give a customized message to every wave start. New obstacles were featured like the Skull Crusher Multi Rig.
Simultaneously happening as part of the FitAid General Fitness Competition, a total of 16 teams of 4 from different Gyms around the island participated in the event. Hundreds of Recreational Division entries had combined teams as big as 40 people of all shapes, sizes, and athletic ability. Companies enrolled to use it as a team building and bonding exercise. Families and friends joined together as a team and challenged the course together.
Official charity partners Special Olympics Guam and Guam Cancer Care had a dedicated start time like last year where all of the proceeds in each start time will be donated to the organization on top of the partial proceeds from all registrants.
The competitive side of the event featured close to 100 entries in the Elite Division (Qualifier for the 2018 OCR World Championships in London 10/19-10/22 + 2019 North American Championships in Vermont) and the 4-Man Team Challenge. Tim Wenden defended his title as overall Elite Division champion and finished the long course without penalty in 1:19:37.95.
RESULTS
Elite Division Male Top 3
Tim Wenden (1:19:37.95)
Brian Johnson (1:25:20.14)
Billy Navarrete (1:29:15.80)
Elite Division Female Top 3
Ivee Ilao (1:58:38.27)
Rose Eddy (2:31:55.16)
Rhea Macaluso (1:42:40.68 + 0:10:00 obstacle penalty and loss of wristband)
*Only 2 Women finished with their wristbands, which resulted in the shift of overall placement of top finishers and eligibility of prizes despite finishing time.
4-Man Team Challenge
Team Steel Athletics – JJ Ambros, Ak Khozehiev, Ricky Camp, Kyle Shepard (1:48:54.22)
But my Hands Hurt! – Jane Jones, Jessica Jones, Ryan Shipman, Matt Elwell (2:08:16.54)
Happy Wife Happy Life – Ray Calma, Loi Calma, David Santos, Glenda Santos (2:16:38.83)
TRENCH CHALLENGE 2019 is already set for September 29, 2019. Early Bird Registration opens this month. For more information on this event, find Trench Events on Facebook, @trenchchallenge on Instagram , visit trenchevents.com or email: info@trenchevents.com
Team Guam consisting of winners and qualified Trench Challenge Elite Division competitors will be flying out to London for the Obstacle Course Race World Championships on October 19-21, 2018.
*Another Press release will be sent out once we confirm our representatives on Monday 10/8/18.

Athletes Birthdays by W5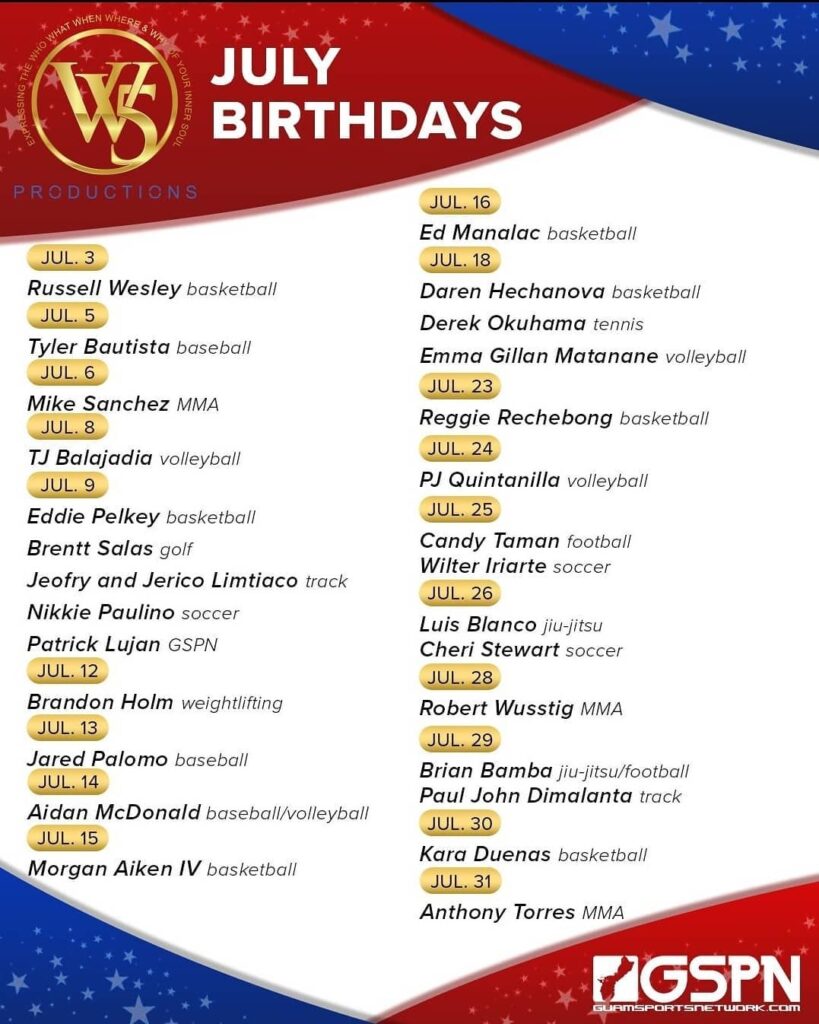 Foody's Fun Facts
Favorites From Year 2
COMING SOON …
2020 Tokyo Olympics
UFC Fight
Aug 1: Trevin Jones vs. Tony Kelley
QUICK HITS
——————————————————–
Guam's Joey Miranda met up with Chamorrita Softball Star Bubba Nickles and Olympic Teammates Dejah Mulipola and Aubree Munro out in Tokyo as we approach the Olympics!
Photo credit: GNOC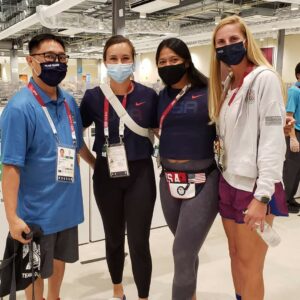 ——————————————————–
Former Guam resident Tre Taylor has committed to play cornerback for the Southwestern Junior College Jags.
Turner attended Harvest and FD before transferring to Hawaii where he played for Saint Louis, the 5th ranked team in the nation.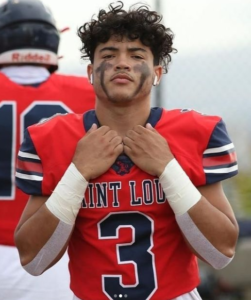 ——————————————————–
The big man Zach Banner getting to throw out the first pitch earlier today for the Pittsburgh Pirates!