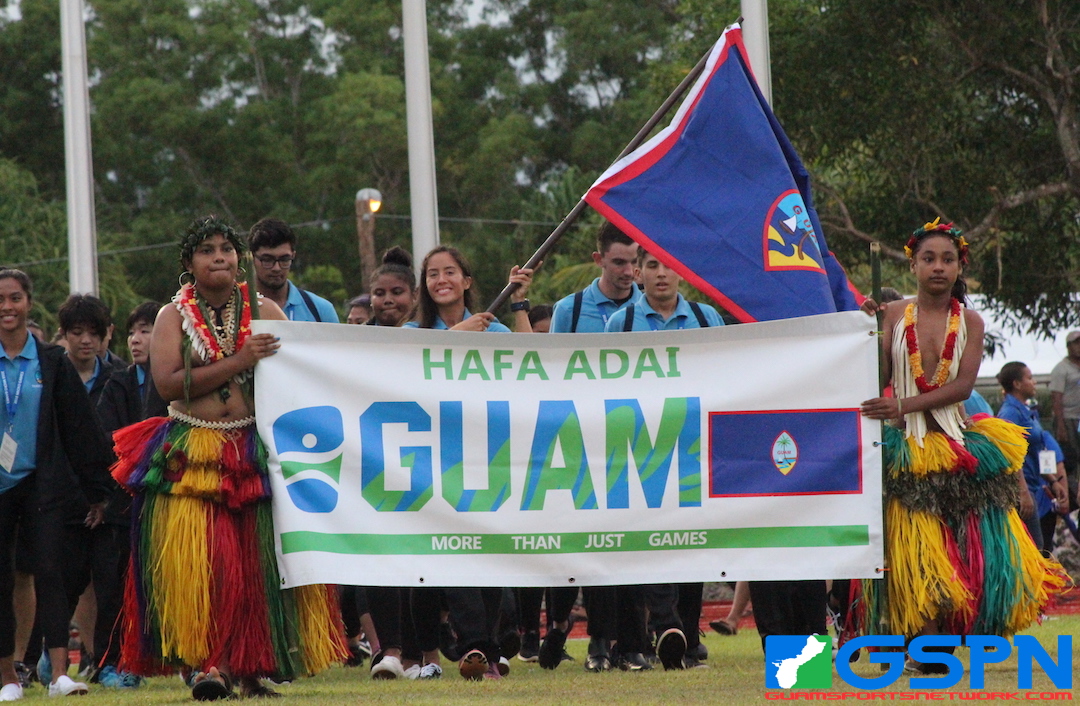 By Robert Balajadia
Colonia, YAP – The 2018 Micronesian Games officially kicked off Sunday evening with the Opening Ceremony declaring the Games' official start. The event was held at the track & field venue, which is found in the center of all the sporting action.
Holding the flag for Team Guam was runner Genina Criss.
Team Guam rolled in with both the men and women's va'a teams, the track and field athletes, a handful of men's basketball players, all four beach volleyball players, the underwater fishing team and the wrestling squad. Some teams were missing from the event in both the indoor volleyball teams as well as the women's basketball team.
The ceremony, which was carried on by lengthy speeches and opening remarks, ended in the lighting of the Micro Games Flame, followed by a fireworks show to the delight of many fans and athletes. It was scheduled for a 4:30 pm start but didn't kick off until 6:30 pm and concluded around 9 pm.
Monday will be a busy first day of action and GSPN will be on it throughout the day.
Guam on Day 1
Plenty of Guam athletes will be getting right into the games on Day 1 with a heavy dose of action flooding the day. The track & field athletes will get the first go in the 10,000m race at 7 am.
7 am – Track and Field 10,000m
8 am – Underwater fishing boat leaves
9 am – Men's Basketball: Guam vs. Palau
10 am to 4 pm – Wrestling
11 am – Women's Basketball: Guam vs. Palau
11 am – Women's Beach Volleyball: Guam vs. Palau
3 pm – Men's Beach Volleyball: Guam vs. Yap
3:45 pm to 7:30 pm – Track & Field Events
4 pm – Women's Beach Volleyball: Guam vs. RMI