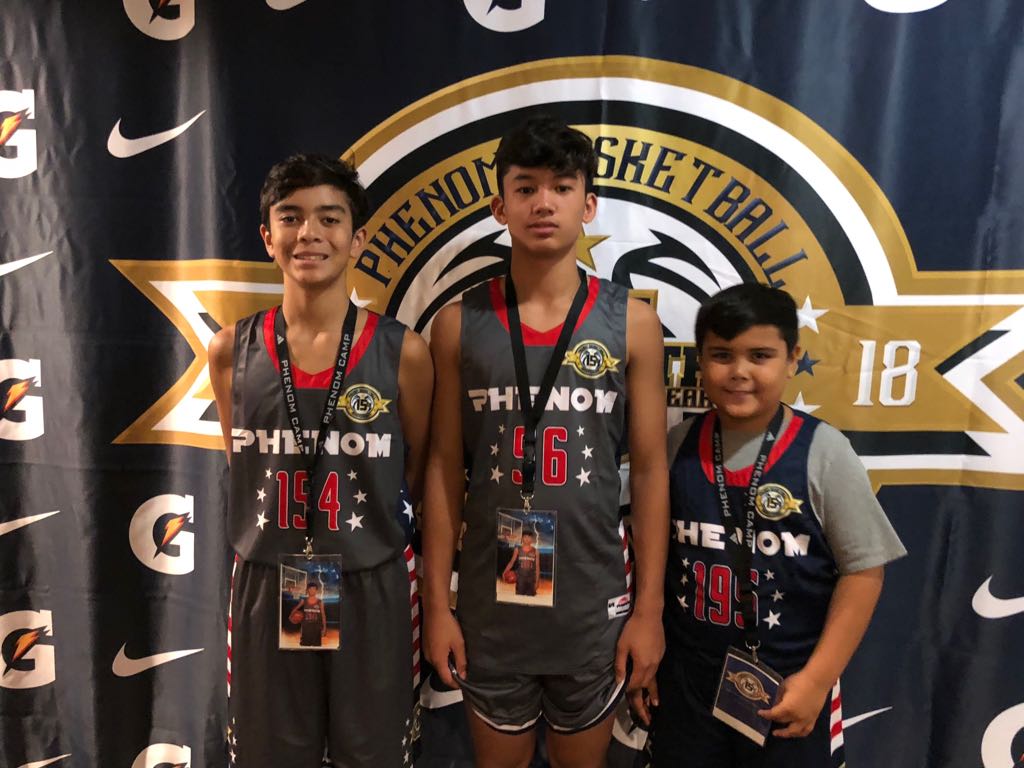 By Jay Leon Guerrero
Summer is just about over for 13 year old Blaise Ada but the memories and experience will last a lifetime. "Ball is Life" for the incoming Bishop Baumgartner eighth grader as he builds his skills in the sport of basketball.
The summer started in July with Ada traveling with the Guam Elite 13U team to the AAU tournament in California for a high level tournament. The Elite squad grinded their way to the championship game and faced a tough opponent but lost a heartbreaker in the championship in triple overtime.
Ada continued to make the most of the 2018 Summer and followed good friend and Elite teammate Zander Kamai.
"My dad heard about the camp through Zander's dad. Zander has a cousin who plays point guard for the University of Portland and he recommended this camp," said Ada.
Kamai is also a middle school student at St John's School. Both Kamai and Ada played in the GSPN Wendy's Middle School All-Star Game.
Basketball boot camp
The camp is called Phenom America National Basketball Camp and both Kamai and Ada participated in the camp strictly for eighth grade students. Zander's younger brother Rian Kamai also participated in the camp.
"A typical day at the phenom national camp is working on skills, daily lessons, film sessions, two games and homework at the end of the day. The camp starts at 8am and we usually end at 10 pm," said Ada. "It was very intense and exhausting. Most people only got about five hours of sleep each night. The games were very competitive as everyone was trying to shine and impress the scouts," said Bill Ada, Blaises' father.
'Phenomenal' credentials
The Phenom America National Camp is on its 15th year of operating and the exclusive camp has hosted a handful of current NBA and collegiate stars. Do the names Lonzo Ball, John Wall, Anthony Davis, Kyrie Irving, Karl Anthony Towns, Harrison Barnes, and Trae Young ring a bell? Each of the mentioned all stars and number one draft picks all went to the Phenom Camp.
The camp Director/Coach is David Taylor, a former player and coach at the D1 level. Taylor said that every year there is an average of at least two campers that will make it to the NBA in the future.
Ada and the Kamai brothers had the oppurtunity to listen to guest speaker Bill Walton, an NBA Hall of Famer. According to Blaise, the camp was a huge eye opener and he realized what he needed to work on to make it to the next level.
"I was out of my comfort zone because many of the players were much taller, stronger and faster than me," said Ada. "I discovered that I'm not that big out there as I am on Guam. I need to get better on catch and shooting and finishing on bigger defenders. I also need to work on my defense."
Elite Academy coaches Willie Stinnett and Dominic Sablan watched Blaise grow in the passed year and are happy with the results of his work ethic. "Blaise has grown immensely over the last twelve months. His commitment to the grind and translating his training into game scenarios makes him a special up-and-coming player," said Sablan.
"His play and leadership was a huge part of our success in Anaheim this past summer at the AAU tournament," said Stinnett. "Although he has a long way to go, he is on the right track to reaching his basketball goals," added Sablan.
"The AAU tournament in California was great! the competition at the tournament was really good. We played really well as a team and ended up winning 5 out of 7 games," said Blaise Ada. "We were able to win so many games cause we handled the pressure and stayed composed during close games. We made it to the championship game in our last tournament but lost in triple overtime. We only had 6 guys for that game while the other team had 10."
The endless summer of basketball
Ada returned home and immediately joined his local summer league teams for the playoffs, winning a championship at the Elite gym over the weekend. Now that summer is over, the focus is now on training for the IIAAG Middle School Boys Basketball season. Bishop head coach Conrad Berg is hoping Ada can lead the Obispos to a championship, a title held by the St Paul Warriors for four years.
"Blaise is a great kid. He's hard working, always trying to improve, and has a great support system around him," said Berg. "He's the prime example of what happens when effort and focus come together. We look forward to helping him continue to learn and grow in life as well as on the court," said Berg.
"I totally recommend this camp to anyone interested," said Blaise Ada. "I discovered that we really have a lot of work to do if we want to have a shot at making it to the next level. Not just skills, but basketball IQ, grades, strength and conditioning, attitude, and work ethic."
PHOTO GALLERY BROUGHT TO YOU BY:

QUICK HITS
The Guam Smokin' Hot women's softball team captured first place in the Asia Cup Softball Championships 2023 in Bangkok, Thailand.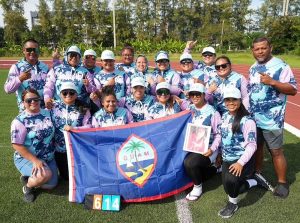 ——————————————————-
Roque Martinez gets the unanimous decision win Saturday night in his debut fight in South Korea's Black Combat promotions.
The 37-year-old controlled the tempo all three rounds and bloodied his opponent with some 3rd round ground and pound.