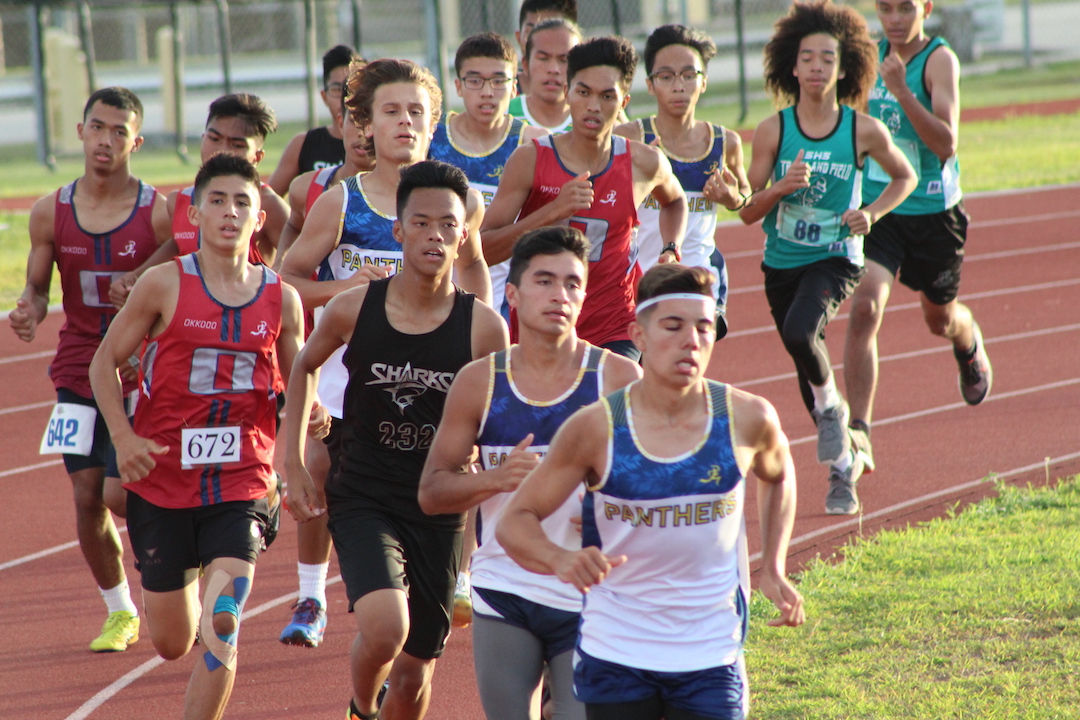 By Jay Leon Guerrero
Athletes entered the mid-season of the IIAAG Track and Field high school league Friday night at the Guam High Track. The league's stars continued to shine and coaches began experimenting with athletes in different events to get as much athletes as possible to qualify for the All-Island meet.
With the larger teams looking to occupy as many spots as possible in the all-island meet, smaller teams look to earn valuable points to get their athletes on the medals podium.
Sanchez wins for Sanchez
For the second straight week, Sanchez Shark Erjel Sanchez won the 110 meter boys hurdles and looks to bring home a gold medal for his school. Erjel, a sophomore, ran the 110 hurdles with a time of 17.62 seconds. He also broke the school record in the 300 meter hurdles in meet two, a record that was established in 2001.
"My school doesn't have a track so we train on the grass or dirt on our school grounds," said Sanchez. "I want to make my school proud and prove that even though we don't train on a track that we can still do well."
"Our team isn't that big but we all cheer and encourage each other to get as much (athletes) as we can in the all-island," said Sanchez. Sanchez keeps lowering his time in both hurdle events to give valuable points for the boys team in hopes of a better finish than the previous year.
Calvo follows mom's footsteps
Academy sophomore Veronica Calvo continues to perform well in the long jump and the sprints as she looks to help the Cougars finish in the top tier of the girls league. Calvo is coached by her mom, Jackie Baza Calvo, a former Academy standout still holds middle distance national track records.
"I've learned so much since my freshman year about track and how the system goes. I'm more confident this year and the team will improve as the season progresses," said Calvo. Calvo had a PR distance of 4.17 meters in the long jump in meet two, coming in second to Guam High's Alexia Brown who jumped 4.38 meters.
"We are all working so hard in practice so hopefully we improve in our distances and times. It's only week three and the team is looking to get better by the all-island meet," said Calvo.
Tugade focused on All-Island
JFK's Richelle Tugade hopes to get better physically and mentally by next month to help the Islanders win a title that has eluded them last season.
"I need to work more on my strength and speed but more importantly I need to work on my mentality going into the island meet," said Tugade. Tugade, a junior, was the fastest female in the 100 meter dash with a time of 13.49 seconds. Much like her elder sister, Regine, did a few years earlier for the Islanders, Tugade wants all-island gold medals and an IIAAG championship. "I'm still confident we will do well this year as a team. We still have some players figuring out which events they are good at and as soon as we establish that the out team should do well," said Tugade.
Guam High continues to dominate relays
The Panther boys 4×100 sprint relay team of Brandon Kong, Khalid Volious, Sincere Powell and Jeylyn Dowdell continued their relay dominance with a third straight victory in the event with a time of 45.76 seconds.
"There's always room for improvement still. We have to continue to work hard in practice and we have to also work on perfecting our handoffs," said Volious. Volious credits good coaching and mentoring for their success. "If it wasn't for coach (Joe) Taitano then we wouldn't be as strong as we are as a team. He pushes us to do better every meet," said Volious.
The Panthers' dominance in the event is so strong that their B team finished second in the event for both boys and girls. Caleb Coad, Chad Powell, Brandon Tuquero, Jadon Duenas, and William Sanders came in second for the event with a time of 46.88 seconds. The FD Friar team composed of Kein Artero, Tomas Calvo, Kireon Rios and Joseph Green improved their time from last week and came in third overall with a time of 47.51 seconds.
The girls 4×100 sprint team also continued their dominance in the event as well with Alexia Brown, Mikayla Angoco, Shelby Sanders and Malia Wilson clocking in at 54.92 seconds for the Panthers. Kyra Pitts, Sirena Perez, Seledta Carlisle and Chrondra Crump from Guam High was second with a time of 56.91 seconds.
Complete results are on the website link below:
PHOTO GALLERY BROUGHT TO YOU BY:

COMING SOON …
High school girls volleyball playoffs
Brawl 3: Oct 13
Guam's Strongest Man and Woman Competition October 29
QUICK HITS
The Figo Islanders 40s women's softball team took gold in the Senior Softball World Championship in Las Vegas. Figo came out of the loser's bracket and beat the Arizona Belles 17-3 in the AA division championship game Sunday afternoon.
Other Guam teams that played in the 40s tournament were: Team SOTTA (women's) and Bud Light Guam, Friars 671 and Sindalun Guahan (men's).
Sindalu finished a respectable 4th out of 24 AAA division teams.