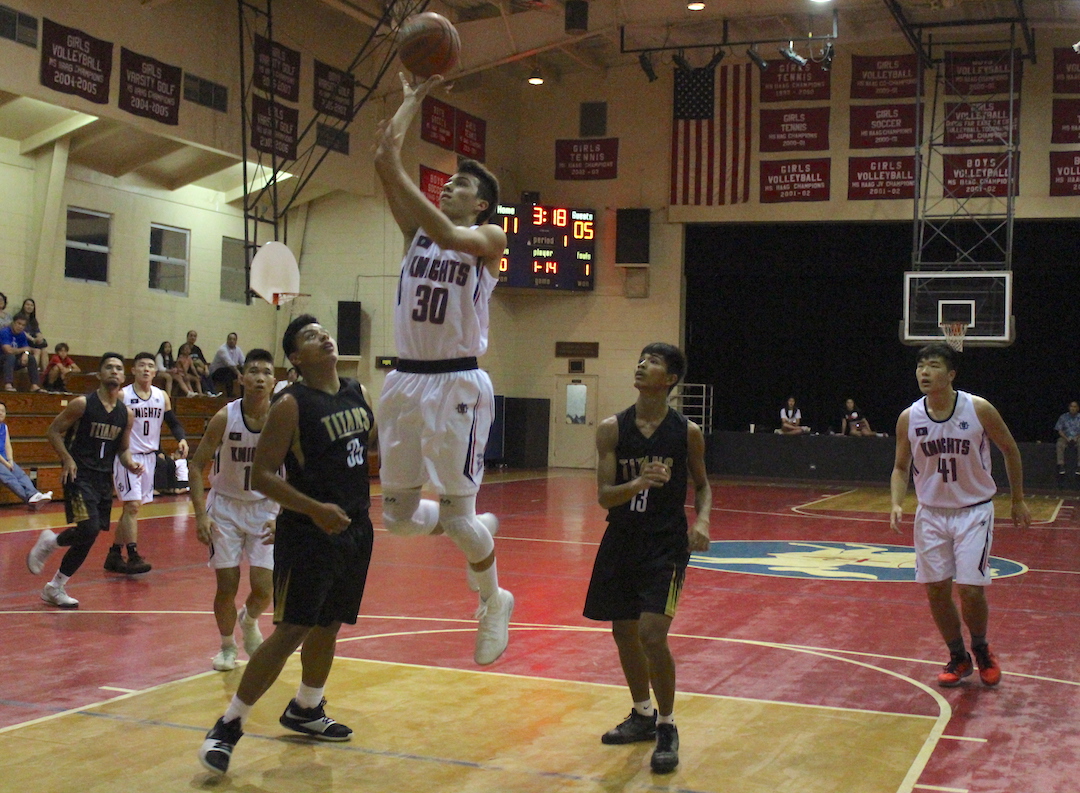 By Robert Balajadia
For three quarters the St. John's Knights looked unstoppable as they surmounted as much as a 30-point lead over the Tiyan Titans in a Taga Division battle in the IIAAG boys basketball league. The Titans nearly pulled off a historic comeback as they battled back in the 4th, but still fell 69-58 to end their two-game win streak all the while putting a dent in their playoff chances.
The Knights 'big three' filled up the scoreboard as forward Takumi Simon led the way with 22 points. Guard Michael Min added a strong 20 and swingman Tony Hsieh added 16 to round out the St. John's top scorers.
Tiyan got 15 points from Marc Evangelista and 11 from guard Isaiah Guerrero with the pair doing majority of their scoring in the Titan's 28-point 4th quarter.
St. John's more than doubled their first half scoring after exploding for 32 points in the 3rd period. Swingman Tony Hsieh scored a quick five points to give the Knights their first 20-point lead in the 3rd period part of a 14-4 run. Evangelista briefly ended the Knights scoring spree with back-to-back fast break layups, but a barrage of three pointers and easy transition buckets off of steals helped give the Knights a 63-28 lead.
"When we're really clicking, I think we're one of the best team in the league. That 3rd quarter was a good example of how good our offense can be when we're working together," said Simon on grabbing the big lead. "We have to be more consistent throughout the whole game."
The Titans weren't planning on going away as they swarmed the Knights second unit to quickly hit a 10-0 run in the opening two minutes of the 4th, led by Guerrero. Evangelista and big man Ryan Blas tore up the Knights down low as they turned in 11 more points to further the run 21-0, with just 2:28 left to play.
The Knights starters finally came back in the game after a three-pointer from Westbrook Concepcion to get within 66-55. Knights center Isaac Sim ended the Titans wild run with a jumper from the key, also closing the door on the Tiyan comeback in the final minute.
"We can't underestimate anybody; Tiyan is a good team. Our second unit didn't come out to play, but I know they want to improve and get better so that's something will be working on," added Simon.
With the playoffs just over a week away, Simon and the Knights are ready for their last ride.
"We have to be 100% focused in the playoffs. We have to click completely to be a championship level team, and I believe we have the talent. It's just going to take hard work to get it done," said Simon.
The Titans will face the Sanchez Sharks Friday in a game with big playoff implications.
PHOTO GALLERY BROUGHT TO YOU BY:

Foody's 5 Fun Facts
AOY Anthony Cruz
DID U KNOW?
FD senior Matt Fegurgur first dunked a basketball in his freshman year when he was 6'4″. The now 6'9″ center looks to dominate high school hoops.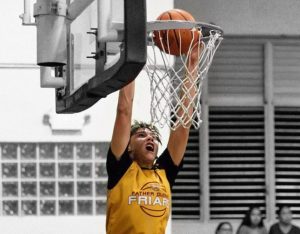 COMING SOON …
– ISA Sports League Kicks Off
– FIBA Asia Cup: Team Guam!
– Zach and Larry Return to Guam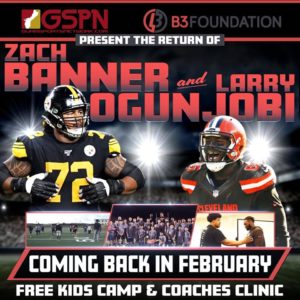 QUICK HITS
Still pumping iron: Pito Cruz, Ed Perez and Joe Duenas are some of the godfathers of bodybuilding and fitness on Guam. They're still at it with another workout together at Pito's gym.
—————————————————-