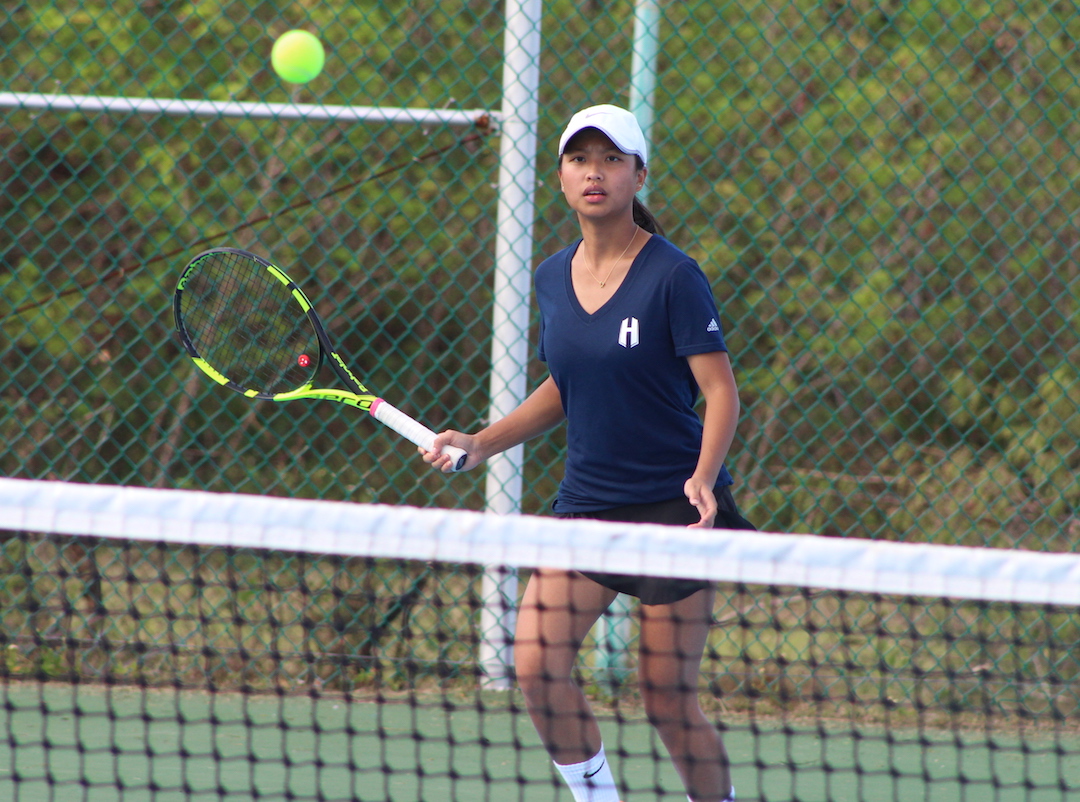 By Jay Leon Guerrero
The Harvest Eagles are one step closer to making history after Tuesday's victory in the IIAAG Tennis League.
The Boys and Girls are currently on top of the standings and both teams are looking for the sweep to win the IIAAG team titles. The Harvest girls are undefeated at 6-0 while the Harvest boys are 5-0-1 (tie against FD).
With just two games remaining, the Eagles look to celebrate two titles for the first time in their school's history. Mason Caldwell, who won the MVP as a freshman two years ago, said the Eagles have been working hard to accomplish their goal of winning a championship.
"It's been a good year, everyone has been stepping up and winning matches they should win," said Caldwell.
The Harvest team is composed of just eight players but the team is very talented despite its size.
Here is the roster for the Eagles:
Boys
Mason Caldwell
James Hourican
Kevin Joung
Abraham Kim
Justin Kim
Eddie Lee
Gavin Lee
Sechan Yoon
Kevin Shy
Girls
Asia Balajadia
Selah Chong
Harshitha Gogineni
Aya Hishikawa
Laurel Hughes
Rosalyn Hughes
Analina Koh
Danielle Lujan
Paige Mantanona
Gabrielle Paulin
Jontae Sanchez
Keina Yoo
Caldwell defeated all his opponents thus far and hopes to give Harvest their first boys title. "We pulled through early in the season with a victory over St John's and a tie against FD (last season's champion)," said Caldwell.
Caldwell did not play against Guam High yesterday due to illness but his teammate James Hourican stepped in to defeat Guam High's John Ebler 8-1. Harvest senior Gavin Lee also won his match via forfeit.
According to the regulations, in case of a tie; the champion for the season is determined by the total matches, or points, accrued throughout the season. Caldwell and Lee have high hopes their team would win the tie breaker against FD.
"Last week we tied against FD 28-28. We have remaining games against Southern and Okkodo to end the season and after that the points are tallied at the coaches conference," said Lee.
Lee, a senior, will play in the all-island tournament in the singles division.
"In the previous three years, I've played in the doubles event but this year im excited to play in the singles event. My goal is to at least make it to the semis but I am going to do my best to go for the whole thing," said Lee.
Lee may have to contend against teammate Caldwell and top players from St John's and FD. Caldwell also said he dreaded to go against his teammate but it may be possible if the brackets have them meet during the tournament.
Girls division
In the girls division, Selah Chong won 8-0 over Guam High's Amber Guerrero to help the Eagles remain undefeated. Chong came up huge in the upset victory over Academy earlier in the season to put her team in good position to win their first title since 2008. Chong said she suffered one loss against St John's but her team was still able to via points.
In her match against Academy, Chong went into the match against her opponent with nothing to lose and got the 8-6 upset victory to help give valuable points for her team in the victory.
"If we win, this would be a very special championship for us; especially if the boys win as well," said Chong.
The Eagles are now 6-0 and are ahead of the standings with Academy and St John's trailing.
"Prior to the start of the season, we knew we had a good chances because of the high level of our players," said Chong.
Chong said she was happy the teams performance during the season and thanked her friends for their support.
The Eagles girl's team need to win out their season to clinch the title. Their remaining games are against the Southern Dolphins and the Okkodo Bulldogs. Barring any huge upset, the Eagles are in a good position to win the championship based on rankings.
The All-island tournament is scheduled for the first week of March. The Eagles look to continue their momentum and win medals in the singles and doubles divisions. Caldwell will look to win his first all-island individual title but it will not be easy.
"There are good players from both St John's and FD but I also have to watch out for my teammate (Lee) also who has been playing very well this season," said Caldwell.
The Eagle boys have to wait and see how the points tally up. Should they win the championship, it would be their first in history (according to Harvest players) and it would end FD's three-year championship streak.

2022 GSPN I MÅS METGOT COMPETITION
2022 GSPN I Mås Metgot Competition Recap
2022 GSPN I MÅS METGOT COMPETITION
2022 GSPN I Mås Metgot Competition Recap
2022 GSPN I MÅS METGOT COMPETITION
2022 GSPN I Mås Metgot Competition Recap
COMING SOON …
Sat: Origin Power Lifting Meet 
ISA Girls Volleyball/Boys Soccer Finals
QUICK HITS
Guam runners complete London Marathon. Former Guam top runners Charlie Epperson and Aysha Perez Epperson along with Cameron ONeal completed the 42nd London Marathon.
Charlie 2:47:56
Cameron 2:59:49
Aysha 3:51:04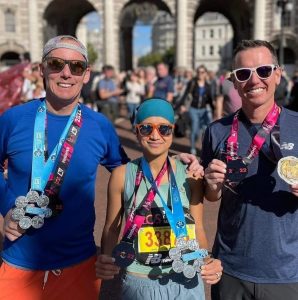 ———————————————–
Trevin Jones drops a unanimous decision 30-25, 30-27, 30-27 to Raoni Barcelos in UFC Fight Night 211 in Las Vegas.