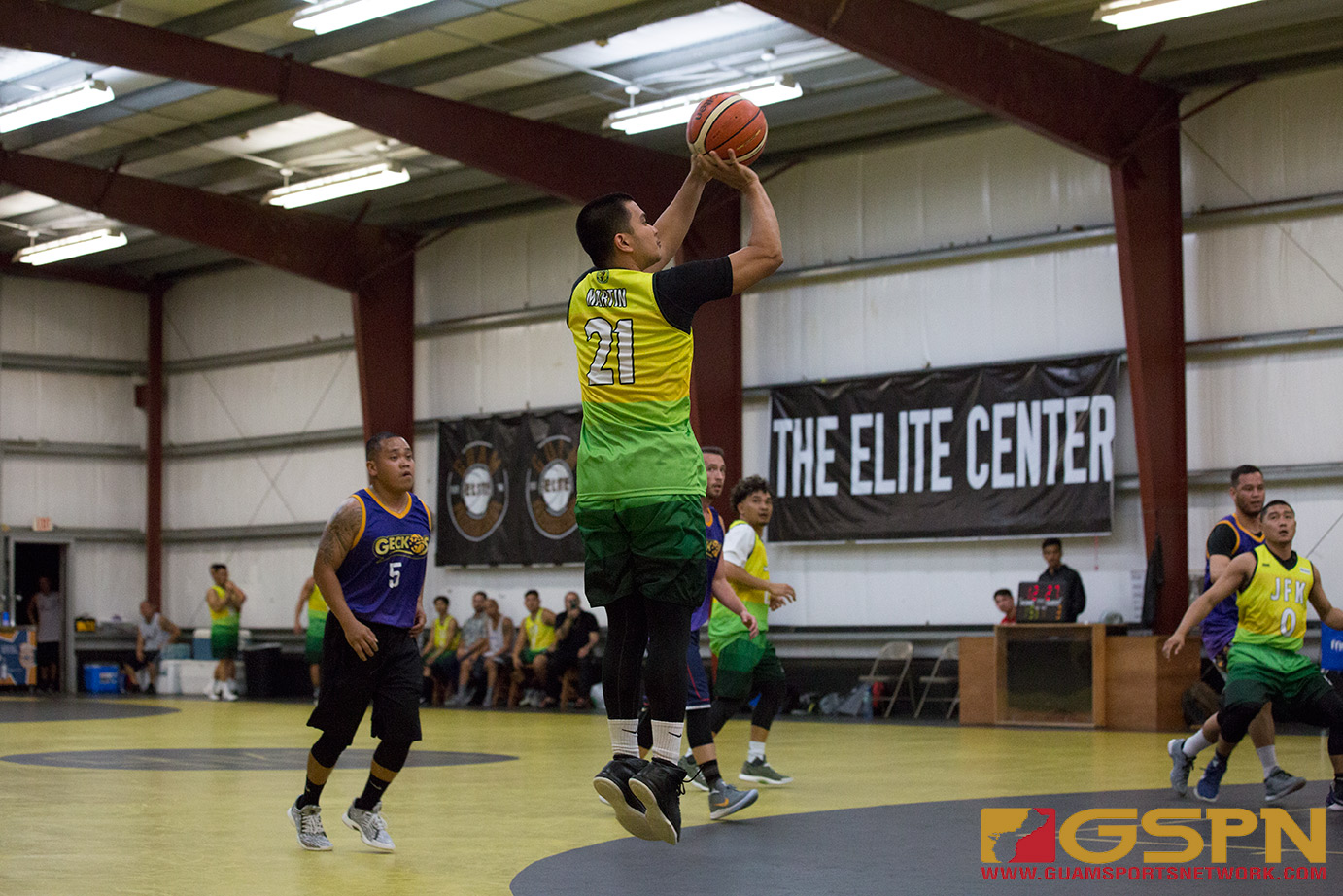 By Jay Leon Guerrero
It's been long overdue, but an organization finally put together an Islandwide All-Alumni Basketball League. The Guam Elite Academy decided to host the league and managed to register 13 high school teams of former students getting another crack at representing their alma mater and battling their old rivals.
Will Stinnett from the Elite Academy said he was happy with the turn out. "We have a lot of good athletes from different generations and that's something we were intrigued by. It's been long overdue and someone had to start this league," said Stinnett.
"We got different players from different generations congregating at one neutral gym and playing the game they all love. It's interesting to see not just the players but also family and friends coming out to watch games and learning a little about the history of the game when these players took the court in their high school days," said Stinnett.
High school superstars from different generations who didn't meet the age bracket now have the opportunity to play alongside eachother and take the court for their school.
"For example, tonight's game featured Jin (Han) with JP Cruz playing on the JFK squad joining Billy Belger and Kurtis Silva. They all played in different generations and they are now on the court together representing their school," said Stinnett.
JFK vs GW
The game was a classic battle of one of the oldest rivals on Guam with JFK and GW taking the court. The two youngest members from the JFK squad got the offense rolling for the Islanders to take a 15-3 advantage. Billy Belger and Kurtis Silva continued what they did against rival schools just two years ago and scored buckets to put their team ahead to open the contest.
The Gecko bench trimmed the lead to 28-18 by halftime with Cisco Concepcion nailing a three-pointer and Nate Torres scoring four straight points to close the half.
JP Cruz from JFK kept doing what he does best and hit 3-pointers to help the Islanders retake momentum. The Geckos, missing Joe Blas who relocated late last year, grinded their way to a comeback with Casey Cruz hustling for points and Len Aguon making a pair of 3-pointers but JFK's deep bench prevented the comeback.
Al Vitug and Merwin Martin closed out the game for the Islanders as they celebrated their opening game victory with a 72-50 victory. Belger led the stacked JFK squad with 22 points. JP Cruz had 12 points, Silva chipped in 11 points for the Islanders (1-0). Big man Jeff Serrano scored nine points for the Islanders.
"It's a great league and I'm excited to play with these great players from JFK. I'm looking forward to playing other good teams from FD and Okkodo," said Belger. The Islanders take on one of the youngest teams in the league next, the Okkodo Bulldogs.
The Bulldogs alumni include the likes of Aaron Blaz, Karl Melencio and Maks Kepwe. The two rivals meet this Sunday at 7pm at the Elite Center in Tiyan.
The Geckos look to bounce back as they take on the Sanchez Sharks on March 4th at 8pm. Torres led the Geckos with 12 points, Aguon and Concepcion each chipped in nine points.
Gecko player James Stake hopes his team can bounce back and looks forward to the season.
"FD is the only school that has a known Alumni Tournament so this is special because all the schools are participating," said Stake. "Our GW team is a scrappy team with a lot of good guards so we are looking to work hard this season and have some fun."
North meets South
In the first game of the evening, the Sanchez Sharks led by former stars Jay Casimiro and Ben Whittaker defeated Inarajan High Hawks 52-41.
Sanchez led by as much as 15 points in the first half before Diallo Cruz from Inarajan started to lead a comeback with a pair three-pointers in the second half to cut their deficit to seven points.
Whittaker sank a short jumper and Jeff Manalastas drained a 3-pointer to secure the victory for the Sharks. Timothy Edillor led the Sharks in a balanced scoring attack with nine points. Manalastas and Jazz Ngiratumerang each scored eight points for the Sharks who improve to 2-0.
Cruz led all scorers with 17 points. Inarajan loses their opening game and fall to 0-1. Inarajan will have a break and will return on March 1st and will take on the Okkodo Bulldogs for the very first time.
Here are the current standings:
Pool A
FD JMI/Paradise Phoenix (2-0)
Oceanview/Southern (1-0)
FD Elite Friars (1-1)
St Paul Warriors (0-1)
Sanchez AMC Sharks (0-1)
ND Danks Junction (0-1)
Pool B
Sanchez Sharks (2-0)
JFK Islanders (1-0)
Okkodo Bulldogs (1-0)
GW Geckos (0-1)
Inarajan High (0-1)
ND Kings (0-1)
ND Sixteen (0-1)
Sunday's games:
5PM: ND Kings vs ND Sixteen
6PM: Sanchez AMC Sharks vs FD JMI/Paradise Friars
7PM: Okkodo Bulldogs vs JFK Islanders
8PM: Ocenview/Southern vs FD Elite Friars
PHOTO GALLERY BROUGHT TO YOU BY:

QUICK HITS
The Guam Smokin' Hot women's softball team captured first place in the Asia Cup Softball Championships 2023 in Bangkok, Thailand.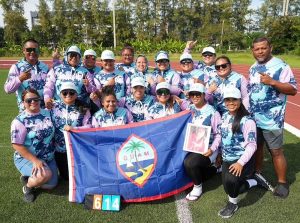 ——————————————————-
Roque Martinez gets the unanimous decision win Saturday night in his debut fight in South Korea's Black Combat promotions.
The 37-year-old controlled the tempo all three rounds and bloodied his opponent with some 3rd round ground and pound.