By Robert Balajadia
18-year-old Euro soccer star Camille 'Cami' Pereira was born, but not raised, on Guam though the island is still a place she considers her home. Cami regularly visits the island every couple of years and she's currently on Guam visiting family before she prepares for her life's next chapter.
"I don't wear it on my sleeve, but Guam is my home and I'm proud of where I'm from. I'm proud to tell people I'm a Pacific Islander when they ask where I'm from," said Cami of Guam during a sit-down interview.
The daughter of Philip and Liz Perez just wrapped up her senior season of high school at Stuttgart where she too completed her final year of Division I soccer, winning a championship along with being tournament MVP with the Panthers. She was also named to the All-Tournament Team; 1st Team – All Region; 1st Team – All Europe.
Cami was even recently named the 2018 Stars and Stripes Girls Soccer Athlete of the Year in her first season with Stuttgart after transferring from the Vilseck Falcons, where she was named Team MVP of the 2016-17 season.
"It was very special to me since I did move my senior year. For my coach to put me up for an award like that, even though I'm new to the school, was very cool. The significance behind it was that it didn't have to be that I scored the most goals or got the most assists, but the fact that they recognized me for the player that I was made it really special," said Cami the humble star on being named athlete of the year.
Constant relocating in being a military family hasn't slowed down Pereira as she has shown the ability to climb the ranks in just about any situation.
Innate Level of Dedication
A resume of Pereira's soccer history at just 18-years-old is astounding. With over a decade's worth of international playing experience, involvement with different soccer clubs as a guest (VFL Sindelfingen main club) and number of camps attended, it's safe to say that the sport of soccer had fully consumed Cami's life.
"It was a lot of social sacrifice, but I never minded since practice is always what I wanted to do more. My parents always gave me the choice and I would always choose practice. It's what I love and it's what I would always rather be doing," admitted Pereira.
Cami even skipped out on her senior prom after it conflicted with her schedule for tournament training.
"People ask if I regretted that, but I always tell them not a single bit," laughed Cami.
And to top it all off, Cami is rocking a 4.2 GPA with a 1400 SAT score with her academics mirroring her athletic accomplishments.
"It was hard, but the demand is what really pushed me. My parents didn't put anything on me other than school and soccer and gave me every opportunity to succeed, so I had no excuses. Soccer has helped me in school because you have to be creative and think fast. And school has helped me in soccer since your brain always has to be working and you have to be checked in, and if you're not, that could mean five-minutes less playing time," said Cami.
Leaving doors open
Playing Euro-soccer has taught Cami a lot about the game, which makes her decision to not accept any offers from numerous DI and DII full-ride soccer scholarships from state colleges surprising, yet endearing. Cami has decided to put the pursuit of a career in Exercise Science ahead of soccer as she will be attending Nova Southeastern University in Davie, Florida.
"I made the big decision to go to a school even though I didn't have the immediate chance of playing for them since their roster was full. I didn't want to end up playing for a school just because of what they were offering me and none of the schools offering felt right. I might have an opportunity to play for the school in Spring, but the school offers what I want to study and school has always come first for me," said Cam on her post-high school decision.
Cami was accepted into the Exercise Science Program as well as the NSU Razor's Edge Global Scholars Program.
She's even turned down offers to play for teams in Europe, which tells you a lot about the importance of her personal goals.
A strong support system
Cami is the goddaughter and niece of former Guam football star Joe Pereira, who currently goes by 'Joe Guam'. Cami's Nino Joe has always been her biggest fan outside of her parents and the former D1 football standout had been pushing Cami towards greatness since he first found out she could kick a soccer ball.
Cami shared a story when Nino Joe, who played keeper in high school, challenged her at 9-years-old to score a goal on him for a new pair of soccer cleats. Cami is reminded of that challenge every time she walks by those cleats, which are proudly displayed in the Perez household.
Cami's family on Guam have been ultra supportive from Day One as her grandparents always try to catch her games via FaceTime from mom Liz. Her uncles always make it a point to travel to watch Cami play as often as they can.
And to top it all off, mom and dad have been the driving force behind Cami's success as they don't hesitate to drive an hour to-and-from practice on the daily despite having to sometimes burn some midnight oil. Even the video highlights and game photos are credit to mom and dad.
"My support system is the whole reason I am where I am today. All the way back to my family on Guam, no matter what time of day my grandparents are always awake to watch my games, even at 2 am. My parents are there constantly, talking to coaches when I've been too shy and they're to thank for everything."
Highlight videos

QUICK HITS
Guam MTB National Championship: Edward Oingerang and Jennifer Camacho are your 2023 MTB national champions. Oingerang finished the course in 1:13:24 while Camacho won her second straight title in 54:08.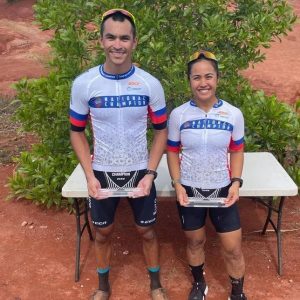 ——————————————
Kobe Miyashita, with St. John's coach Arvin Flores, was named the 2023 IIAAG Middle School Boys Volleyball MVP!