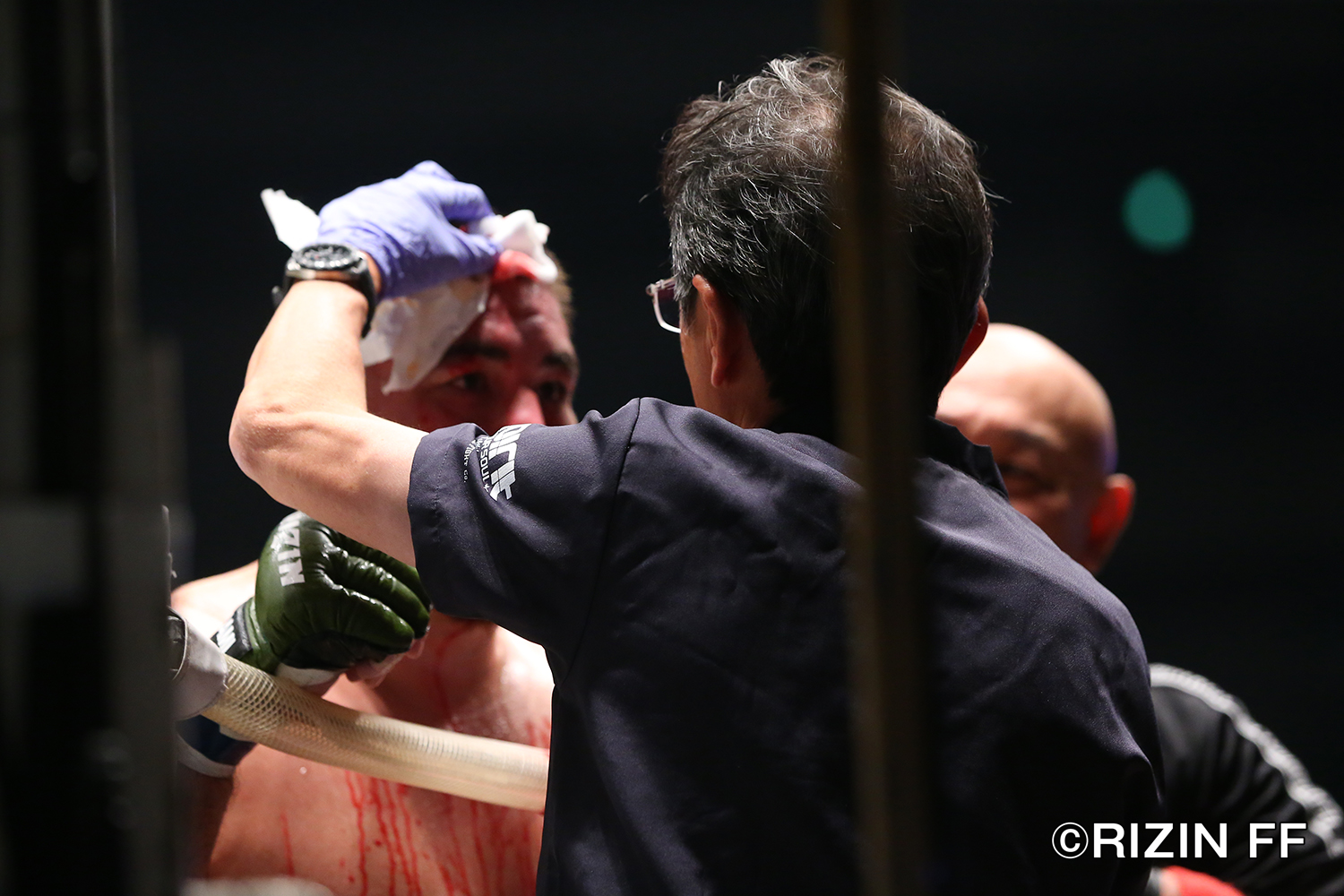 By Patrick Lujan
TOKYO, Japan – The biggest fight in Guam MMA history went down in the Saitama Super Arena in Japan and the referee, unfortunately, had the final say.
Roque Martinez and Mirko Cro Cop Filipovic was going back and forth until an elbow cut Martinez almost midway into the 10-minute first round.
The referee stopped the fight to have Martinez looked at by the fight doctor as blood was evident on his face. After a few moments, the referee called the fight at the 4:57 mark of the opener.
"I'm a bit disappointed," Martinez said the day after. "Of course, I wanted a win. But I'll be back. Hopefully we get a rematch on New Year's Eve show! Yeah tough call. Wish they let it go."
Here is how it went down.
FIRST ROUND (10 min)
After the touching of gloves, 5:57 pm local time, Roque starts with a low kick. Roque attempts a high kick, connects on low right kick. Hard exchange by both. Roque with low kicks. Mirko with two kicks at the 8:40 mark.
Roque catches a mid section kick and pushes Mirko to the ropes. Both posturing when the referee separates them. Roque with a solid body shot. Mirko with a combo. Mirko connects with a right at the 7-minute mark.
Roque blocks a head kick.  Mirko with an elbow. Mirko with low kicks. Roque pressures in the corner and slams Mirko's thighs a few times, followed by knees to the inside leg. Ref resets.
Roque with an uppercut. Another knee and uppercuts. Mirko with a few uppercuts and an elbow that cuts Roque. Ref stops to get Roque checked by the fight doctor at 4:57 mark as blood starts to come down. Doctor/Referee stoppage.
In the fight that followed, Miyuu Yamamoto pulled off an inspiring performance in honor of her brother Kid Yamamoto. Miyuu controlled the entire fight in redeeming a 2016 loss to Andy Nguyen with a unanimous decision win.
After the fight, an emotional Miyuu pointed to the sky in tears before addressing a sold-out crowd of over 30,000 fans.

COMING SOON …
High School Football starts Sept. 29
Brawl 3: Oct 13
Guam's Strongest Man and Woman Competition October 29
QUICK HITS
The Figo Islanders 40s women's softball team took gold in the Senior Softball World Championship in Las Vegas. Figo came out of the loser's bracket and beat the Arizona Belles 17-3 in the AA division championship game Sunday afternoon.
Other Guam teams that played in the 40s tournament were: Team SOTTA (women's) and Bud Light Guam, Friars 671 and Sindalun Guahan (men's).
Sindalu finished a respectable 4th out of 24 AAA division teams.