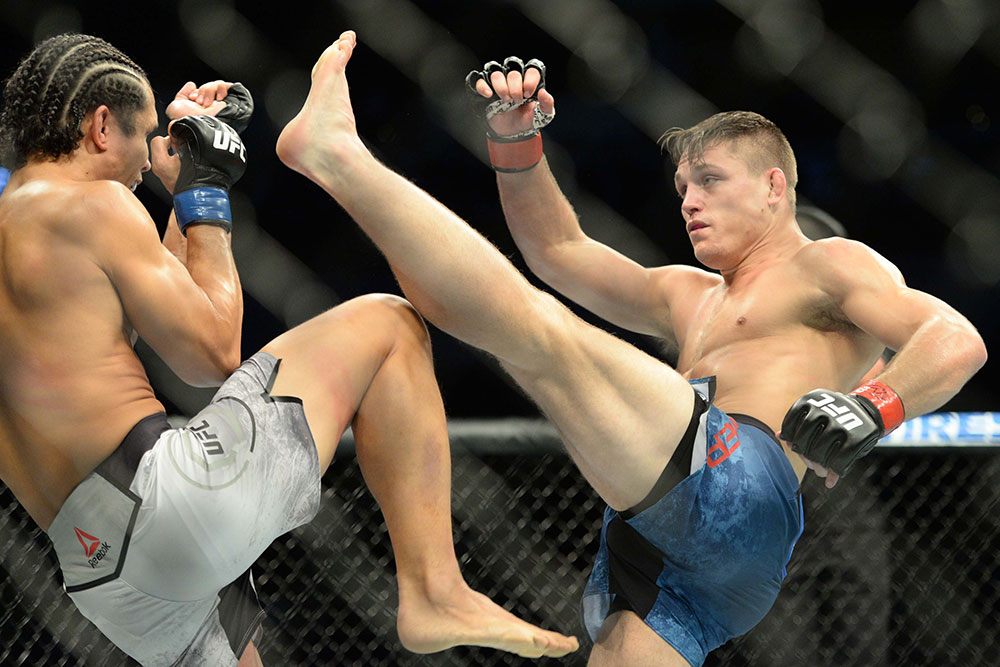 By Patrick Lujan
Drew Dober will forever be in the Guam sports history books despite never stepping foot upon our shores – at least not yet.
Dober – a native of Nebraska – has fought and beaten Guam's two UFC fighters Jon Tuck and Frank Camacho this year, both by unanimous decision.
The 29 year old is coming off a convincing win over Tuck this past weekend in Lincoln and beat out Camacho in a closer decision on January 27th in Charlotte.
"They are extremely tough," Dober told GSPN in an exclusive interview. "I couldn't finish either opponent and both had a 'no quit' mentality."
Call it ironic, but after the welterweight fight with Camacho in January the UFC veteran (20-8) was tapped to take on Tuck in a lightweight bout in his home state.
"I honestly accept any fight I am offered. However, knowing I was fighting another Guam martial artist I knew I had to be prepared to go hard all three rounds."
Against Tuck, Dober was clearly the aggressor with constant pressure on Guam's trailblazer from start to finish. He did get caught in the grasps of Tuck's black belt jiu-jitsu arms in the second round, but managed to get out of the choke hold.
"I truly had to stay calm and confident in those positions with Tuck," Dober described. "He is a master at choking people unconscious. His ability to use his feet to control opponent's bodies is amazing.
"I don't believe I need to avoid any position of a fight. Jon Tuck does have amazing jiu-jitsu but I believed my jiu-jitsu could keep me safe to win the fight. However, a sport jiu-jitsu match could be different."
GUAM RESPECT
Guam fans may have a distaste for Dober for beating our boys, but he's shown nothing but class toward our island – a sense he received being in the Octagon against our top warriors.
"I loved the amount of respect and true martial art spirit both fighters showed me. It really gave me a positive vibe and outlook on all of Guam. I would really love to train in and experience Guam myself. Both fighters showed true martial art honor and spirit the entire time. It was an honor to be able to compete with such talented and respectful warriors.
SO WHO'S BETTER?
"I can not say which one is better. Each opponent had his strengths and his individual personality. I am equally sore after the fight with both and both fighters I could not finish. I think Guam has some amazing warriors in two weight classes.
"I look forward to being able to experiencing Guam myself and hopefully I won't have to be the enemy any longer, haha!"

QUICK HITS
The Okkodo Bulldogs secured third place at the Far East Division I Girls' Basketball Tournament in Camp Humphreys, South Korea. Jasmine Samson and Haley Cabrera were named All-Tournament selections in recognition of their hard work on the court. Vaysia Blas won the 3-point shooting contest. The Bulldogs played nine games in three days with a squad of eight:
Erin Moldez
Jasmine Samson
Haley Cabrera
Sharm Tauiwei
Hanna Meinik
Jordyn Zacarias
Jordin Hernandez
Vaysia Blas