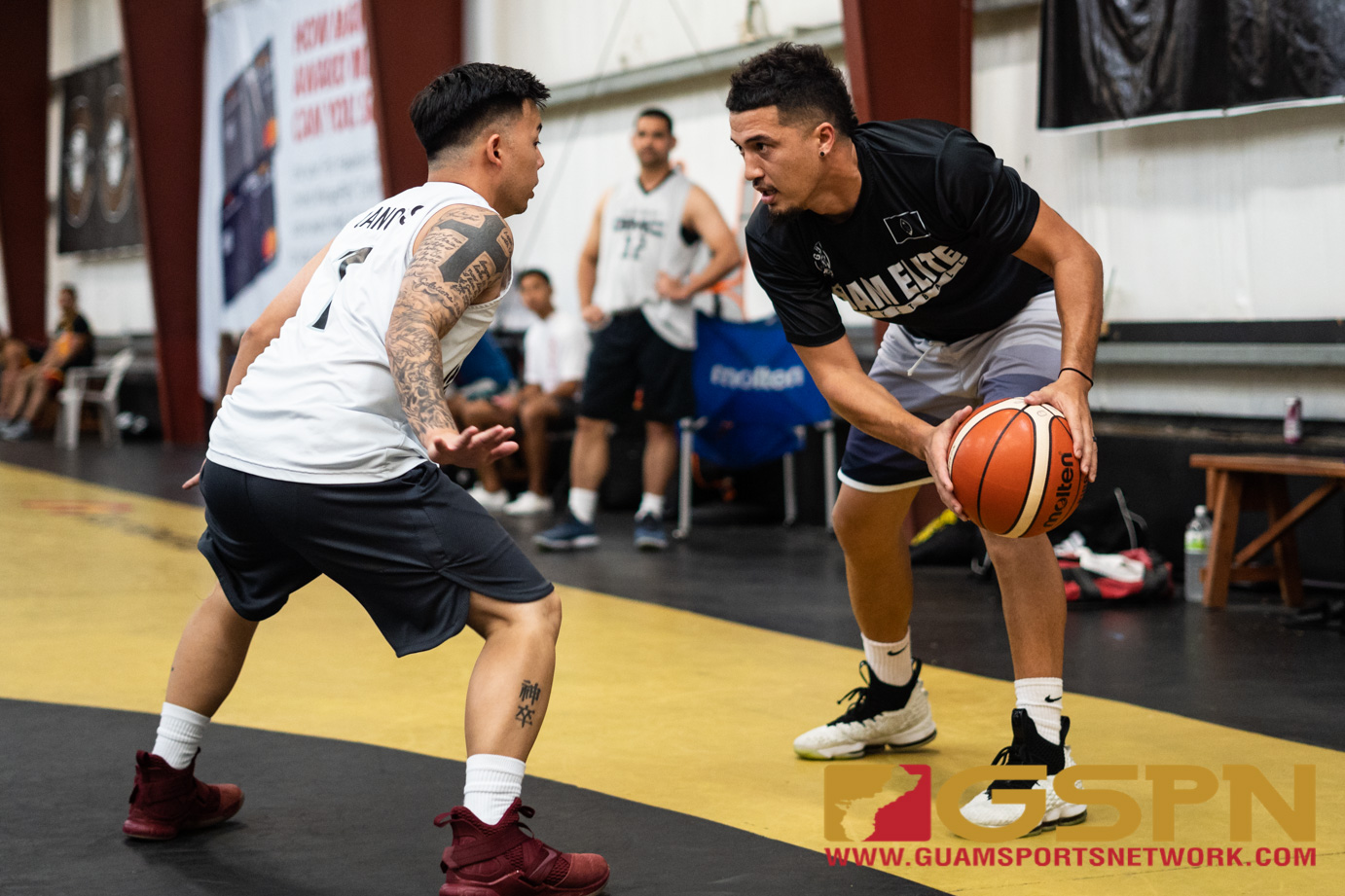 By Brandon Kinsella
Basketball on the island of Guam is a beloved sport that has the ability to bring people together. At the Guam Elite Center in Tiyan, the All Island Alumni League is being hosted for the second year in a row which features a school-on-school system with some of the best ballers playing against each other, just like they used to in high school.
Through the creation of the league, Guam Elite has had great success in bringing the basketball community together to compete as well as instilling a camaraderie for the whole island to be a part of.
Background of the League
Prior to the startup of the league last year, FD had been the only school to feature an Alumni Tournament. However, that tournament is only open to FD alumni.
Will Stinnett, cofounder of Guam Elite, and an FDMS alumnus (Class of 2004) elaborated on what inspired the creation of the All Island Alumni League.
"For years FD has had their own alumni tournament every summer and it gives us the opportunity to compete, but more importantly it brings everyone together as a community. We wanted to be able to establish something similar for all of Guam's high schools to be a part of."
Guam Elite has been successful in establishing something similar. As a spectator to these games you witness hard fought competition between athletes who are passionate about the game, and who are proud to represent their Alma Mater.
The League
The League features teams from almost every high school on Guam and still are awaiting the addition of Tiyan and Guam High. Some of the schools have more than one team in the league, and St. Johns and Harvest are currently combined.
The PFC Islanders (JFK) are the current reigning champs and defeated the Guam Elite Friars (FD) in the championship game last season. They have not lost a single game since the creation of the league.
When asked what is required to win at such a high level in this league, JFK alumnus Jin Han responded saying, "Team chemistry. Any team can have good players, but in order to succeed, each player has to understand their role. Doing that is the first step to succeeding in this league."
Had each of these players still been in high school, living out their glory days, they would have been notably categorized as a 'dream team.'
So, it isn't hard to see why Han believes this to be so vital to success in this league. These teams feature the greats from different eras of Guam basketball. And having all of these great players on one team means understanding that each player has a role to fulfill in order to get wins.
Han also explained what he believes to be the best thing about the league.
"The best thing about this league is being able to represent your alma mater. People take pride in the school they graduated from. So being able to play under your school name is definitely an honor."
Beyond Basketball
While being a witness to the action of these games, you'll see athletes that enjoy competing and that love the game of basketball. Each team takes the game seriously and plays to win. But outside of basketball, this tournament is doing much more than just giving the Alumni athletes the chance to compete playing their beloved sport.
"It's a great feeling being able to come out and compete against the guys that we played in high school. And as much as each of us enjoy competing, the camaraderie of this league is really what it's all about." – Will Stinnett (FD)
"Of course, we do want to win, but at the same time this league is about getting together with all of the Alumni, catching up with old friends, and networking." – Cy Concepcion (Oceanview)
"In the end, it's basically about being able to come out, show your school spirit, and enjoy the camaraderie after the games." – Jin Han (JFK)
This camaraderie that each of these players talk about is obvious to any spectator that comes out to watch a game. Each night a different school hosts dinner, and after the games, the players, their families, and even fans gather around and enjoy company with old friends while occasionally sharing a drink or two.
"[The league] really brings everybody together. Host nights people barbecue, hangout, and catch up with each other. And last year at the end of the season, we had the John Dank Show come and perform. And that was huge, everybody came through… It's kind of developing into something on its own." – Stinnett
It's not too late to come out and get a piece of the action. The playoffs for the open division are ongoing at the Guam Elite Center.
The semifinals are scheduled for Wednesday, October 10, and the Championship Game is set to take place on Sunday, October 21. The Masters division playoffs is scheduled to begin this Sunday but is subject to change.
Women's League
But don't forget about the Women's League! The Women's League features five teams and has had great success since its establishment last year.
Despite its success, the Women are still looking for Alumnae from all the schools to come out and compete.
Chach Bola Bola, Sanchez alumnae, and member of the Guam National Team, explained the struggles of having a small league.
"Unfortunately, with the Women's teams it is much harder to get a full team to come out and play. Last year, the teams that were considered 'true alumnae' consisted of only Academy and St. Paul. The public schools had to combine because each of the schools did not have enough to make a team, and those teams included JFK, Southern, Sanchez, and a few players from on base."
Although the women's league is much smaller, it is just as exciting to watch. In the summer, the women's league features some of Guam's collegiate athletes in Kali Benavente, Destiny Castro, and Joylynn Pangelinan. Bola Bola elaborated on the excitement of being able to compete against her fellow national teammates in the summer.
"It's really fun. We're all so used to playing with each other on the National Team, but when it comes to this tournament we have the opportunity to split up and that makes the League a lot more competitive. And it's great, we know each other's weaknesses and strengths and it definitely makes playing more fun."
This year the Women's league is an open tournament. Initially, the women tried to stick with an Alumnae only league, but it would not have been as competitive if the league was not open.
There are currently five teams participating in the women's league: Okkodo, the Unstoppaballers, Academy, Andersen, and Fuetsa.
Bola Bola expressed what she hopes to see in coming years from the tournament.
"I hope it keeps growing. And more of our alumnae from around the island are encouraged to join the tournament. Our goal is to make a true alumnae tournament for the women."

COMING SOON …
High School Football starts Sept. 29
Brawl 3: Oct 13
Guam's Strongest Man and Woman Competition October 29
QUICK HITS
The Figo Islanders 40s women's softball team took gold in the Senior Softball World Championship in Las Vegas. Figo came out of the loser's bracket and beat the Arizona Belles 17-3 in the AA division championship game Sunday afternoon.
Other Guam teams that played in the 40s tournament were: Team SOTTA (women's) and Bud Light Guam, Friars 671 and Sindalun Guahan (men's).
Sindalu finished a respectable 4th out of 24 AAA division teams.