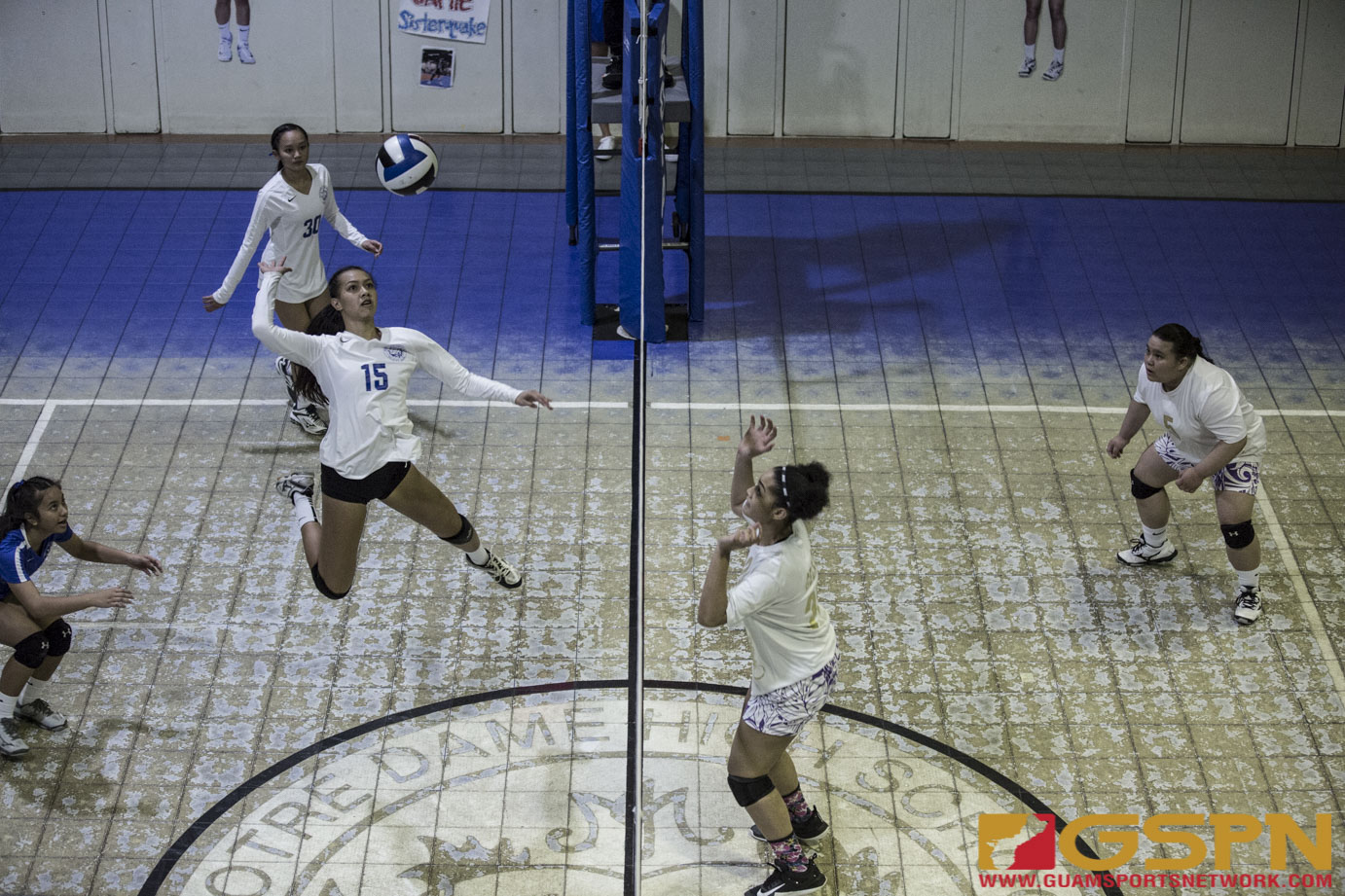 By Blake Watson
The IIAAG Girls Volleyball playoffs was not short on excitement down south, as the top ranked Notre Dame Royals played host to the GW Geckos. GW looked to lengthen the season and get past the defending champs, but ND had much different plans. The Royals rode their shutdown defense behind Brianne Leon Guerrero, Carlie Quinata and Ella Mae Balajadia to win in straight sets to advance to the championships 25-18, 25-14, 25-12.
ND dominant in three
The home crowd was loud and proud as the Royals were first on the board. The Geckos offense was able to answer back and in a big way. GW jumped out to an early lead as senior Kiyoko Afaisen and sophomore Lyric McGill held down the net, stopping anything ND threw at them.
Royals' Austia Mendiola did her part as she single-handedly kept the home team in long enough for the offense to find its footing. GW turned to be their own worst enemy as they couldn't seem to maintain momentum from their early success.
Carlie Quinata was all over the the outside not allowing anything from GW. Notre Dame found holes in the defense and snuck past the Geckos on the board to take the lead 13-10 halfway through eh first set.
Quinata wasn't just huge up front, but also turned in an ace to dominate the first set 25-18. Notre Dame was able to resume right where they left off from the first set. Royals cruised to an 8-1 lead before GW was able to get anything going. The Geckos couldn't find any rhythm on offense as the front three for ND were all over the net.
Any weakness in the Geckos defense, ND found to win a crucial second set 25-14.
The third and final set proved to be the closest and most exciting. McGill and Afaisen finally found their groove as the pair put in work, pushing back anything ND served up at the net. The Royals struggled to get offensive contributions, as the front line were busy just trying to block.
Brianne Leon Guerrero used 'less power and more placement' when she finally had an opportunity. The Gecko defense, though tough, couldn't hold the eventual scoring storm from Leon Guerrero, and Quinata. The hitters from ND combined for the team's final points to close out the third set and advance 25-12.
ND will put their winning streak on the line as they will face the St. John Knights for the championship at the UOG Calvo Field House Thursday night.
PHOTO GALLERY BROUGHT TO YOU BY: