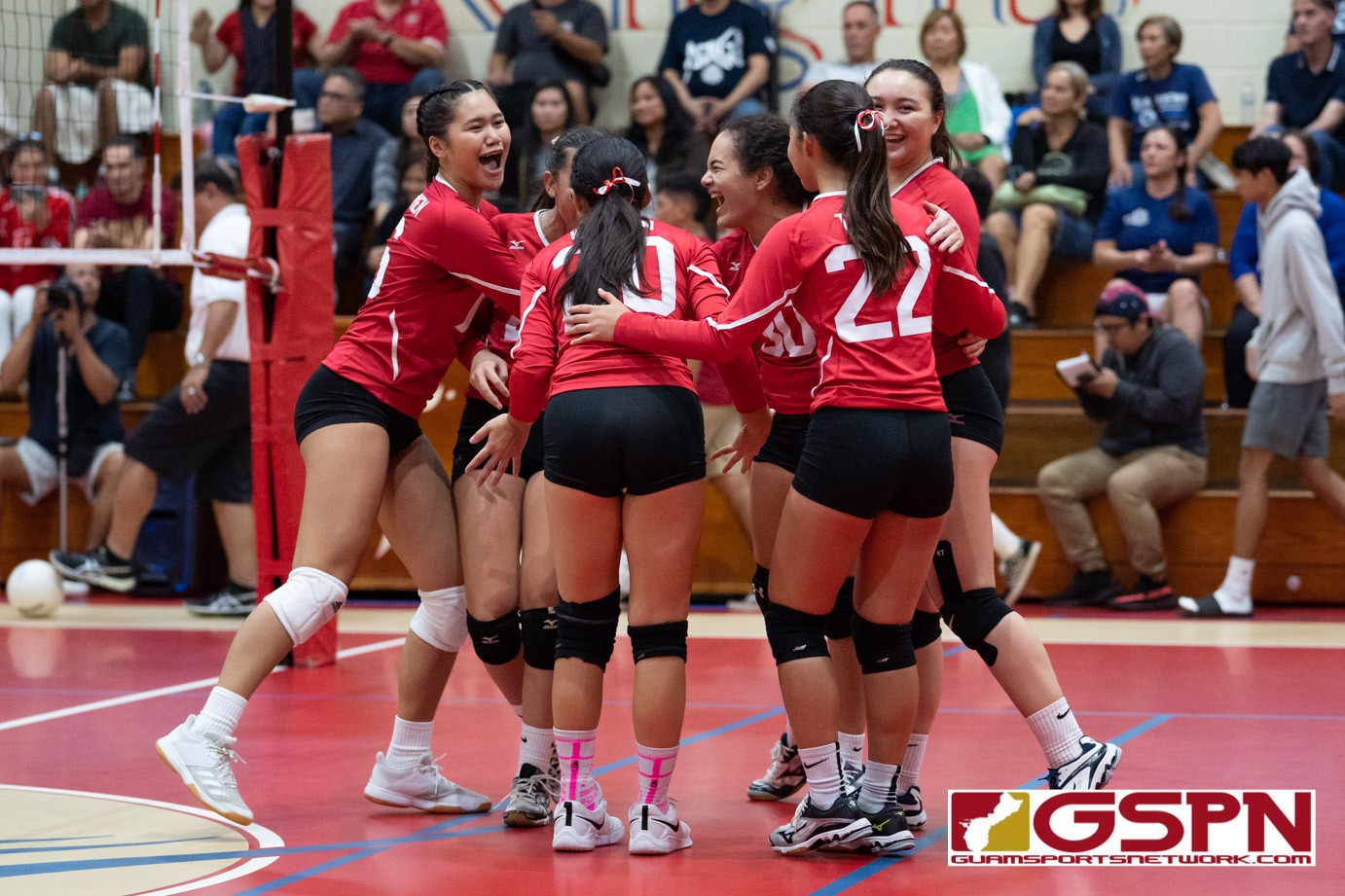 By Robert Balajadia
The St. John's Knights are headed back to the IIAAG Girls Volleyball Finals after overcoming a tough Academy Cougars squad in five sets 21-25, 25-19, 25-13, 21-25, 15-1 Tuesday evening at the Dale Jenkins Gymnasium. The ND Royals swept the GW Geckos in three sets setting up a finals rematch at the UOG Field House on Thursday.
The Knights went on a home-fueled run in the 5th set, running off 11 straight points to take a commanding 11-0 lead. The Cougars were stifled by the run, managing just one point off a kill from Laressa Halladay, but the Knights were determined to secure a spot in the title game on Thursday as they closed the final set with a dominant 15-1 score.
The league MVP in Knights Tylee Shepherd was given the All-Island title just last week, before the opening round of the playoffs. Although she admitted she was surprised by winning the award, Shepherd has been playing with a 'prove your worth' mindset in each game knowing eyes are on her in being the MVP of the league.
Shepherd showed out against the Cougars, leading her team with 15 total kills, including five in the 5th set.
"I was shocked when I won [the MVP award], but that just made me feel like I needed to push and show people that I can be worthy of this title while still being humble about it. More importantly I just wanted to win this for my team," said Sheperd on her Tuesday performance.
Setter Hana Fernandez was serving during the teams 11-0 run in the 5th set as she picked apart the Cougars with four aces alone in the set.
"It's just a game of randomness," said Fernandez on her serving. "If I hit towards one spot too often then I'll try and change it up and vice versa."
Academy's frontline shouldered the workload for the Cougars with middle Laressa Halladay getting a game-high nine kills and seven blocks. Isabella Bargfrede finished with seven kills and Theisen Taimanglo added five kills and two blocks.
Knights Elisabeth Errett totaled 10 kills and Hallie Wigsten added eight kills in an inspiring performance after getting injured during warmups, just minutes before the games start.
Wigsten gives Knights a scare
The All-Island 2nd team hitter Wigsten went down during hitting warmups, rolling her ankle off another teammate at the net a quarter till game time. Wigsten needed assistance off the court as she was visibly shaken up from the unfortunate turn of events. Hallie was kept out of the 1st set which the Knights would lose, but Wigsten was seen walking in-between the 1st and 2nd set before officially checking back in early in the 2nd.
Wigsten's check-in was well received by her team, inspiring her teammates and the Knights fans with her toughness.
"[Hallie] is one of our key hitters and has been since she was a freshman. She's our co-captain so having her skill and leadership on the court really just made the team whole again," said Fernandez.
Game Recap
The Cougars and Knights were locked at 20 all in the opening set before a kill from Halladay pushed the Cougars ahead 21-20. Taimanglo would register two kills in the final moments, including the final point of the 1st set after getting a clean set from Cassidy Tobiason for a kill off a Knights backline defender 25-21.
Wigsten would check back in with the scored tied at six in the 2nd set, but it took a while for her to get going with a hitting error and service error from Wigsten allowed the Cougars to go up 10-7. An ace from Joyclyn Tenai put the Cougars up 11-7, followed by another ace that would have given the Cougars another point, but the officials didn't get a good look at the play which they ultimately judged to be out of bounds.
To the dismay of the Cougar crowd, St. John's took over which ignited a 7-0 Knights run to take a 14-11 lead before an error broke the rally. The Knights would hang on to their lead until the 18th point with the Cougars making their move off a Halladay kill. Fernandez would give the Knights the lead right 19-18, which sparked another Knights 8-0 run with Sheperd getting two kills to aide in locking up the 2nd set 25-19.
The Knights dominated the 3rd set, facing little resistance by taking a commanding 13-4 lead. Hitting errors would plague the Cougars with 10 of their errors coming off of misfires. The end result was a large set win for the Knights 25-13.
Academy shook off the 3rd set with a stout defensive performance from Halladay in the 4th. Laressa would stuff the Knights at the net with five of her blocks coming in the 4th set alone. Her fifth block in the set would put the Cougars up 22-19, followed by a 23-19 lead off a kill from Bargfrede. The Cougars would capitalize on late errors from the Knights to force the 5th and final set.
"All of us really needed to step up," said Sheperd on what the team's mindset was heading into the final set. "We wanted to win so badly, but we knew how badly Academy wanted to win as well so we knew they were going to come hard. But
The Knights ran off 11 straight points for the 11-0 lead with Sheperd getting four kills in their wild run. After a point scored form Halladay, Shepherd stepped to the service line where she would end her night with an ace.
Run it back
Now the Knights prepare for a rematch with the ND Royals for the league title. Inexperience and youth were viable caveats for the Knights last year, but this year they're not looking for any type of excuses and are more prepared to handle a championship atmosphere, especially Sheperd.
"I'm 10x more ready compared to last year. I had a pretty weak mentality last year and would get down on myself after every mistake. But after last year, my teammates and coaches have helped me with that and I'm able to shake off any mistake I make and just try and do my best on the next one," said Tylee.
STATS
St. John's Knights
KILLS: Aileen Tseng – 3 | Angeline Del Carmin – 5 | Elisabeth Errett – 10 | Hallie Wigsten – 8 | Hana Fernandez – 1 | Tylee Sheperd – 15
ACES: Aileen Tseng – 1 | Angeline Del Carmin – 1 | Elisabeth Errett – 2 | Hallie Wigsten – 3 | Hana Fernandez – 5 | Lauren Alegria – 1 | Tylee Sheperd – 1
ERRORS: Serving – 17 | Hitting – 19
Academy Cougars
KILLS: Laressa Halladay – 9 | Isabella Bargfrede – 7 | Theisen Taimanglo – 5 | Ravyn Benavente – 3 | Alexandra Lekites – 3
ACES: Theisen Taimanglo – 5 | Joycelyn Tenai – 1 | Ravyn Benavente – 1 | Isabella Bargfrede – 1
ERRORS: Serving – 15 | Hitting – 27
PHOTO GALLERY BROUGHT TO YOU BY:

National Guard Athletes
Scott Eclavea
Scott Eclavea is a jiu-jitsu black belt and an accomplished MMA fighter. The Guard has given him an outlet in combatives to display his martial art skills, where he's become a head instructor for that program. Eclavea has served since coming out of high school and the Guard has only changed his life for the better.
COMING SOON …
LIVE FOOTBALL ON GSPN
Semifinals: #1 FD vs. #4 Southern (Friday 7 pm)
GSPN Preseason Basketball Tournament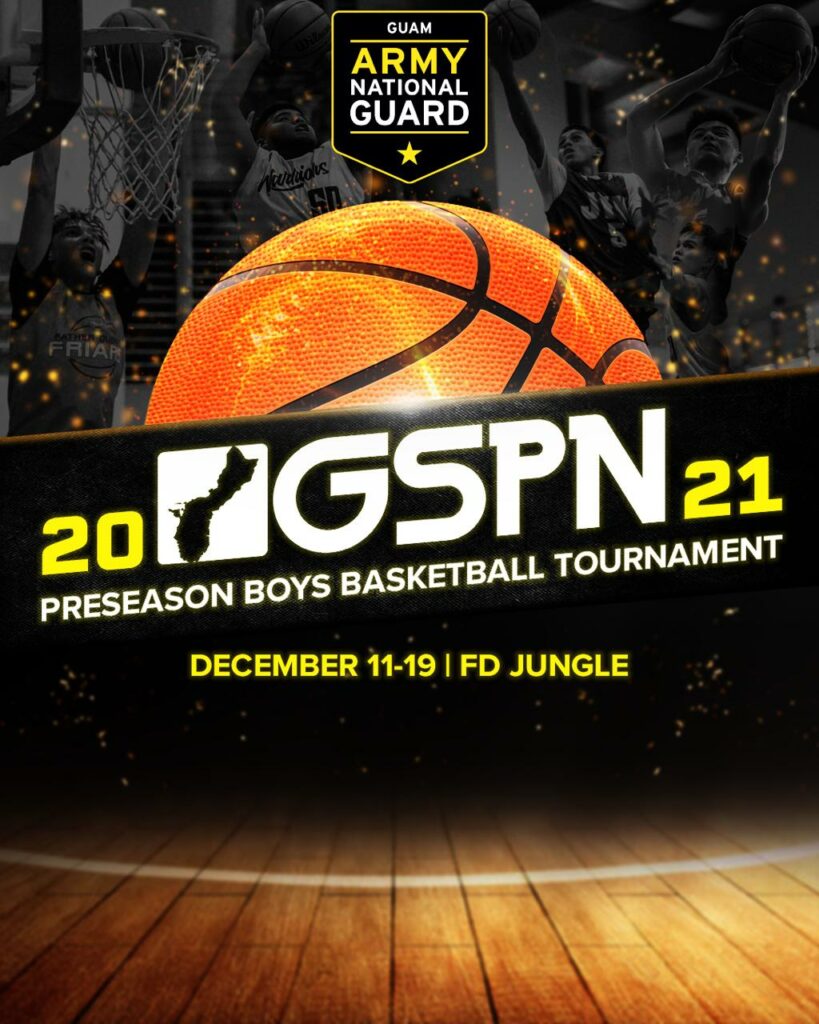 QUICK HITS
Robert Artero Maley recently captured the 182-lb. division of the Costa Mesa Classic, winning via pin in 4 out of 5 matches. Robert is a 4-year varsity wrestler at San Clemente HS (Tritons) and is currently ranked 15th in California's high school scene. He is the son of Jacque Artero Maley (AOLG 1991).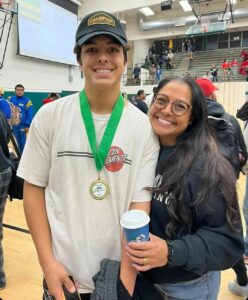 ——————————————–
Pat Taitano and Rich Abiador, teammates on the 1995 SPG volleyball team, have led their high school girls volleyball teams to the Washington State Championships in Yakima, Wa.
Taitano coaches Mt. Rainier High while Abiador leads North Creek High.
There for support is Dr. Mark Perez, a health professor at Central Washington University and a former UOG volleyball player.