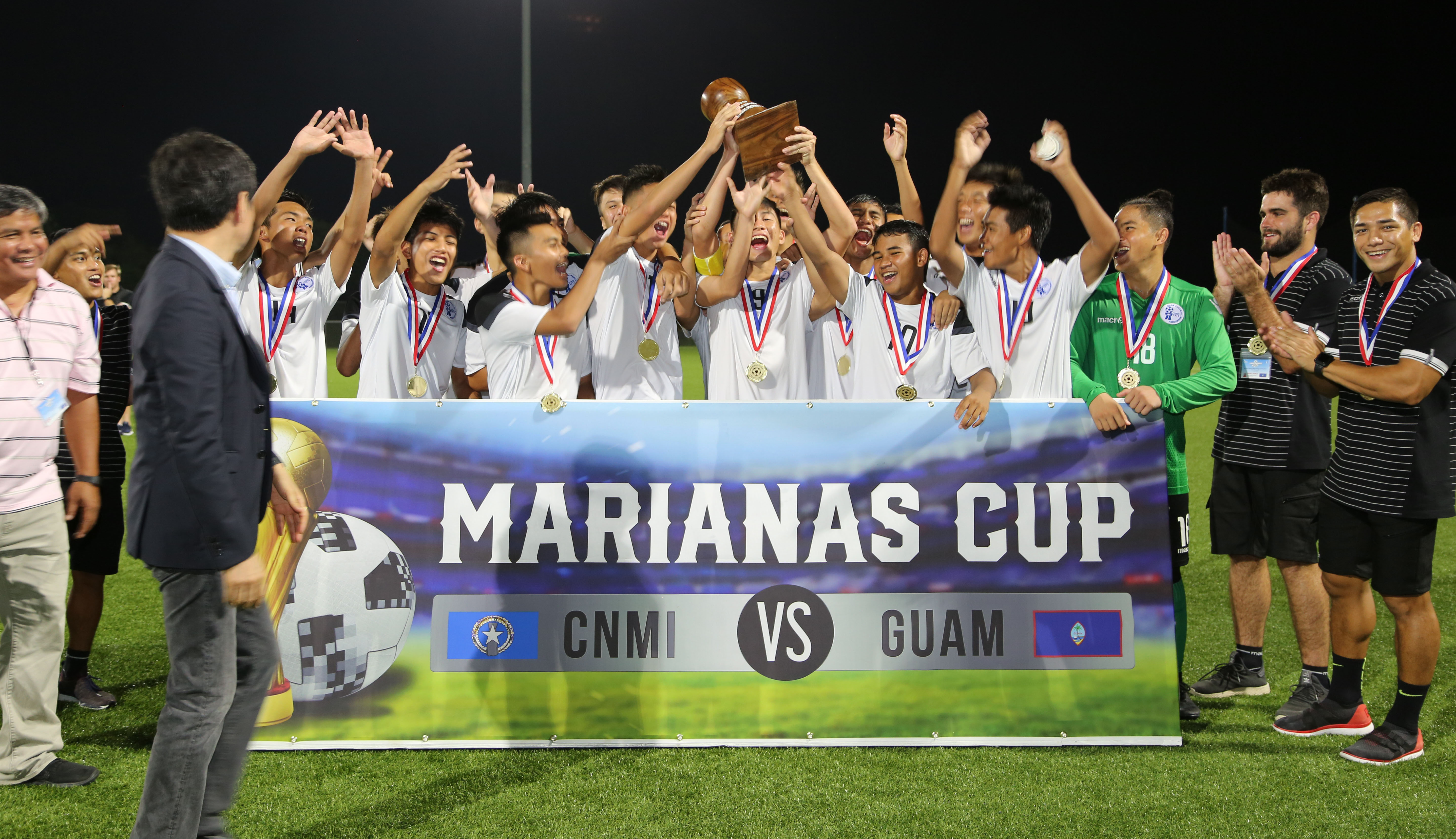 PRESS RELEASE – The Guam U17 Boys National Team went perfect from the spot to capture the 2018 Marianas Cup championship trophy in a 5-3 penalty shootout against the Northern Mariana Islands in the weekend's tournament at the new NMI National Training Center in Koblerville, Saipan.
NMI was less than a minute away from escaping on top after Sunjoon Tenorio's goal in the 85th minute gave his team a 4-3 lead through to stoppage time, but in the waning seconds of the match, Guam speedster Micah Hennegan finished a through pass from Mark Iseke to force a penalty kick shootout.
In the ensuing shootout, both teams remained level until a stop on Tenorio's shot by Guam goalkeeper Alexander Stenson set up a perfect opportunity for the visiting team. Morgan McKenna, Guam's fifth kicker, kept his composure to place his kick, ending the highly intense match that kept hundreds of spectators on their feet for the majority of the contest.
"First of all, I would like to thank the CNMI for hosting the match and looking after us while we were in Saipan, and second, to the CNMI team and coaching staff who are doing an excellent job," said Karl Dodd, Guam Head Coach. "The match was a very good challenge for our players, although we did get punished for poor decision-making when playing out of the back and poor defending. Overall, though, these are great learning experiences for our young players. It was pleasing to see the players fight until the last minute and we were rewarded for this with an equalizer in the dying minutes of the match.
"It was also good to see the attacking combination play that the players are learning and will only get better at. Both teams can be very proud of their performances – it was a very exciting match for the spectators, maybe not so much for the coaching staff. We look forward to more matches against each other in the near future," Dodd added.
Tenorio led all scorers with two goals and NMI teammates Jonathan Capayas and Anthony Fruit also scored. Kyle Halehale, Christian Kido, Shaun-Paul Martinez, and Micah Hennegan scored for Guam.
In the shootout, Guam's shooting order began with Hennegan, followed by Mark Iseke, Kyle Halehale, Shaun-Paul Martinez, and finally, Morgan McKenna. NMI deployed Fruit, followed by Thaiphi Austria and Dai Podziewski before Tenorio.
In the tournament's afternoon match, the NMI U19 Women's National Team edged its Guam counterparts 3-2 with goals from Katrina Costales, Jerlyn Castillo, and Guinevere Borja. Guam opened scoring following substitutions early in the second half: Lauren Phillips denied an NMI GK Emalyn Aniana shutout with a goal in the 72nd minute and seven minutes later, Jinae Teria managed to maneuver the ball around Aniana for a shot into an empty goal for the final score.
"The result was not what we were hoping for, but this game was a good indicator for where the players are at as we continue preparations this week for the AFC U19 Women's Championship Qualifier in Kyrgyz Republic," said Maggie Phillips, Guam U19 Head Coach. "This group of girls has been working hard over the past year. Now we can focus on really honing in on the precise details of Guam's national playing style so that the players can go into the upcoming AFC tournament with confidence and more precision."
In the awards ceremony after the two matches, Guam's Kyle Halehale and NMI's Jerlyn Castillo were selected as match MVPs and presented trophies. Guam and NMI were presented the U17 Boys champion trophy and U19 Women's champion trophy and gold medals, respectively. NMI received U17 Boys division silver medals and Guam received U19 Women's division silver medals.
The tournament was the first-ever international event held at the newly constructed NMI National Training Center in Koblerville, Saipan.
PHOTO GALLERY BROUGHT TO YOU BY: