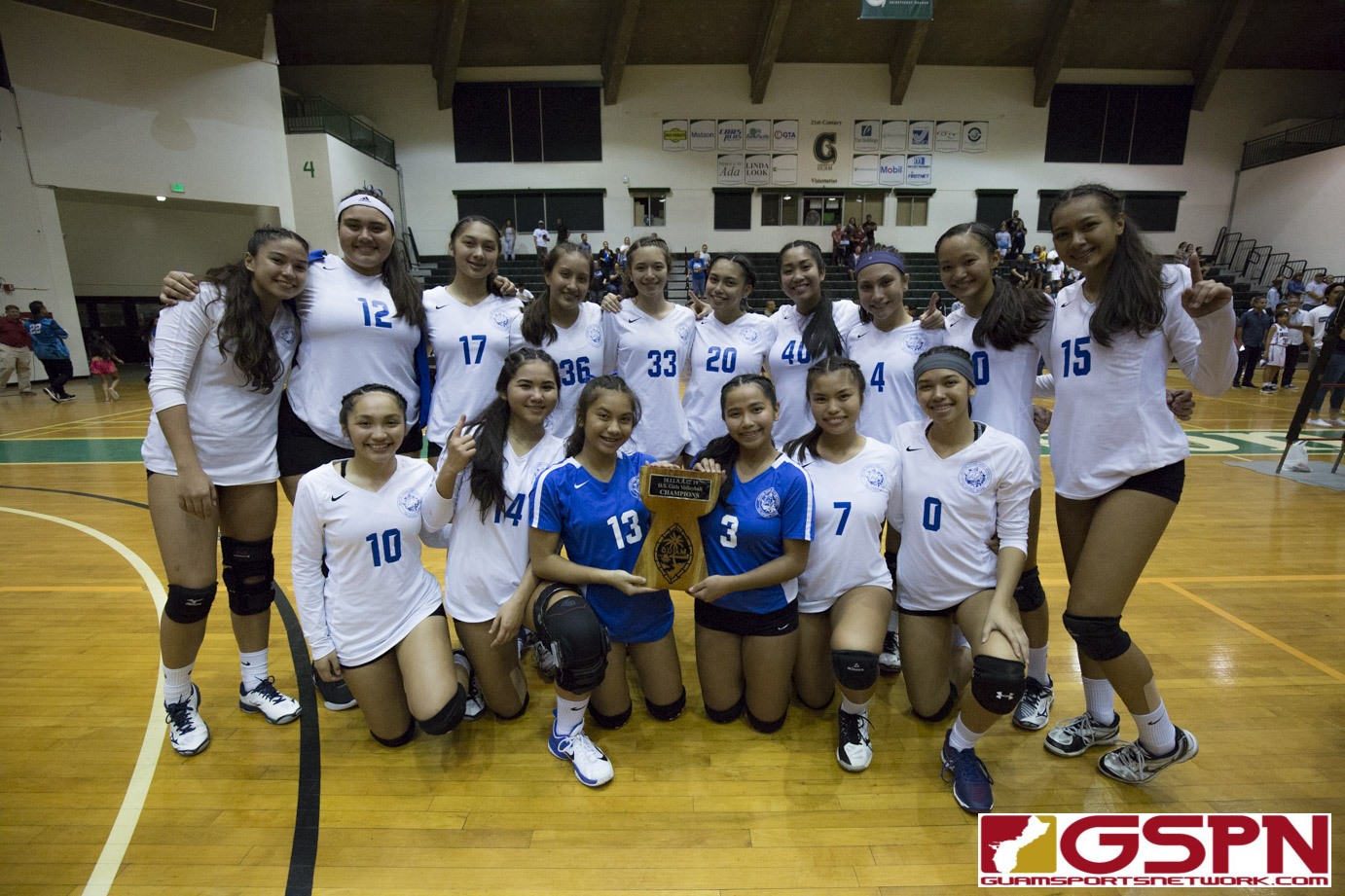 By Robert Balajadia
The ND Royals didn't have to wait too long to celebrate another IIAAG Girls Volleyball title (as compared to their previous 21-year-long wait) as the reigning champs dominated Thursday night's title game against the St. John's Knights at the UOG Calvo Field House, winning in straight sets 25-21, 25-22, 25-21.
The Royals didn't trail by more than two points at any point in the game, putting together quite the royal finish to an undefeated 2018 season. ND's brass were big-time on high school volleyball's biggest stage, but it was the unsung heroin who stole the show in sophomore Nicolette Perez, who gave the Knights defense a headache at the service line while keeping their dangerous hitters in check for most of the game.
Strategically placed on defense, six aces from the service line, runs of five and six points from serving and the game winning kill were all in the nights work for the young Royal. Perez, an even better basketball player, knows when she's in the zone, and Thursday night was one of those nights.
"As soon as I got comfortable in my routine and who to pick on, I just started to feel it," said Perez on her big night.
Perez started out the 2018 season playing swing for JV and Varsity before cementing a more permanent role in the rotation. But even before the title game, Perez didn't exactly think she'd play as big a factor as she ended up becoming.
"Our coaches told me to be ready for anything tonight. I'm just so happy right now and it feels really great," said Perez with a royal sized grin.
ND's Brianne Leon Guerrero and Austia Mendiola had eight kills apiece to lead the Royals with Bri also getting four blocks.
Leon Guerrero is always rocking her trademark smile in every game she's playing in, but on more than one occasion the 1st Team All-Island middle sported a more vindictive look. Bri's game face was put on display after scoring a big kill followed by a big block in the 2nd set to have ND up 21-17. But Leon Guerrero was back to her happy-go-lucky self not a moment later.
"I guess I was just getting into it," laughed Bri when asked about her in-game demeanor. "I wasn't frustrated at all though! We knew that everyone this season was out to get us so it meant a lot to for the seniors to win this on our way out."
The league MVP in St. John's Tylee Shepherd led the game with 11 total kills and teammate Hallie Wigsten added seven and one block.
Embracing Different Roles
The ND Royals had a strong nucleus heading into 2018 and a big shift in roles didn't throw the team off stride. Former MVP Carlie Quinata was the biggest question mark on whether she would even play at all this season after tearing her ACL, which did force her to take a lesser role in the seasons early goings.
Sophomores Mendiola and Manami Rabago went from freshmen standouts to 'go-to' players in just their second year, which of course came with a lot of pressure. Throw in a first year setter for ND in Gabby Piper and the 2018 Royals are looking vastly different than their title winning team a year ago. But embracing a new role was a team buy-in and their payout was Thursday night.
"I didn't even know if I was even going to come back this season so to win the title one last time in my last year was a blessing and I couldn't ask for anything more," said Quinata.
"I'm so lucky and honored to be a part of this system. Coach Mikey and Art have been training me a long time, and just being coached by those kinds of coaches who turn you into all-around players mixed with playing with this team who gives non-stop support, it was amazing," said Mendiola.
Embracing the new role didn't make dealing with nerves much easier for the young Royals. The Royals coaching staff in Mike Rabago and Art Stanley did more than just have their girls ready to put on a title winning performance as they proved to be mentally strong all night as well.
"I'm not going to lie, all I could think about was this game. I was nervous, really nervous, but coach Art told me I had no reason to be and that I should be excited instead because nervous people don't trust their training, so I turned it around and got excited!," explained Mendiola on her biggest game yet.
Game recap
The Royals didn't wait to get into rhythm with Perez serving two aces in a 5-0 run that put ND ahead 10-3 in the opening set. A pair of kills from Mendiola had ND doubling up on the Knights 15-7 midway through the set. Shepherd would go back-to-back on kills, but her team still trailed 20-13. An ace from Piper and a set-winning kill from Ella Balajadia gave the Royals the 1st 25-19.
St. John's would take their largest lead of the game at 3-1 off an ace from Shepherd, but the Royals quickly responded with another kill from Balajadia followed by Perez's third ace to snatch back the lead 5-4. The Knights would stay close behind to eventually tie the game at 17-all before Leon Guerrero flipped on her game-face with a big kill for a 19-17 lead and an even bigger block at 21-17 as part of a 4-0 run. Mendiola would get the final point for the Royals on a kill up the middle 25-22.
The Knights would take another two-point lead early in the set, but Leon Guerrero and Manami Rabago would lock up two straight kills for ND to take back the lead 6-5. Knights Hana Fernandez would orchestrate a short 4-0 run to get within 13-11 as both teams would dip into a string of errors that tied the game at 17 before the start of a big ND run. Leon Guerrero and Quinata would go back-to-back to put ND up 21-17 with Perez locking in her final ace a play later.
Shepherd and Wigsten would fight to keep their team alive with kills to get within 22-19, but a kill from Bri and a dink on the right side from Perez for the final point would be Knights-out for St. John's.
"The Knights put together a really tough challenge tonight and they made it difficult for us all night. But we made it work and pulled it off. I'm really proud of my team for that," ended Carlie.
GAME STATS
ND Royals
KILLS: Brianne Leon Guerrero – 8 | Austia Mendiola – 8 | Carlie Quinata – 4 | Ella Balajadia – 5 | Gabrielle Piper – 1 | Manami Rabago – 1 | Nicolette Perez – 1
ACES: Nicolette Perez – 6 | Brianne Leon Guerrero – 2 | Austia Mendiola – 1 | Gabrielle Piper – 1
BLOCKS: Brianne Leon Guerrero – 4
ERRORS: Serving – 8 | Hitting – 15 | Unforced – 6
St. John's Knights
KILLS: Tylee Shepherd – 11 | Hallie Wigsten – 7 | Angeline Del Carmen – 3 | Elisabeth Errett – 2 | Aileen Tseng – 1 | Aprile Kim – 1
ACES: Tylee Shepherd – 3
BLOCKS: Angeline Del Carmen – 1 | Hallie Wigsten – 1
ERRORS: Serving – 7 | Hitting – 17 | Unforced – 8
PHOTO GALLERY BROUGHT TO YOU BY:

QUICK HITS
Bishop Obispos beat Mt. Carmel for the IIAAG Middle School Girls Basketball championship 37-25.
—————————————-
The Benavente Roadrunners crushed the Agueda Pirates 17-1 to win the 76 PONY Middle School Baseball League. Rodney San Nicolas was a beat, striking out 13 batters in a complete game while going 4-for-4 at the plate, including a homer and 4 RBI.