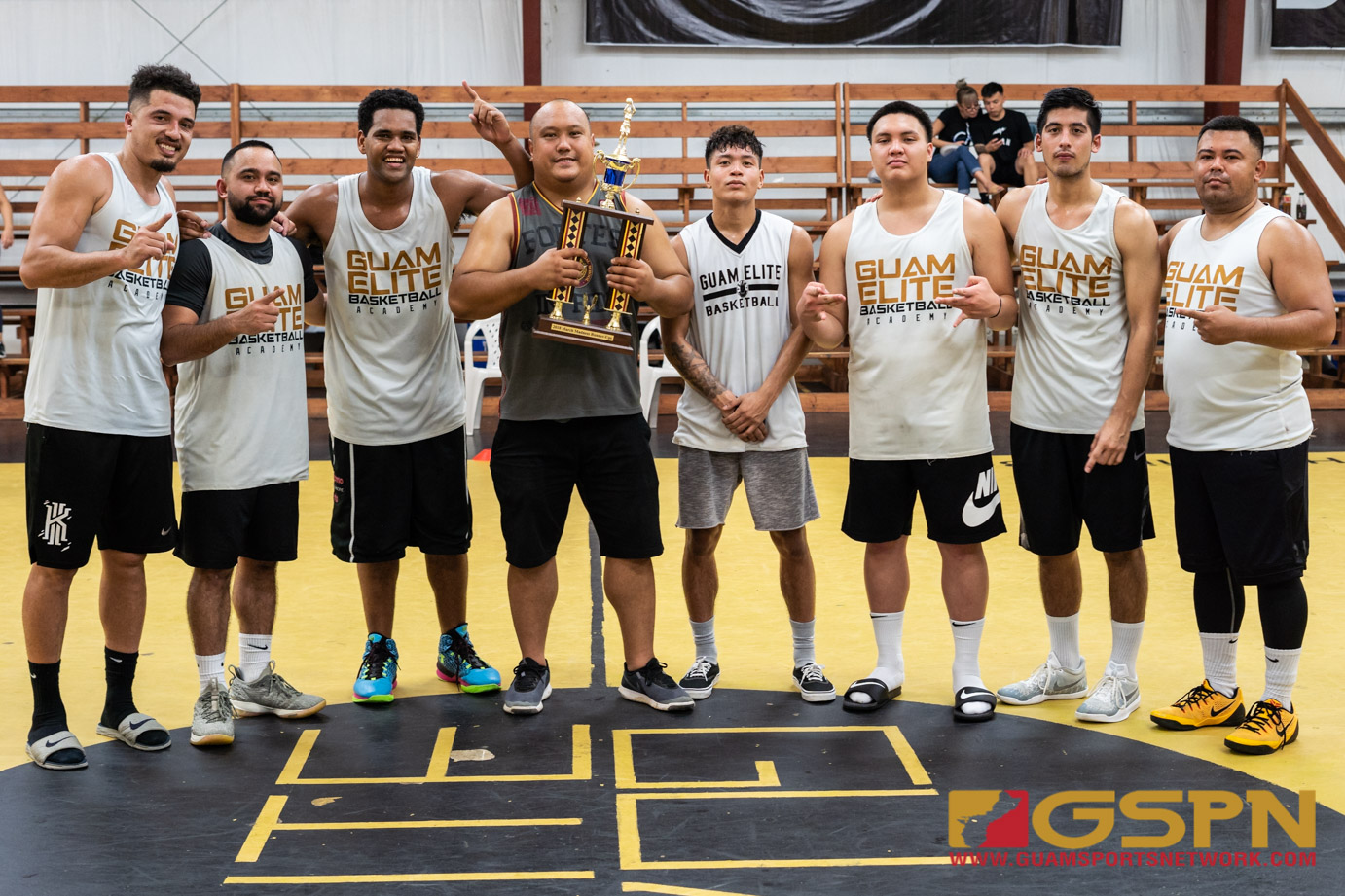 By Brandon Kinsella
The Elite Friars were crowned All-Island Alumni League Champions after defeating the PFC Islanders 66-57 at the Elite Center on Sunday night. Elite's Dom Sablan earned MVP of the game, finishing with 21 points, two rebounds, and five assists.
The Elite Friars had been down by as much as eleven points in the first half as the defending champs looked impressive, pushing the pace and finding the open man for easy buckets. It was a transition layup by the Friars' point guard Dom Sablan, and MVP of the game, that sparked a 10-2 run with just five minutes left to go in the first half.
Following Sablan's layup, the Islanders answered with a bucket in the paint. But FD's Vince Estella began to heat up, knocking down back to back three pointers and putting his team within five at 23-18. The Friars' young star in Devin Sudo would cap off the run with a transition layup off an assist by fellow teammate Willie Stinnett shrinking the lead to just three at 23-20.
The Friars would capture their first lead of the game, following a buzzer beater layup by Sudo to end the first half.
PFC's all-island center in Jeff Serrano was sidelined due to an injury, which was a significant difference maker in the game's outcome for both teams. Vince Estella was able to capitalize with a big man down in the paint and finished the game with 11 points, 14 rebounds, and one block. Estella was also able to space the floor out for his team, sinking three 3-pointers and keeping the defense honest.
With ten minutes left to play, both teams showcased their offensive talent trading bucket for bucket. A beautiful euro step layup from FD's Nad Finch excited the crowd, but PFC's Billy Belger would answer right away with a three from deep putting his team within two at 47-45. Sablan responded with a gorgeous layup in the paint giving his team a four-point lead. As PFC tried to answer on the following play, Estella would come up with a huge block which was a great momentum boost for his team.
Although Elite had only been up by two at 55-53 with just under three minutes to go, they already began to run out the clock, moving the ball and playing smart to keep their lead. PFC entered foul trouble early which would make it difficult for them to try and mount a comeback.
Only down by six with one-minute left to go, the Islanders fouled Dom Sablan, who is an excellent free throw shooter, sending him to the line where he would convert on both free throws; this would increase the Friars lead to eight at 61-53. PFC's Merwin Martin hit a quick transition layup with 45 seconds left to go, but a foul on Stinnett by the Islanders would put their team in the double bonus. The game would end with Sudo being sent to the line where he would convert on both free throws, and a play later he would convert on an easy transition layup.
The Alumni League's Season MVP, PFC's very own, JP Cruz would have a strong outing in the Championship Game, finishing with 13 points and two assists. Cruz drained three 3-pointers, but the timing of his shots was crucial to keeping his team in the ballgame. PFC's young star in Billy Belger also had an impressive game and finished with 20 points, five rebounds, and three assists.
With the second season in the books, MVP of the game Dom Sablan commented on what this Championship Title means for him and his team.
"It means a lot. JFK's a great team, they've got great talent and some of the top players from the past decade on island. So, it's always fun coming out and competing against them. It was a great game, lots of fun, looking forward to the next one."
When asked about what led to such a high-level performance, Sablan gave all the credit to his team.
"They make my job a lot easier, and we complement each other well on both ends of the court. So, all the credit goes to my team for having my back and hanging in there."
Masters 30+
In the Masters Division Championship Game, Southern defeated St. Paul 58-45 in a physically intense matchup. Southern's Roque Charfauros led the way with 23 points.
All-Island Alumni League:
Open Division:
1st Team:
G – JP Cruz (JFK) 19 votes
G – Dom Sablan (FD Elite) 15 votes
F – Willie Stinnett (FD Elite) 17 votes
F – Reggie Rechebong (Sanchez) 13 votes
C – Jeff Serrano (JFK) 15 votes
2nd Team:
G – Billy Belger (JFK) 14 votes
G – James Stake (GW) 6 votes
F – Earvin Jose (FD Phoenix) 9 votes
F – Eric Reyes (Southern Bucks) 8 votes
C – Seve Susuico (FD Phoenix) 15 votes
Honorable Mention:
G – Michael Min (St. Johns) 5 votes
G – Julius Yu (FD Phoenix) 3 votes
F – Kin Charfauros (Southern) 7 votes
F – Jay Casimiro (Sanchez) 3 votes
C – Vince Estella (FD Elite) 7 votes
MVP:
JP Cruz (JFK)
Rookie of the year:
Michael Min (St. Johns) 6 votes
Kobe Sotelo (Harvest) 3 votes
PHOTO GALLERY BROUGHT TO YOU BY: