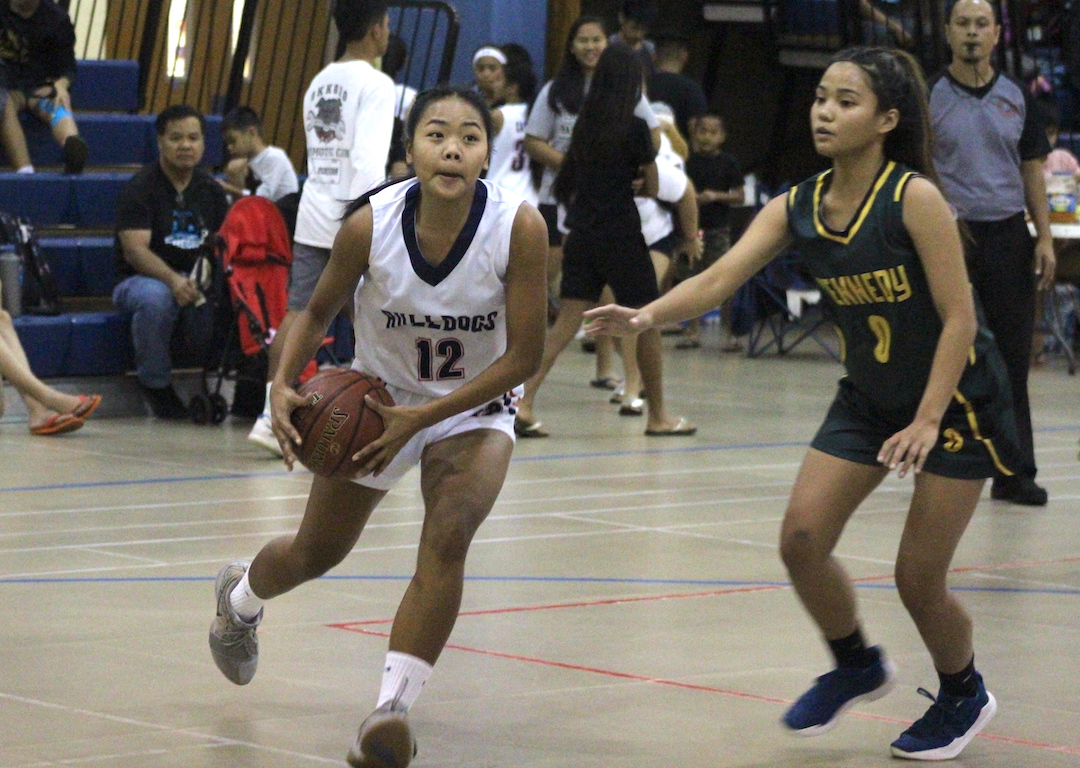 By Brandon Kinsella
In an interdivisional matchup in IIAAG Girls Basketball between the Okkodo Bulldogs and JFK Islanders, the Bulldogs looked dominant, winning by a large margin on their home floor 61-22. Four Bulldogs scored in double figures and were led by sharpshooter Racquel Camacho who finished with 10 points, six of which would come from beyond the arc.
The Bulldogs found their rhythm early in the 2nd Quarter, when Wendy's Player of the Game Racquel Camacho caught fire in the first three minutes, single handedly leading an 8-0 run. Camacho began her run with a fast break layup in transition. Following the layup, Camacho drained back-to-back three pointers which gave her team a 21-4 lead.
"I started off cold, but I stayed confident and kept shooting and eventually I found my rhythm."
In the first quarter, Okkodo showed great ability to get the ball into the paint without turning the ball over. Good ball movement set the pace for the rest of the game. On defense, however, the Bulldogs were a bit too aggressive and amassed seven personal fouls in the 1st Quarter alone.
JFK struggled finding a rhythm for the duration of the game. A majority of the shots that they took were mid-range jump shots and could not find the bottom of the basket. Okkodo's half court press was effective and caused many problems for the Islanders guards.
In the second half, the Bulldogs looked to get their post players the ball. Center Angeli Dacanay had a rough start to the game, but took over to begin the 3rd quarter. Teammates looked to get her the ball and she was aggressive on the low block, crashing the boards and making the most of second chance opportunities. Dacanay finished the game with 10 points and seven rebounds.
JFK's leading scorer in Kiyoni Yamaguhi finished the game with six points and three rebounds.
Okkodo has cemented themselves as one of the best teams in the league and they have been the biggest challenge to the defending champion St. Paul Warriors this season. The last time they faced, which was early in the season, Okkodo kept it close. Camacho elaborated on her team's maturity at this point in the season.
"I think that we've made a lot of improvements since the last time that we played them. We did make a lot of mistakes the first time around, and if we face them in the playoffs we'll be a different team."
With only two weeks left until playoffs, it will be exciting to see which teams improve and if anyone can triumph against the dominant play of the Warriors.
PHOTO GALLERY BROUGHT TO YOU BY: