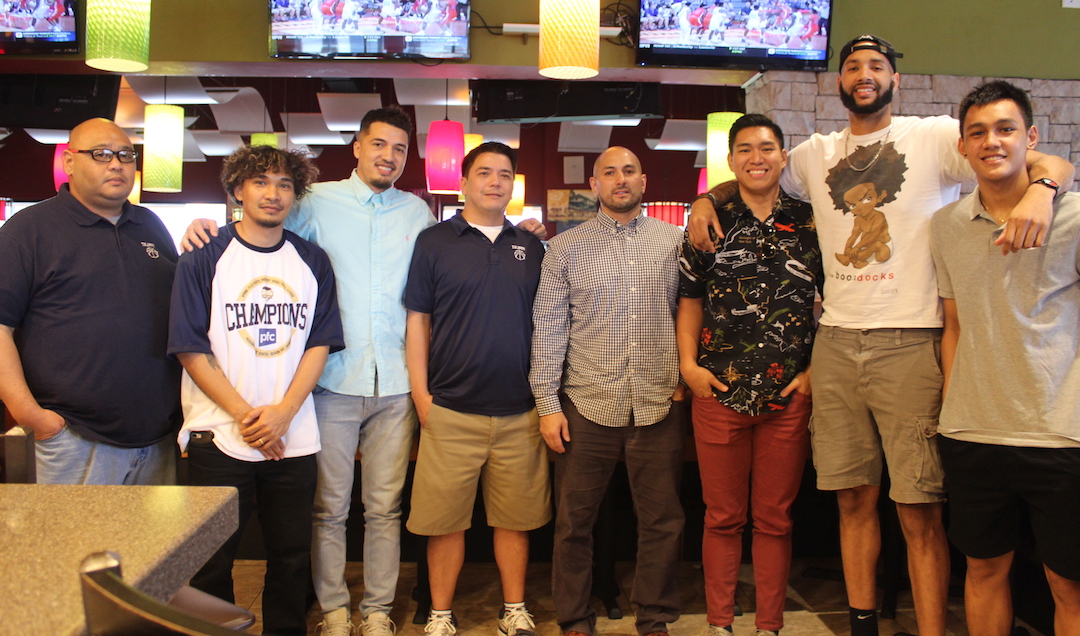 By Jay Leon Guerrero
"By far, this is the biggest tournament we will ever go too," said Guam National Basketball Team point guard Willie Stinnett.
The defending Pacific Games Gold Medallists will head to the FIBA World Cup Asia Basketball qualifier for 2019 this weekend. The tournament will be held in Bangkok, Thailand, and the top four of seven teams will advance to the qualifier next year.
A press conference was held at Applebee's restaurant in Tamuning Wednesday afternoon with team coaches and players present to announce their participation in the tournament.
According to team manager Danny Payumo, updates will be sent immediately and games can be watched online via the FIBA YouTube channel or on Facebook live. Specific times will be announced later but the first game will be played next Monday.
Guam National Team head coach EJ Calvo said his team has been preparing for this tournament and will look to make the top four so they can move up and play the next tier of Asian teams which include Australia, China and the Philippines.
"The magnitude of this tournament is huge. If we can accomplish our goals, we will play teams next year like China and Australia. We will host them or we will play in their country. Imagine team Guam playing the Gilas (Team Philippines) at UOG," said Calvo.
The roster includes the following players:
William Belger
Andrew Carlos
Christopher Conner
JP Cruz
Darren Hechanova
Earvin Jose
Earnest Ross
Willie Stinnett III
Curtis Washington
Mekeli Wesley
Russ Wesley
Tai Wesley
Jericho Cruz* (pending)
Michael Min* (alternate)
How did Guam qualify?
The top two teams in the Oceania region are invited to play in the FIBA World qualifier. By winning Gold in PNG at the Pacific Games in 2015, Guam earned their spot. Fiji, the silver medallists, will also play in the qualifier.
Guam is by far the smallest nation participating in the tournament. But the chances of team Guam advancing are promising thanks to the dedication of players living overseas with Guam roots.
"We will play Fiji on Monday, then Singpaore and our last pool game will be against host team Thailand," said Calvo. "Its good we play Fiji first because we've played against them before," said Stinnett.
Calvo said they have been studying footage when they played against Fiji and the matchup should be a good one with Fiji looking to avenge their loss in the gold medal game.
If Guam advances out of pool play, it will be mission accomplished. "Our plan is to try and win every game," said Calvo.
"We've been known as a team heavy with guards in the past, but now we have size with Curtis and the Wesley brothers," said Stinnett. Tai Wesley will be coming straight from Australia where he plays professional basketball, Russ and Mekeli Wesley will reunite with the younger Tai in Thailand.
Washington is on island and is practicing with the team. A former Guam High standout said he's happy to be back on Guam. "We thank all of our supporters here on Guam, we will do our best and play for you," said Washington. Washington plays professional basketball in Thailand and played in the same arena that will host the FIBA tournament.
Also arriving on Guam was former high school MVP and collegiate player Chris Conner. Conner will be reunited on the national team with former JFK high school teammate Billy Belger. "I'm excited to be on the same squad again with Billy. We don't communicate as much cause we are both busy but being together on the same team will be something special," said Conner.
Also travelling with the team are assistant coaches Jin Han and Seve Susuico. The medial staff includes Luis Cruz, John Fegurgur and Chris Fernandez. Also accompanying the team is GBC vice president Frank Cruz.
PHOTO GALLERY BROUGHT TO YOU BY:

QUICK HITS
Bishop Obispos beat Mt. Carmel for the IIAAG Middle School Girls Basketball championship 37-25.
—————————————-
The Benavente Roadrunners crushed the Agueda Pirates 17-1 to win the 76 PONY Middle School Baseball League. Rodney San Nicolas was a beat, striking out 13 batters in a complete game while going 4-for-4 at the plate, including a homer and 4 RBI.