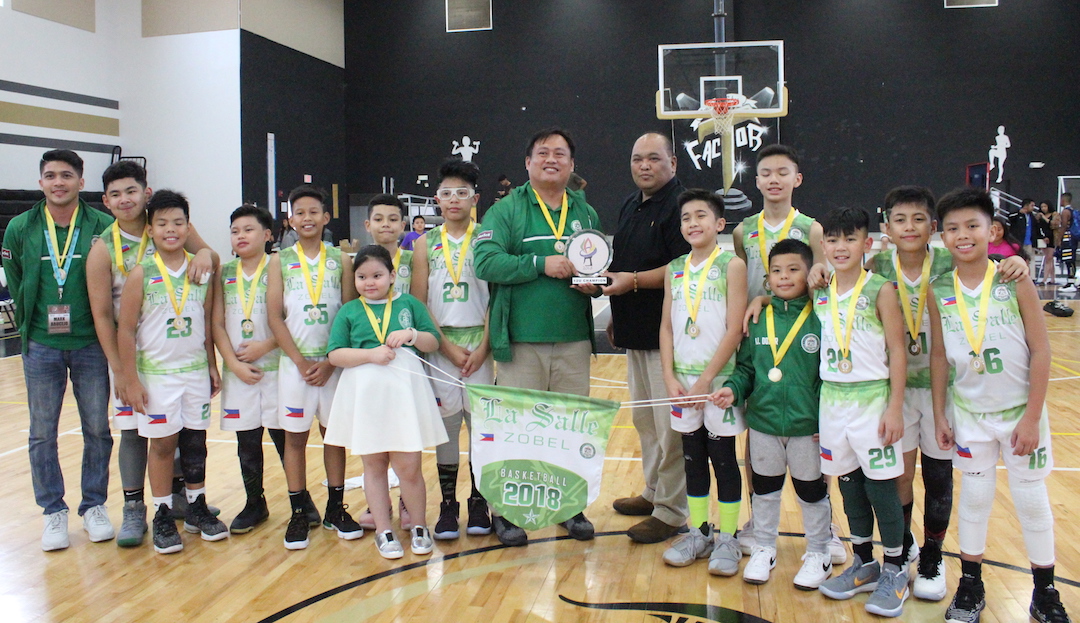 By Jay Leon Guerrero
The Guam Youth Games, hosted by KaiZen, concluded Thursday afternoon with a pair of basketball championship games in the 12U and 14U divisions at the Tiyan High School gymnasium.
The visiting De La Salle Zobel Green Archers travelled to Guam from the Philippines with both (12U and 14U) teams advancing to the championship game. Here are the results from the championship games:
12U – De La Salle 57, BMS Roadrunners 38
14U – Fortune Realty 52, De La Salle 49
Maco named MVP
The 12U De La Salle team needed a big third quarter to defeat the BMS Roadrunners 57-38. Maco Dabao went off in the decisive third period, scoring eight points to help La Salle go ahead 43-25.
Despite being one of the smallest players on the court, the 11-year-old Dabao showed his skills on the court much to the delight of the Filipino community that came to watch his team.
"Our coach told us at halftime to never give up. He also told us 'don't look at the score and focus on the game'," said Dabao. Dabao impressed the crowd with his aggressive drives to the basket against much taller opponents. He scored a game high 18 points, teammate John Vitalla chipped in 14 points.
"Coach told us it's now or never. He encouraged us to do better in the second half," said Vitalla. "I really enjoyed my experience on Guam and I hope to come back again someday. The players here are nice and they have really good sportsmanship. If you fall or they knock you down, they will help you back up," said Vitalla.
Von Asuncion and Elrizo Orichiro led the offense for the Roadrunners scoring eight and seven points, respectively.
14U game
The Fortune Realty Basketball club needed to come from behind to defeat the Green Archers 52-49 in the 14U championship game.
The 14U Green Archers jumped out to a 22-10 lead in the opening quarter, looking for another blowout win on the Tiyan court. Paolo Corrales danced on the court, maneuvering his way around the taller Fortune defenders to score buckets. The crowd, filled with parents and local Filipino fans, watched as Corrales emulated his favorite player, Kyrie Irving, on the court.
De La Salle had a huge lead and was well on their way to another blowout victory. But Fortune Realty did not enter the Guam Youth Games for a participation certificate, they came to play.
Fortune, led by head coach Mel Jamindang, went on a 14-2 run in the second quarter to take a 24-22 lead.
Fortune's Jerfick Aunu tied the game at 22-22 with a lay-in and later forced a turnover which turned into another easy lay-in to take their first lead of the game.
The Green Archers quickly reclaimed the lead behind a Corrales three-point play to go back ahead 25-24. De La Salle maintains a slim 29-27 lead by halftime.
Both teams battle until the fourth quarter with Fortune's John Macaldo tying the game at 39-39.
De La Salle goes on a 6-0 with three minutes left in regulation to go up 45-39. Luis Danao converted a three-point play for the Green Archers to start the run. Shadrach Chang recorded a steal immediately after Danao made his free throw and scored another lay-up to ahead 44-39. Fortune Realty turned the ball over and fouled Corrales who went 1-2 from the charity stripe to cap the run, taking a commanding 45-39 lead with just 96 seconds left in regulation.
Fortune's chances of winning the game was very slim but Jamindang's team dug deep to complete a crazy comeback. Corrales commits his fifth foul and was forced to watch from the bench as Fortune pushed the pace to quickly trim their deficit.
Dkson Attan and Macaldo score from free throw line to tie game at 48-48. The Green Archers fail to take the lead and commit a costly turnover which gives the ball back to Fortune.
Aunu gives Fortune the lead with 36 seconds left after he made a basket off an offensive rebound to go up 50-48.
Chang has a chance to tie the game but is fouled and makes one of two free throws with 25 seconds left to trail 50-49. De La Salle goes for the steal but we're forced to foul Macaldo with 10 seconds remaining and he drains both free throws to lead 52-49.
De La Salle has one last shot to send the game to overtime but Chang's three-pointer rattles out as time expires.
Corrales had 16 points to lead the Green Archers, Chang added 10 points.
Macaldo scored 16 points and was named the game MVP. Mark Becec added 15 points for Fortune Realty.
"We had to make some adjustments because they were really good at breaking our press," said Macaldo. "We played with our hearts; we made mistakes but we fixed them right away."
"Every game we play hard and we treat every game like it's our last game," said an emotional Corrales after the game. "We will learn from this loss and come back to be better players."
"I really enjoyed my time here, the people here are super kind," said Corrales. The team will do a little more sight-seeing and shopping before heading back to the Philippines this weekend. "I enjoyed my first trip to Guam and I would like to come back again someday. I liked going to Footlocker and eating at Tony Romas," said Dabao.
PHOTO GALLERY BROUGHT TO YOU BY:

QUICK HITS
3rd place: Big ups to the Para Todu Rugby Club for finishing 3rd out of 16 teams in the Manila 10's Rugby Tournament today. Biba Guam Rugby!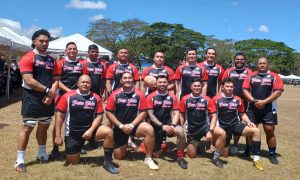 ——————————————
Guam MTB National Championship: Edward Oingerang and Jennifer Camacho are your 2023 MTB national champions. Oingerang finished the course in 1:13:24 while Camacho won her second straight title in 54:08.