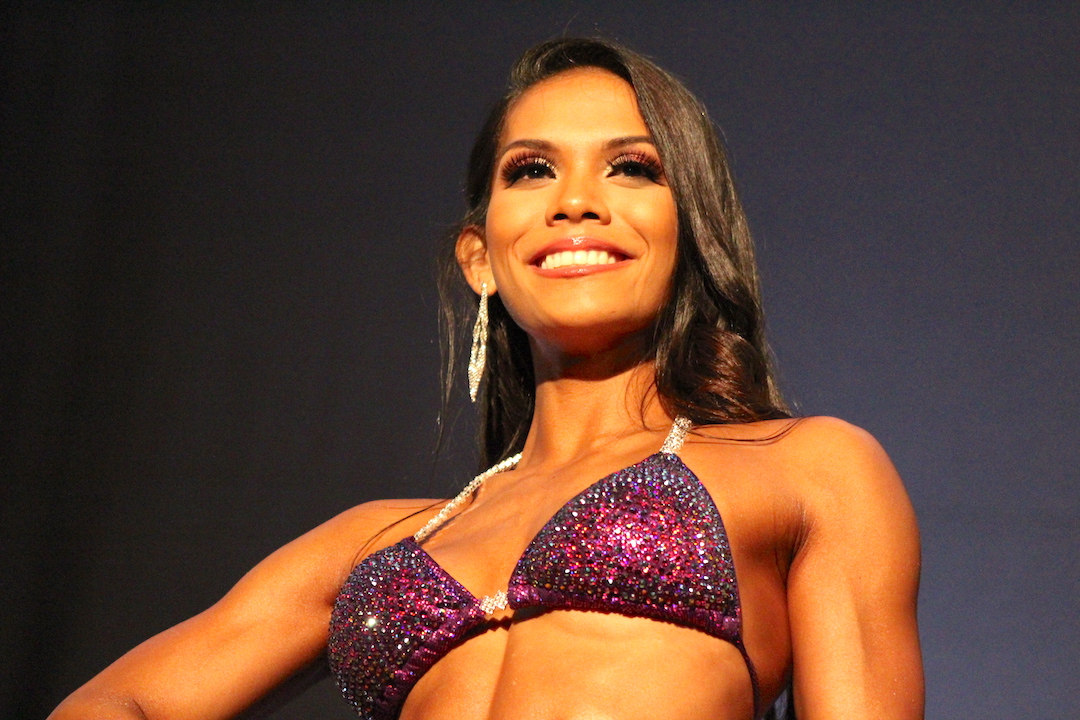 By Robert Balajadia
The Annual NPC Michelob Ultra Guam National Bodybuilding Championships always brings a crowd and their 2018 event at the Sheraton Resort on Saturday night was no different. Highlighting the night was first time competitor Jeralyn Mesa, who took home the Class A and Overall winner in the crowd favorite Bikini Division.
Mesa was always on the fence about competing in the event, but she ultimately decided 2018 was her year with this particular Bodybuilding Championships being an NPC Qualifier for stateside competitions.
"It was really just a matter of when was the right time and when I would be able to commit to it because it is very time consuming and it takes a lot of discipline. You pretty much have to put everything you have into the gym. I spent two hours going twice a day, worked on cardio, posing and it's really something I enjoyed and I consider this a worthwhile journey," said Mesa on getting ready to compete.
Mesa was also aware that the Bikini Division is one of the toughest divisions to compete in  which made the her six months of training, and 15 weeks of prep, a pretty tough road. That, and she was going up against last years winner in Victoria Espaldon. But one thing both competitors shared was their competitive fire being lit for competing in future events.
"When you see the results and how much your body transforms with all the work you put in, it does get addicting. I'm already thinking about competing in off-island shows and hopefully I can prepare enough to prepare for the National stage knowing that I'm now NPC qualified!," said Mesa.
Wolford returns to take top spot
Newcomers made their presence known to the Guam Bodybuilding Championships like Mesa, first year overall winner in Men's Physique Joel Attenta and tall Bikini Class winner Shannen Wong, but former competitors also had their time in the limelight like men's Overall Classic Physique winner Trevor Wolford.
Wolford competed in 2014 but finished 2nd place. Since then, he took four years off to focus on himself and his physique. Even though he's been on stage under the spotlight before the nerves in 2018 were just as fresh.
"I still get nervous up there, but maybe that's just me. I don't really get that comfortable feeling like everyone else does," admitted Wolford.
Tervor was supposed to compete in the event in July, but since the event got pushed back to October, his biggest challenge was to sustain his July weight (from 210 to 185) all summer.
"I just had to maintain that weight from there and be consistent in the gym and remain focused. I have to thank my sponsors Fit For You and my coach Mike from Next Level of Guam Fitness, without those two I wouldn't be here, so I felt really confident heading into the competition today," said Wolford.
Mighty moment
Guam's long-time body building competitor Jason Lee Cruz took the stage for another inspirational performance that's always garnished with fan support. But this year was a bit different than previous years after his competitor  Tahara Kiyomitsu was awarded a gold medal in the Masters Division.
After receiving his medal, Kiyomitsu instead placed his winning medal around Cruz for an on-stage emotional moment that brought tears to Cruz's eyes. The gesture was welcomed with a standing ovation from the crowd as well as the judges.
PHOTO GALLERY BROUGHT TO YOU BY:
RESULTS
Michelob ULTRA
2018 NPC Guam National Bodybuilding Championships
NPC Men's Bodybuilding

Bantam Weight
1st Place: #1 Dhan Perez
2nd Place: #2 Edlin Guiao
Lightweight
1st Place: #3 Dongseon Lim
2nd Place: #4 Jaime Rodriguez
3rd Place: #5 Jerome Guevara
Light-Heavyweight
1st Place: #7 Gregory Aguon
2nd Place: #9 Kenneth Walker
3rd Place: #6 Derek Cutting
Overall Winner: #7 Gregory Aguon
NPC Men's Classic Physique

Class A
1st Place: #17 Trevor Wolford
2nd Place: #18 William Ranson
3rd Place: #19 Rodney Tomagan
Class B
1st Place: #9 Kenneth Walker
2nd Place: #22 Daniele Reyes
3rd Place: #6 Derek Cutting
Class C
1st Place: #3 Donsgeon Lim
Overall Winner: #17 Trevor Wolford
NPC Women's Figure

Class A
1st Place: #23 Christy Rose Amador
2nd Place: #25 Victoria Davis
3rd Place: #24 Maniececia White
Class B
1st Place: #26 Katrina EL
Overall Winner: #23 Christy Rose Amador
NPC Men's Physique

Class A
1st Place: #35 Lucas Rebenal
2nd Place: #32 Jowel Baisa
3rd Place: #18 William Ranson
Class B
1st Place: #39 Joshua Cantara
2nd Place: #38 Eric Gianan
3rd Place: #40 Kim Comia
Class C
1st Place: #46 Joel Atemta
2nd Place: #45 Everette Spencer
3rd Place: #47 Travis Aguon
Class D (Re-Judge)
1st Place: #48 Clement O'Neal
2nd Place: #49 Jonathan Muth
Overall Winner: #46 Joel Atemta
NPC Bikini

Class A
1st Place: #52 Jeralyn Mesa
2nd Place: #55 Victoria Espaldon
3rd Place: #53 Kalene Cruz
Class B
1st Place: #57 Shannen Wong
2nd Place: #56 Camille Bartlett
Overall Winner: #52 Jeralyn Mesa
Michelob ULTRA 2018 International Bodybuilding Championships
International Men's Bodybuilding

Bantamweight
1st Place: #10 Tahara Kiyomitsu
2nd Place: #1 Dhan Perez
Lightweight
1st Place: #11 Asana Kikuo
2nd Place: #4 Jaime Rodriguez
3rd Place: #12 Sasaki Yudai
Overall Winner: #11 Asana Kikuo
International Men's Masters Bodybuilding
1st Place: #10 Tahara Kiyomitsu
2nd Place: #4 Jaime Rodriguez
3rd Place: #13 Takada Rodriguez
International Women's Physique
1st Place: #14 Shimizu Eriko
2nd Place: #15 Sato Takuko
Overall Winner: #14 Shimizu Eriko
International Mix-Pair Bodybuilding Exhibition
1st Place Pair: Pair #1 (#63 Hiroto Toshihiko and #2 Iwai Tomoko)
2nd Place Pair: Pair #2 (#64 Saito Todao and #65 Takaoka Yukie)
3rd Place Pair: Pair #3 (#13 Takada Iwao and #62 Suzuki Mitsuto)
International Women's Figure / Body Fitness

Class A
1st Place: #23 Christy Rose Amador
2nd Place: #27 Mida Michiru
3rd Place: #25 Victoria Davis
Class B
1st Place: #28 Iwai Tomoko
2nd Place: #29 Niwa Hiroko
3rd Place: #26 Katrina EL
Overall Winner: #23 Christy Rose Amador
International Men's Physique

Class A
1st Place: #35 Lucas Rebanal
2nd Place: #32 Jowel Baisa
3rd Place: #18 William Ranson
International Women's Fitness Exhibition
1st Place: #62 Suzuki Mitsuto
2nd Place: #29 Miwa Hiroko
International Men's Fitness Exhibition
1st Place: #13 Takada Iwao
International Bikini  

Class A
1st Place: #58 Yamaguchi Azusa
2nd Place: #61 Shibutani Miwako
3rd Place: #53 Kalene Cruz
Class B
1st Place: #57 Shannen Wong
2nd Place: #60 Saino Yoko
3rd Place: #56 Camille Bartlett
Overall Winner: #57 Shannen Wong

2022 GSPN I MÅS METGOT COMPETITION
2022 GSPN I Mås Metgot Competition Recap
2022 GSPN I MÅS METGOT COMPETITION
2022 GSPN I Mås Metgot Competition Recap
2022 GSPN I MÅS METGOT COMPETITION
2022 GSPN I Mås Metgot Competition Recap