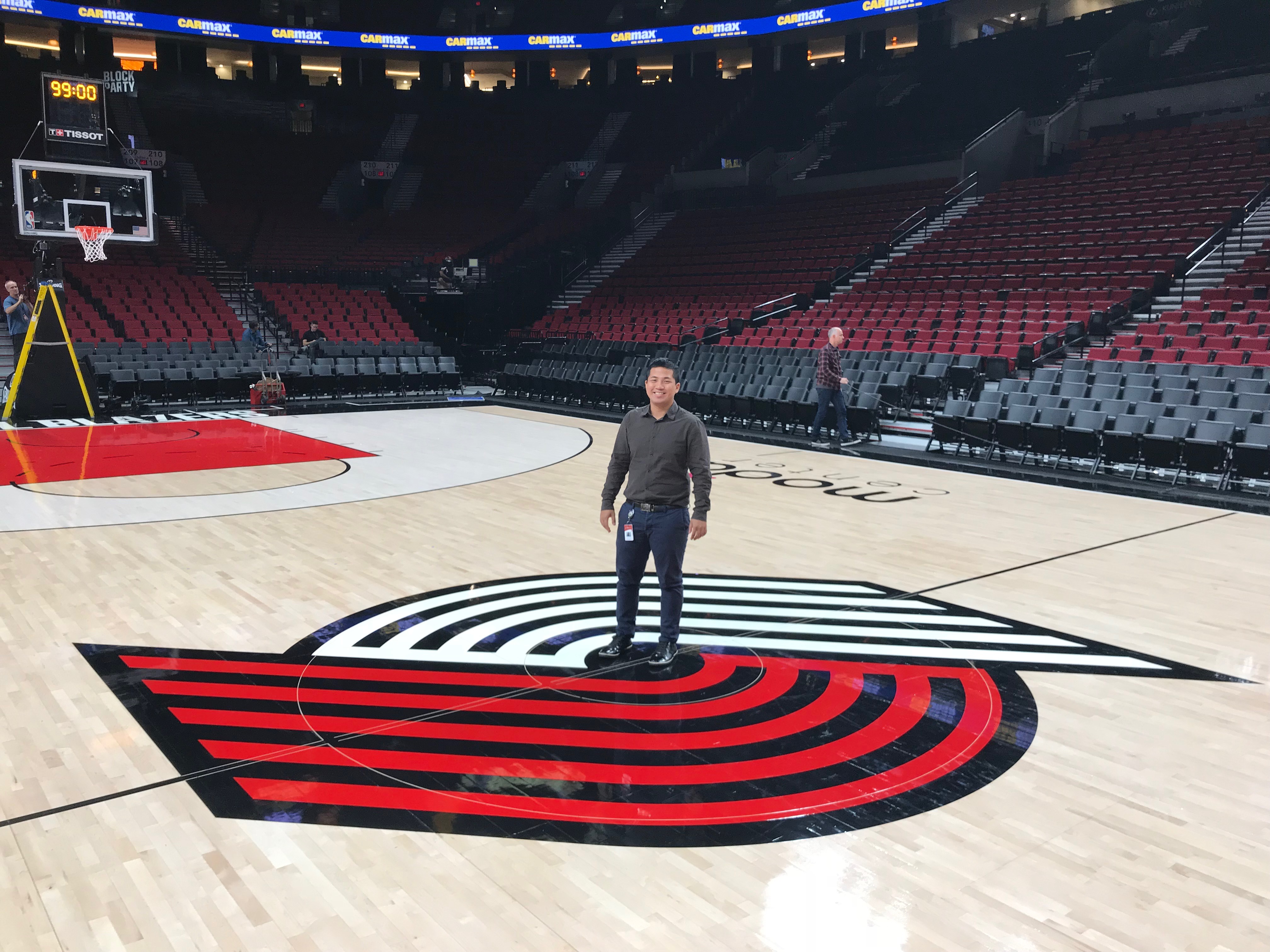 By Jay Leon Guerrero
Former Guam National Volleyball team setter Keoki Kakigi landed a dream job with the Portland Trail Blazers. Keoki started in the 2017 season as a Sustainability Operations Manager with the famous NBA team in Portland, Oregon.
After graduating high school at St John's in 2009, Kakigi attended and graduated from the University of San Francisco. After receiving his master's degree from the University of Southern California, he worked for The Walt Disney Company for one year. After his contract was up, he saw a job opening for the Trail Blazers.
"My dream is to utilize the Entertainment Industry's influence to encourage sustainability and social change, and I was already on my way when I was at The Walt Disney Company in L.A. However, after my one-year contract was up, and I was exploring other options, I saw the job posting online and applied without too much expectation. Next thing I knew though, I was interviewing and then accepting the job with them! It's definitely insane that I get to combine my work passion with my top hobby, and it's still really fresh as I just started in October. I wish I can say this was all planned, but it's definitely a case of being at the right place at the right time," said Kakigi.
Kakigi, son of GML pitching legend Randy Kakigi, was home during the holidays visiting family.
"Some of my earliest childhood memories are of people getting excited that I was the son of the great Randy Kakigi, and one of my proudest moments in my life was seeing how happy he was that I got the Trail Blazers gig. I'm sure he would have been proud wherever I landed, but the fact that I now work in professional sports makes it that much sweeter and makes my job so much more enjoyable," said Kakigi.
Kakigi credits the love and support from his entire family and admitted he will miss home. "When I am away, I miss being able to a Momma's Boy. It's a harsh reality to return without the constant nurturing and food!"
Keoki Kakigi said his greatest sport achievement was winning a gold medal for Guam in the 2010 Micronesian Games. Kakigi was a setter for a stacked Guam team that won gold in Palau. After winning gold in the summer of 2010, Kakigi returned back to California and excelled in college.
Kakigi said his favorite aspect of his job is that every day is completely different from the next.
"I am an engineer on some days, working on improving the efficiency of our facility operations. Other days I am a spokesperson, meeting and training with internal and external stakeholders to support our sustainability mission," said Kakigi. "Either way, we are also a concert, hockey, and event venue, and I always look forward to sitting down and watching whatever is happening that night. My first day on the job Cold Play was playing; I'll never forget it!"
Kakigi said that he sees the players frequently but has yet to have enough courage to approach them.
"I see the players every game, but I am still too star struck and nervous to speak up, especially as they are focusing on the game ahead. However, I've been bumping into Damian Lillard a lot lately and am working up the courage to get on casual fist-pound terms with him."
Kakigi is also waiting on the opportunity to have a conversation with head coach Terry Stotts. Stotts, who has shared time and interviews with GSPN, lived on Guam in his younger years and attended JFK in the early 1970's before moving to the US.
"When the opportunity arrives, I am going to give him a loud and warm 'Hafa Adai' and hopefully discuss getting lunch at the Chamorro food truck PDX671 in East Portland. We'll definitely talk about Guam, and I look forward to showing him pics of how much JFK has changed," said Kakigi.

QUICK HITS
Guam MTB National Championship: Edward Oingerang and Jennifer Camacho are your 2023 MTB national champions. Oingerang finished the course in 1:13:24 while Camacho won her second straight title in 54:08.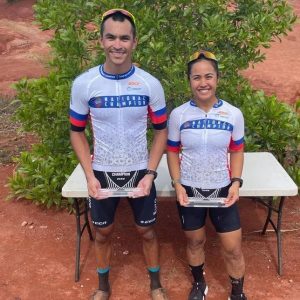 ——————————————
Kobe Miyashita, with St. John's coach Arvin Flores, was named the 2023 IIAAG Middle School Boys Volleyball MVP!