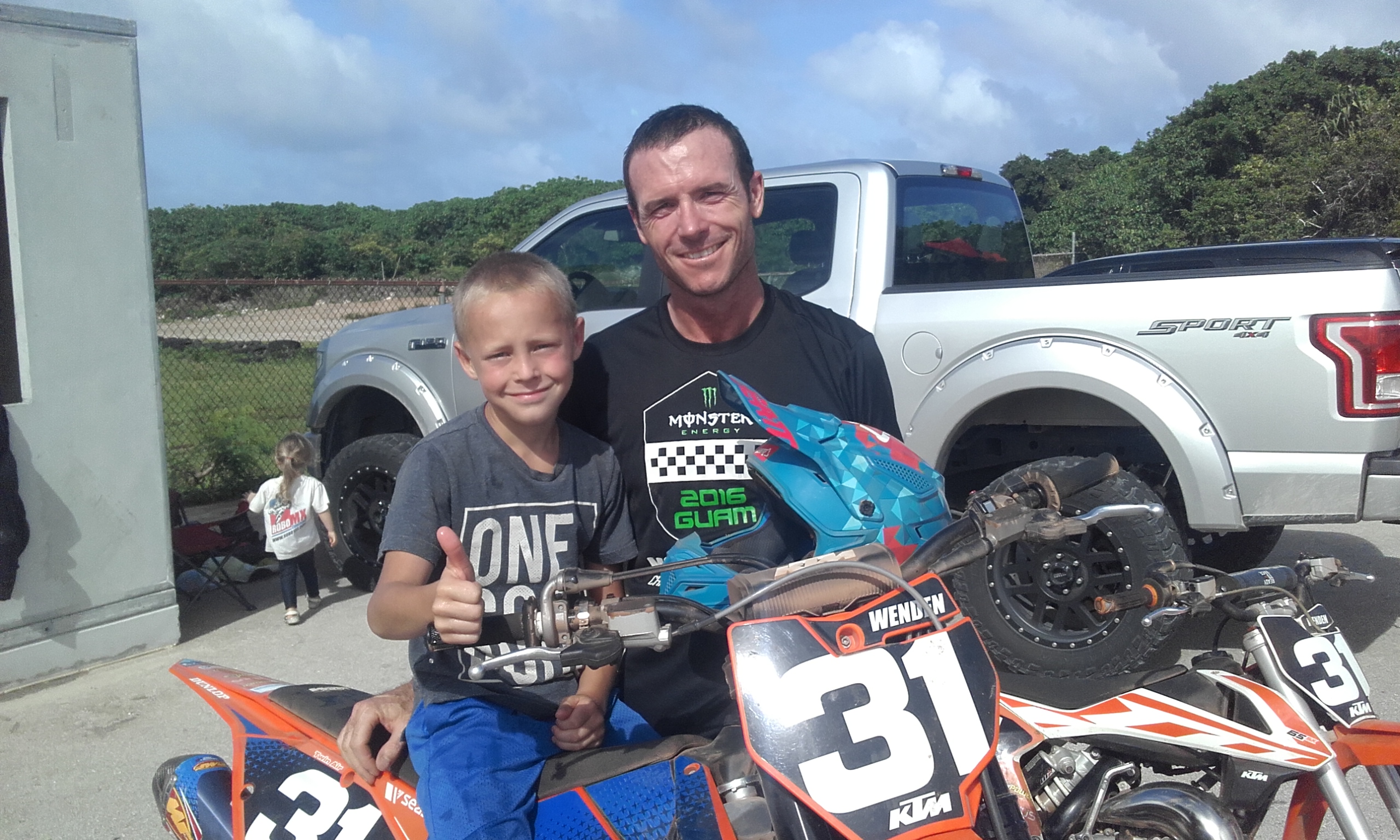 PRESS RELEASE – Guam International Raceway Motorcycle and Atv Corporation
2018 Monster Energy Guam Motocross Championships Round 5
This past Sunday round 5 of the 2018 Monster Energy Guam Motocross Championship was held at the Guam International Raceway located in the northern village of Yigo.
With clear sunny skies the race course was dry, dusty, and rough with a layout that included a minefield of challenging obstacles that kept both the competitors and the fans on their toes. Free to come out and watch the racing kicked off at 11:30 that morning and went on late into the afternoon with several classes running two heats to determine class round winners.
Highlights and results
In the Open Motorcycle class in heat one #31 Tim Wenden aboard his Rocky Mountain Precast supported KTM took the early lead off the start but was quickly passed by #1 "little" John Aguon aboard his Ground Tech Services supported Yamaha. Following up in third was #55 Yamaha mounted Carlo Pangelinan. The leaders set a blistering pace as they launched off the jumps and slammed through the corners with #1 John Aguon taking the first heat win. In heat two the Ground Tech Services supported Yamaha piloted by John Aguon was on the throttle first as he took the lead followed closely by the #31 of Tim Wenden.
Wenden and Aguon soared and were airing out their machines over the many jumps with Aguon not giving it up an inch to the hard charging New Zealander Wenden. At the checkers it was once more "Little John Agoun taking the heat win for the sweep and the round win. With the round 5 win Agoun with 226 points has now extended his championship points lead to seven points over the reigning champion Tim Wenden with 219 points after five of the scheduled ten round championship series. Taking third in round five was #55 Carlo Pangelinan with #511 Steven Santos taking fourth and #57 Kim Aikens finishing 5th.
In the Open Atv class #83 Daniel Champion aboard a TJ Enterprises/Gold Speed supported Suzuki battled early on with #15 Albert Garlitt aboard his Kawasaki before pulling away to take his fifth straight round win. The Suzuki rider is having a perfect season so far having not lost a heat all season heading into the second half of the championship. Taking second and trailing the #83 Dan Champion in the series was multi time and reigning Open Atv champ #4 Robert Bucek aboard the Cycles Plus Suzuki. Third was #15 Albert Garlitt with the #22 Yamaha of Kenneth Tedtaotao putting on a charge to take fourth.
In the Open Minibike class #23 Jordan Leon Guerrero aboard the LG Racing Kawasaki swept the class to take first with #25 Lawrence Limtiaco in second and #33 Ethan Blyth on a Kawasaki placing third with #10 Jerrin Nauta on his Kawasaki taking fourth.
In other class results
Novice class first went to #57 Blaze Aiken on a Yamaha, taking second was #24 Jon Aguon also aboard a Yamaha.
250cc Motorcycle class taking first #31 Tim Wenden on a Rocky Mountain Precast KTM, second was #55 Carlo Pangelinan on a Yamaha, third went to #511 Steve Santos with #57 Kim Aiken on a Yamaha finishing fourth.
85cc Kids Minibike class first #25 Lawrence Limtiaco on a Kawasaki, second was #33 Ethan Blythe on a Kawasaki with #10 Jerrin Nauta on a Yamaha in third.
65cc Kids Minibike class first was #22 Wyett Santos on a Kawasaki, second was #31 Richard Wenden on a KTM, third #12 Gabriel Calvo on a Kawasaki, fourth was #21 Jessani Leon Guerrero, fifth went to #33 Mariana Wenden, and sixth was #23 Caleb Cruz.
50cc Kids Minibike class first #18 John Aguon on a KTM, second #20 Jace Calvo on a KTM, third was #10 Jerrisha Guzman on a Yamaha, and fourth was #12 Ynapu Aguon.
Kids Mini Atv class first #2 Wyett Santos, second was #12 Gabriel Calvo, third was #23 Caleb Cruz, fourth went to #27 Camerish Chaco, and the #222 Jordan Chargulauf placed fifth.
Next up on the motocross race schedule will be round 6 of the 2018 Monster Energy Guam Motocross Championships to be held on Sunday May 20th at the Guam International Raceway in Yigo. Gates open at 9am and the racing kicks off at 11:30am. For more information visit https://girmac.teamapp.com
PHOTO GALLERY BROUGHT TO YOU BY:

QUICK HITS
Guam MTB National Championship: Edward Oingerang and Jennifer Camacho are your 2023 MTB national champions. Oingerang finished the course in 1:13:24 while Camacho won her second straight title in 54:08.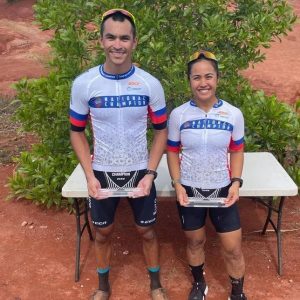 ——————————————
Kobe Miyashita, with St. John's coach Arvin Flores, was named the 2023 IIAAG Middle School Boys Volleyball MVP!