By Jay Leon Guerrero
The FD Friars are on a mission. After their Principal and Mentor Tony Thompson passed away last week, the Friars are now more motivated to win a championship.
The Friars were heavily favored entering their quarterfinal playoff game against the Sanchez Sharks and won in straight sets (25-8, 25-6, 25-16) at the FD Jungle.
"Now we have someone to play for. Before the season, we had a goal of winning the championship but now with Mr. Thompson passing we are going to push harder to accomplish our goal," said Rique Untalan.
The Friars were focused and played a much cleaner game compared to the beginning of the season with strong defense and good passing. The Friars also had a good game at the service line, committing only one service error for the entire contest.
First set
Recently named IIAAG Co-MVP Logan Pangelinan, FD's setter, went to Untalan early in the contest as the Friars went ahead 7-2. DeAundre Cruz recorded two middle kills as the Friars go up 15-5. Momentum did not stop for FD with Pangelinan going to his favorite target Aidan McDonald as the Friars were up comfortably 23-7. FD's Brandon Mendiola finishes the set three plays later with a kill to win 25-8.
Defense wins set two
The Friars continue to dominate every facet of the game with Mendiola recording two big blocks and Mcdonald teeing off with highlight kills to go ahead 7-0 to start the second set.
Sanchez ends the run with middle blocker Shawn Biven recording block. Biven later records a kill in the middle to get the Shark faithfull up and cheering.
The Friars did not allow the Sharks to gain confidence with southpaw Noah Diaz recording a kill followed by three more kills by McDonald.
The Sharks were down by 15 points but managed to record two service aces from Harold Gaerlan and Josh Manlapaz before surrendering the second set 25-6.
Sharks go down fighting
Down 2-0 and facing elimination, the Sharks start the third set leading 7-0. Matthew Pascual served up two aces during the run, Manlapaz also recorded a kill as FD coach Steve Pangelinan called a timeout to regroup his squad.
"Coach told us to settle down and find that drive we had in the first two sets," said Untalan. "I didn't have any doubt in my teammates and neither did he (Coach Pangelinan)".
The Friars immediately answered their coaches call with Mendiola recording a kill. McDonald came in clutch with three more kills to help the Friars take a 10-9 advantage. The Friars regained momentum and won the final set 25-16.
The Friars used a variety of weapons at the net and good passing which helped give Pangelinan options as a setter.
"Having a deep team and so much talent keeps me as a setter unpredictable because the defense has to take note of everybody," said Pangelinan. "But I feel that our strongest asset is our blocking because our guys are big too."
Mendiola anchored the defense with a game high four blocks. McDonald had another monster game with 16 kills, Untalan had seven kills and two aces. Manlapaz had five kills for the Sharks, Biven recorded four kills.
The Friars advance to the semi-finals and will play the winner of the St Paul vs Notre Dame quarterfinal contest. Head coach Steve Pangelinan said it will be a challenging week and he will hope his team remains focused. "We have 10 seniors on the team and they have a baccalaureate mass (today), graduation on Wednesday and then we play on Thursday," said Steve Pangelinan. "Somewhere in between all that we have to find time to practice."
"They were very focused tonight. It's a challenge because they will face a lot of tough teams and then there's also the challenge of remembering Mr. Thompson; remembering who he was and what he stands for. They are doing a good job of staying focused and doing their best at honoring him," said Steve Pangelinan.
"We didn't have anything to play for but now we have something to play for," said Logan Pangelinan. "We are all saddened by the passing of Mr. Thompson and we feel like the least we can do is play hard for him and do our best to win the championship for him."
PHOTO GALLERY BROUGHT TO YOU BY:

QUICK HITS
Guam MTB National Championship: Edward Oingerang and Jennifer Camacho are your 2023 MTB national champions. Oingerang finished the course in 1:13:24 while Camacho won her second straight title in 54:08.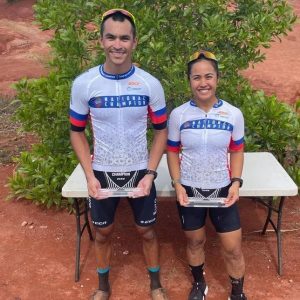 ——————————————
Kobe Miyashita, with St. John's coach Arvin Flores, was named the 2023 IIAAG Middle School Boys Volleyball MVP!