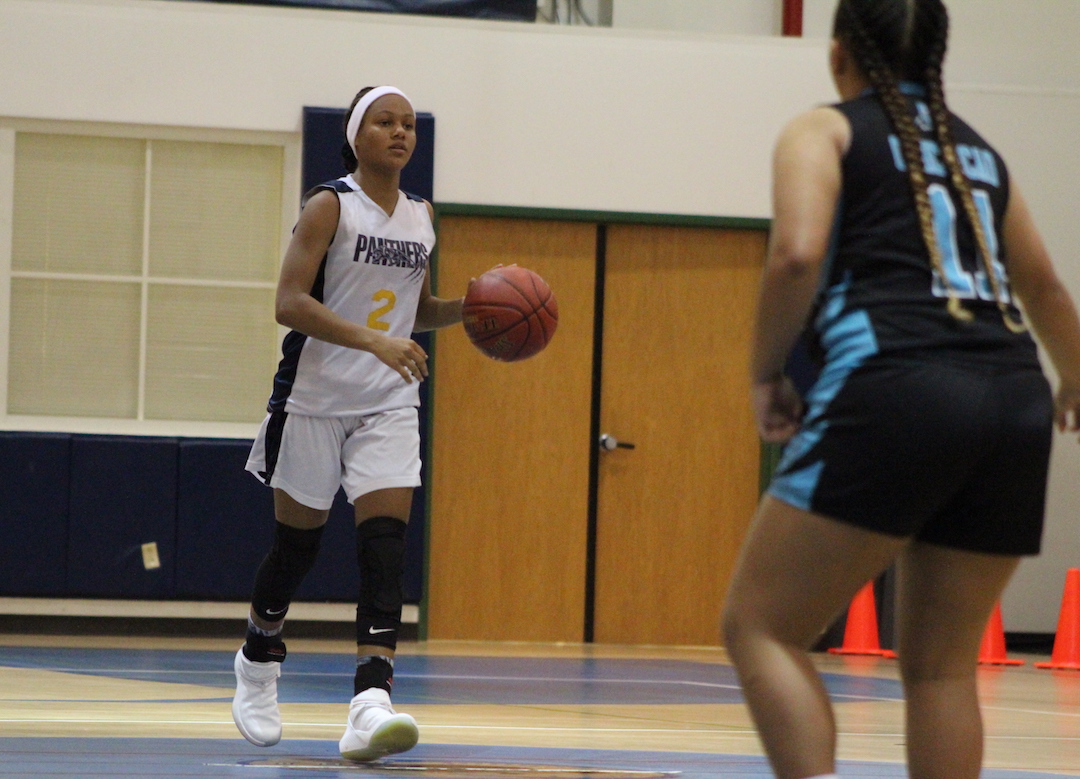 By Brandon Kinsella
On Tuesday night in the season opener of the IIAAG Girls' Basketball, the Guam High Panthers defeated the Southern Dolphins 57-28 at home. The Panthers showcased high energy defense, which would led to easy fast break points throughout the ballgame.
Guam High started off the 1st quarter with an 11-0 run, which was due in large part to remarkable defense. The Panthers were very aggressive and showed ability to read the passing lane, forcing seven Dolphins' turnovers in the first quarter alone. Right out the gates, Panther's Aniah Cruz looked to make a statement, draining her first three of her junior season, which would set the pace for her team's offensive success.
The Dolphins didn't develop an offensive rhythm until the second quarter, they had only scored two points in the quarter prior. Southern's Katelyn Camacho scored her team's first field goal off of an inbounds pass and made several key plays in the paint. Camacho finished the game with five points, five rebound and two blocks.
Panther's small forward Alexis Brown was a defensive weapon all night, amassing five steals, five rebounds, and one block.
The Dolphins did show lots of potential as the game went on. Dolphins' center Bre'ani San Nicolas would prove to be a strong presence in the paint, finishing the game with nine rebounds and three points.
Player of the Game Aniah Cruz looked unstoppable in the season opener, showing ability to score from anywhere on the floor. Cruz also showed great finishing ability in transition, where her team thrived because of high pressure defense. She would finish with 21 points, two rebounds, and a steal. Panther's Guard Taneea Henderson also had an impressive outing, finishing with 17 points, three rebounds and one steal.
Cruz elaborated on what is going to allow for continued success throughout the season:
"We just have to stay focused during practice, and practice the way that we're going to play in the game. Our main goal this season is to build team chemistry and understand that every team that we face is going to be different."
With this victory, the Panther's secure their first win of the season, improving to (1-0) and the Dolphins fall to 0-1.
PHOTO GALLERY BROUGHT TO YOU BY:

QUICK HITS
Bishop Obispos beat Mt. Carmel for the IIAAG Middle School Girls Basketball championship 37-25.
—————————————-
The Benavente Roadrunners crushed the Agueda Pirates 17-1 to win the 76 PONY Middle School Baseball League. Rodney San Nicolas was a beat, striking out 13 batters in a complete game while going 4-for-4 at the plate, including a homer and 4 RBI.