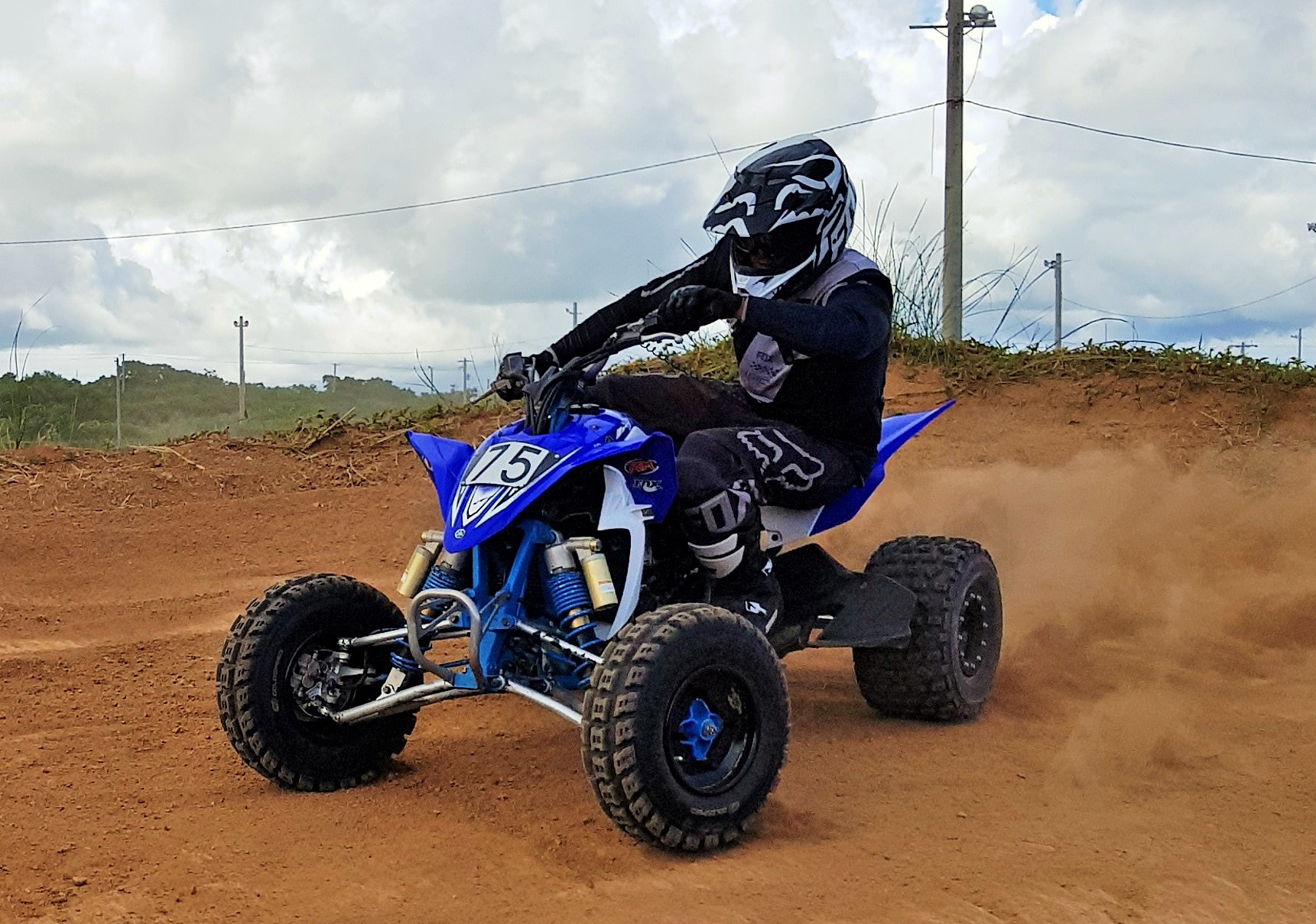 PRESS RELEASE – This past Sunday round 9 of the 10 round 2018 Monster Energy Guam Motocross Championship was held at the Guam International Raceway located in the northern village of Yigo. The field of competitors included both several mini bike and atv youth classes ranging from ages 4 years up to 15 and by the the full sized machines of the Open Atv and Motorcycle classes that saw competitors ages ranging from 16 years and up. Racing kicked off at just before noon.
Highlights and results
In the 50cc class which includes riders from 4 to 8 years of age #18 Jonathon Aguon and #20 Jace Calvo immediatly went to war with each other for the lead. The two young guns went elbow to elbow in a high flying dog fight putting both fans and parents on their feet as their engines screamed around the course. At the finish of the first of the two heats it was the #20 of Jace Calvo taking the win with Aguon in second.
In heat two a fired up Jonathan Aguon blasted out from the starting gates and like a chain saw cut his way straight up into the lead where he dominated to take the win after early challenger Jace Calvo had his seat fall off his machine. This gave the overall round win to the #18 of Jonathan Aguon with Jace Calvo still managing to take second. Third was #10 Jerisha Guzman with #109 Leo Limtiaco taking fourth.
The kids minibike classes were the stars this past Sunday as they put on the best bar to bar racing of the day.
In the Open Minibike class #31 Richard Wenden on his Rocky Mountain Precast supported Ktm took an early lead from the start. Wenden riding on a 65cc machine that was smaller than his challengers was being followed closely by the two 85cc machines of #25 Kawasaki mounted
Lawrence Limtiaco and #10 Jerrin Nauta. #22 Wyett Santos was holding down fourth on his Pittshop supported 65cc Kawasaki. The battle for first was close between Wenden and Limtiaco with Wenden holding the throttle and not willing give an inch of ground to his competitor. At the checkers Wenden took the first win of the two heats with Limtiaco taking second.
In heat two it was Limtiaco getting out front first with Wenden in second, Santos in third and Nauta in fourth. Limtiaco was on his game and was able to take the heat two win and the overall Open Minibike class round nine win. Wenden took second with Santos in third.
In the Open Motorcycle division #31 Tim Wenden on a Rocky Mountain Precast supported Ktm took the win in both heats over the hard charging Yamaha #1 Lil John Aguon who placed second. Third through fifth was filled by the rookie field of #21 Jon Aguon, #40 Sade Pitter, and #59 Robert Terrel,respectively.
In the Open Atv class #75 George Santos rode a brutal round to take the win on his Yamaha after having battled with #4 Robert Bucek aboard the Cyclesplus Suzuki who took second. Third went to #22 Ken Tedtaotao aboard a Vince Castro Yamaha. Fourth was #08 Rosie Castro with #15 Albert Garlit rounding out the top five.
In the Kids Open Mini Atv class #27 took the win in both heats for the overall round 9 win with Wyett Santos taking second.
85cc class saw Lawrence Limtiaco take the win over #10 Jerrin Nauta. 65cc class saw #31 Richard Wenden take the win over #22 Wyett Santos. 250cc class saw Tim Wenden take the win over #21 Jon Aguon. 450cc class win saw #1 Lil John Aguon take the win over #40 Sade Pitter.
Next up on the motocross race schedule will be the final round of the ten round series. Round 10 of the 2018 Monster Energy Guam Motocross Championships will be held on Sunday September 16th.
Gates open at 9 am and the racing kicks off at 11:30 am. Everyone is invited to attend to watch free of charge. Interested new or experienced riders are encouraged for more information to visit https://girmac.teamapp.com or contact public information officer Robert Bucek by call or text at 727-5381.

Foody's 5 Fun Facts
High School Football All-Stars
DID U KNOW?
The FD Friars have retired running back Kein Artero's (#3), becoming the third Friar in three years to have his number retired. 2018 saw two numbers be retired from quarterback Daniel Phillips (#6) and De'Aundre Cruz (#24).
COMING SOON …
– More 2nd Quarter Sports
– NFL Week 12:  Steelers at Bengals
– Jon Tuck in Bellator Japan Dec. 29
– IIAAG/GDOE Split on Jan. 1st
– GSPN Preseason Basketball Tournament
QUICK HITS
The UOG Tritons have hired Bill Bennett as their new baseball manager. It has been over 20 years since UOG has had a competitive team.
—————————————————-
Desiree Eay takes gold in the USPA North American Powerlifting Championships in Las Vegas. Eay won the 56kg open and submasters categories and Best Lifter Award.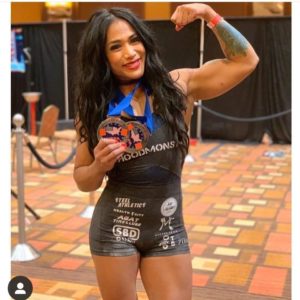 —————————————————-
GSPN celebrates 8 years! Chartered 11/11/11