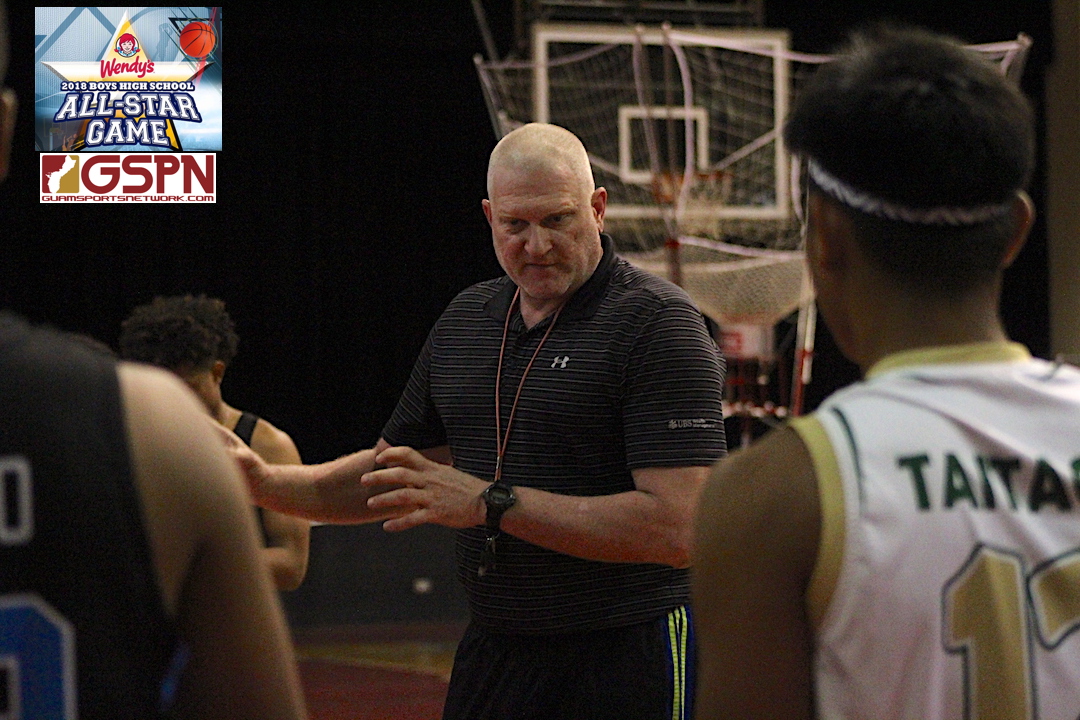 By Robert Balajadia
From first time Wendy's All-Star Game (ASG) head coach Fred Peters from the IIAAG champion St. John's Knights to seven of their 12-man roster being first time ASG selectees, Team Supreme will be celebrating a wealth of firsts on Monday, May 28th.
The 4th annual Wendy's Boys Basketball High School All-Star Game is set to go down at the FD Phoenix Center to end Memorial Weekend and Team Supreme has been putting in work right from draft day, which was back in April.
Coach Peters let it be known that whomever he was selecting will be hitting the ground running and Team Supreme saw no shortage of court work having been practicing at least three times a week.
"Everyone we drafted is going to play. We know that some of our guys were playing 4th quarter sports so practice during the week has been voluntary and we've have a good turnout. I'm excited to just have the opportunity. I love basketball and I do this year round," said coach Peters.
Team Supreme's practice, which isn't exclusive as members from Team Elite have joined, is set up with shooting drills followed by constant scrimmaging just to get the boys in basketball shape. The premise of the All-Star game is to have fun, but Peters knows at some point the boys competitive nature will take over.
"Competition is going to be in there. We're going to have fun, but the 4th quarter we already know that's when it's going to get competitive. We've got a lot of isolation stuff and maybe some full-court press, but I'm just happy to be working with this talent," added Peters.
Hard work in practice has earned St. Paul Warrior Reo Aiken an All-Star Game start as Aiken was present in each of the practices Peters had held. From having a breakout junior year as a part of the 2nd place Warriors to making his first All-Star Game, Aiken is grateful for the opportunity.
"It really means a lot coming from coach Peters, who is a championship coach," said Aiken on working his way into the starting lineup. "Having a group of 12 players on your team who are really good is a great and rare opportunity. Playing with the best high school players on Guam is what I'm most looking forward to."
Second year ASG selectee Jahmar White, who finished 2nd in MVP voting, knew what to expect since drafted into Team Supreme under coach Peters.
"[Peters] is one of the best coaches on this island so I knew I was going to have to put in work, but a lot of fun as well. I love the work and I was looking forward to it. I love coming in and putting up shots and it's a lot of fun for all of us," said Jahmar.
First time All-Star Raven Taitague, senior from the Guam High Panthers, is ready to showcase his abilities despite his team having a rough playoff run. With his older brother Rodney having a couple of All-Star Games under his belt, Taitague is carrying on the tradition.
"It's exciting considering how talented this group of people is. I'm thankful that I was selected as one of the top players in the league and I'm ready to prove that on the court," said Taitague. "We've been running good practices and I've been able to talk to my teammates about more than just basketball, and that's a great feeling."
And when asked if he's more set on having fun or winning, Taitague responded, "We're going to have fun winning."
Min makes it four
Through all the new faces, one member from Team Supreme will be playing in his fourth straight All-Star Game in St. John's Knights guard Michael Min, having made the big game since his freshman year in 2015, the first year the Wendy's All-Star Game had started.
Bringing in the coveted IIAAG title, winning the MVP and being selected #1 overall for a second ASG makes up quite the year for Min, who will be playing in his final high school game on Monday.
"I'm honored to be a part of this awesome event and I'm fortunate to have been chosen every year. I'm 2-1 in All-Star Games now so I want to finish 3-1," said Min. "If a coach is going to choose me first in a pool of 24 players, I'm going to reward him back by doing my best to win the game."
And standing in the way of Min's third ASG victory are his Knights teammates in Takumi Simon and Tony Hsieh. But having faced them in practice for over a decade, Min is looking forward to facing them in their final high school game.
"Let me tell you, out of this whole league, I'm the one who knows best how to guard them. And if I match up with them then I have the advantage," laughed Min.
White will be running alongside Min for the first time in a high school setting and the two dynamic guards are set to shake up the ASG scene.
"It's the first and last time I'm going to get the chance to play a long side [Min] so it's going to be fun and I'm going to cherish the moment," said White.
"I've played with [Jahmar] in the outside leagues, but we're both ballers and we know what it takes to win. We both have championship experience and I'm super excited," added Min.
Look out for Team Supreme during Monday's big game as they take the court at 5pm!

Athletes Birthdays by W5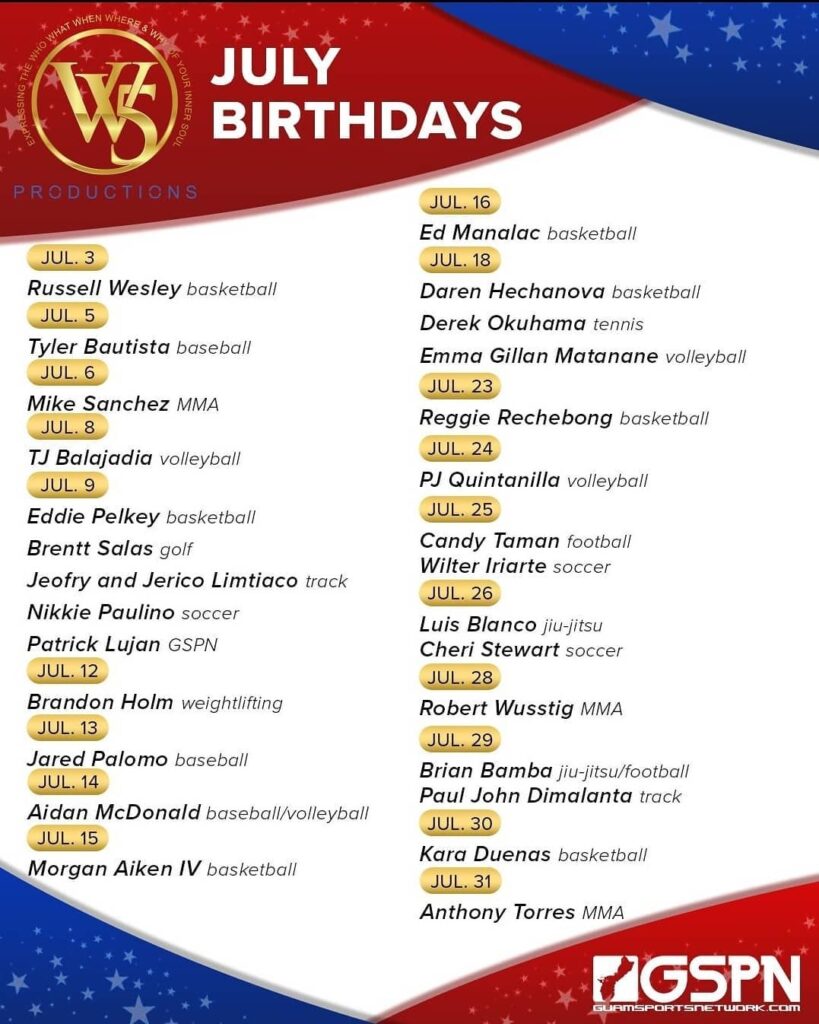 Foody's Fun Facts
Favorites From Year 2
COMING SOON …
2020 Tokyo Olympics
UFC Fight
Aug 1: Trevin Jones vs. Tony Kelley
QUICK HITS
——————————————————–
Guam's Joey Miranda met up with Chamorrita Softball Star Bubba Nickles and Olympic Teammates Dejah Mulipola and Aubree Munro out in Tokyo as we approach the Olympics!
Photo credit: GNOC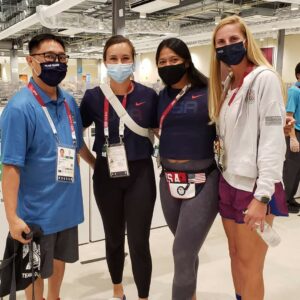 ——————————————————–
Former Guam resident Tre Taylor has committed to play cornerback for the Southwestern Junior College Jags.
Turner attended Harvest and FD before transferring to Hawaii where he played for Saint Louis, the 5th ranked team in the nation.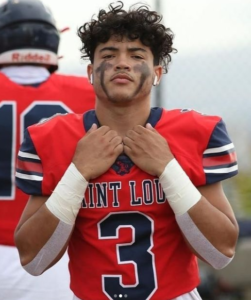 ——————————————————–
The big man Zach Banner getting to throw out the first pitch earlier today for the Pittsburgh Pirates!