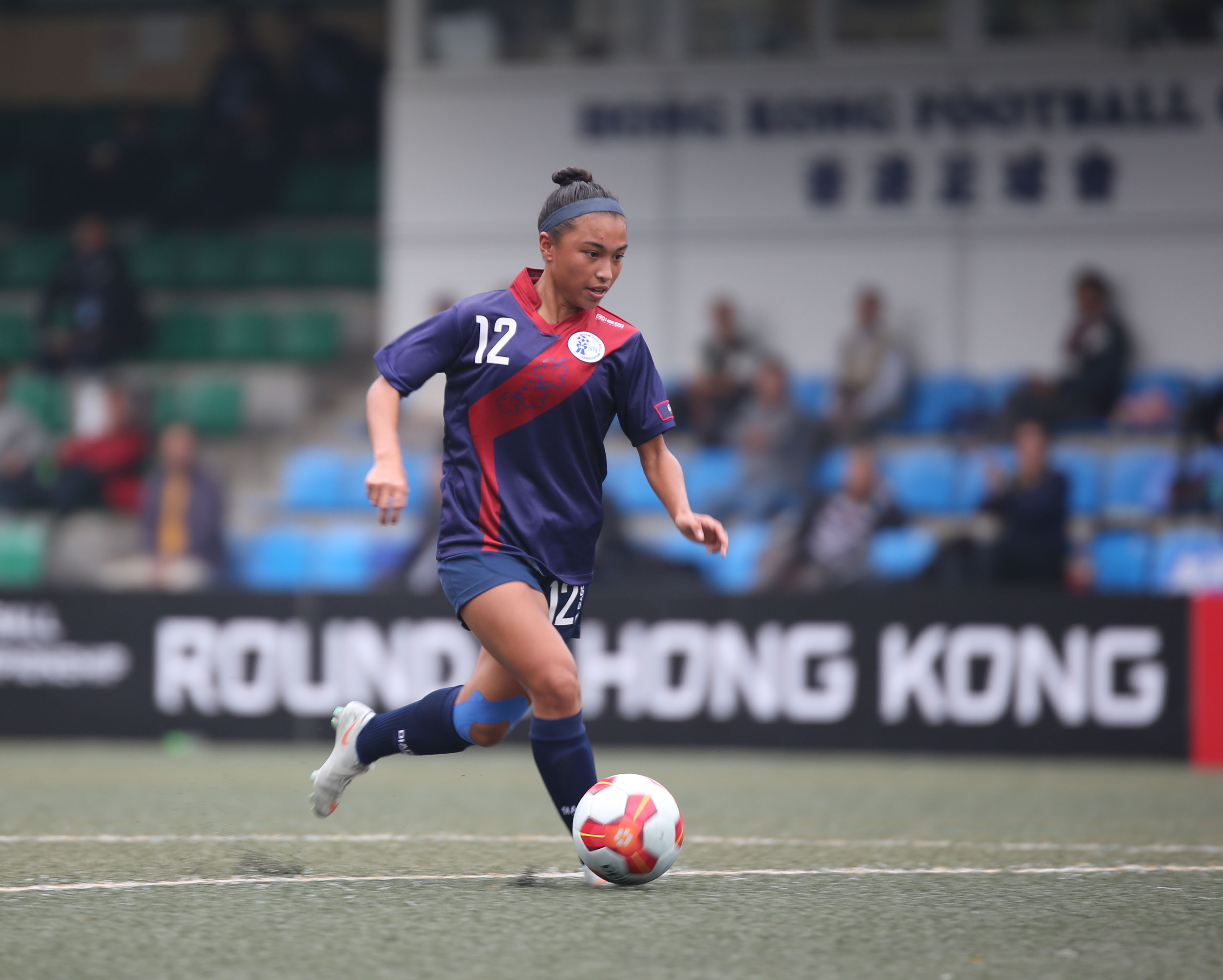 PRESS RELEASE – A strong performance by Skyylerblu Johnson in Guam's recent Women's International Friendly match against Singapore late last year catapulted the Masakåda standout to the top of Highline College's recruiting efforts for their championship-caliber women's soccer team.
The George Washington High School student, set to graduate June 1, will depart Guam June 15 to join the Thunderbirds in their Northwest Athletic Conference title defense.
"I am very excited for the opportunity to play soccer at the intercollegiate level," Johnson said. "This has always been one of my dreams since I was a young girl – I hope to expand my soccer IQ with my new team, and I hope to get even stronger and faster on the pitch. I've heard that the style of play is different in the U.S. than it is here in Asia; however, I look forward to contributing all I can to the team and just to also have a good experience playing the sport I really love at this new level.
"I also want to be a good ambassador for the island, so hopefully scouts can reach out to other soccer players here in Guam, too," Johnson added.
The Des Moines, Wash. college won its first-ever Northwest Athletic Conference championship in November last year, finishing its 2017 season undefeated with an 18-0-2 record, according to the Highline College Athletics Web site. The Thunderbirds needed extra time in its 1-0 victory over league-dominating rivals Peninsula, which finished the season with a 19-1 record following its loss in the title match.
"It is a fantastic opportunity and great reward to a player who has set a goal for herself, is committed to making improvements everyday, has put in the hard work needed to sustain and improve her ability, and has sacrificed other aspects in her life to ensure she could reach her goal," said Belinda Wilson, Guam Women's National Team Head Coach. "The National Team program creates an environment for players to develop, but it is up to the players to be motivated and want to improve from one session to the next.
"This is an awesome opportunity for her to continue her development both as a person and as a player. I look forward to tracking her progress with her new team," Wilson added.
After Johnson met with Wilson to discuss the opportunity, Wilson sent a highlight video from the Women's International Friendly match against Singapore – Guam's first for the Women's National Team since 2004 – to Highline College's recruiter. Johnson has since been in constant contact with Tom Moore, head coach of the Thunderbirds, and NWAC's 2017 Coach of the Year.
To prepare for the next level of competition, Johnson has been consistently training with the Masakåda three times a week and also engages in strength and conditioning training at NewGen twice a week. The 2016 IIAAG Girls High School Soccer League MVP took a break from the interscholastic league her senior year to manage her training schedule, as well as manage her time for school work in preparation for her first foray into intercollegiate soccer.
"I would really love to thank my parents – Mike and Lucy – for supporting me through everything; I'm the person I am today because of them," Johnson said. "Additionally, I'd like to thank everyone at GFA for providing me opportunities to play soccer locally and internationally. I also want to thank all coaches at GFA for giving their time to help me become a better player, as well as the staff at NewGen for helping me get stronger off the field too.
"I'd also like to send a big thank you to my teammates on the Masakåda, as well as the Lady Crushers team – they make every practice session and match fun and have become my family. I love them all," the 18-year-old added.
Johnson made her debut in the Bud Light Women's Soccer League Premier Division in 2013 and eventually garnered Golden Boot awards in the Fall 2014 and Spring 2016 seasons. Johnson made her debut for the Masakåda when she was just 14 years old on November 14, 2014, coming on the pitch as a substitute in the 76th minute against host country Chinese Taipei during the EAFF Women's East Asian Championship Semifinal Round. Johnson scored her first international goal for Guam's senior team against Macau in the EAFF E-1 Football Championship Women's Competition Round 1 in Guam in 2016.
Before her senior team debut, Johnson was a standout on both the Mini Masakåda, Guam U14 Girls National Team, as well as the Junior Masakåda, Guam U16 Women's National Team. Johnson was part of the Junior Masakåda team in 2012 and 2013, the lone national team from Guam to advance to the final round of an AFC tournament on its own merit to date.
PHOTO GALLERY BROUGHT TO YOU BY:

Athletes Birthdays by W5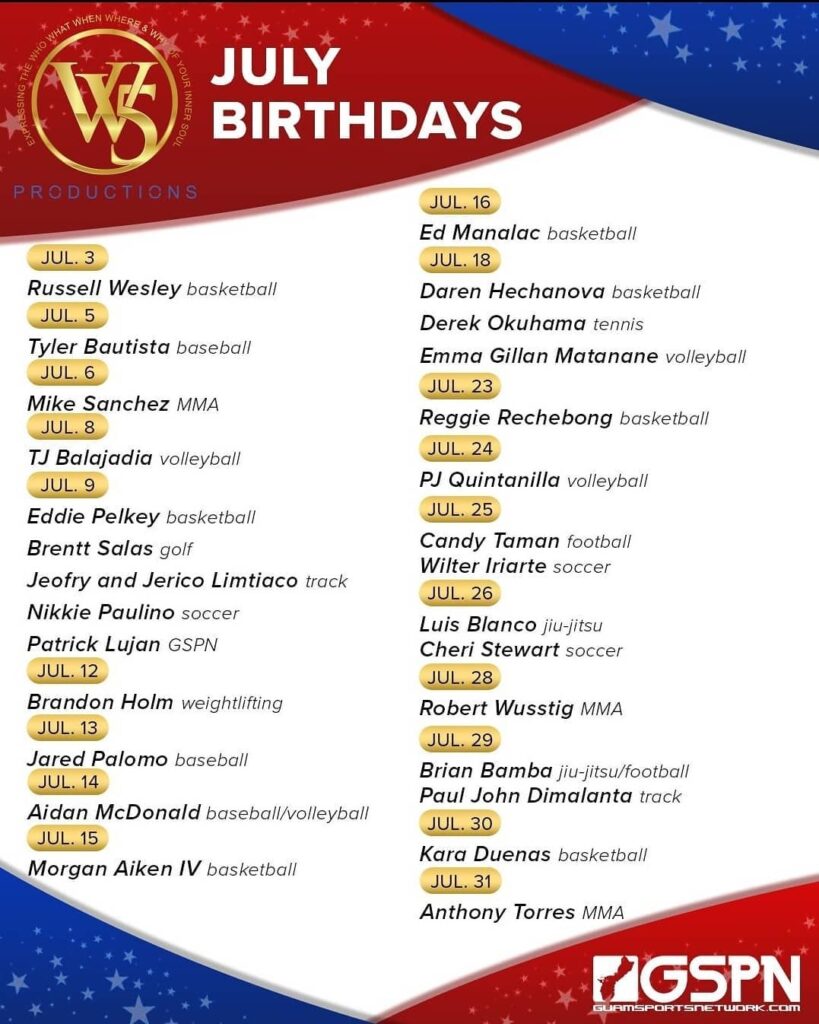 Foody's Fun Facts
Favorites From Year 2
COMING SOON …
2020 Tokyo Olympics
UFC Fight
Aug 1: Trevin Jones vs. Tony Kelley
QUICK HITS
——————————————————–
Guam's Joey Miranda met up with Chamorrita Softball Star Bubba Nickles and Olympic Teammates Dejah Mulipola and Aubree Munro out in Tokyo as we approach the Olympics!
Photo credit: GNOC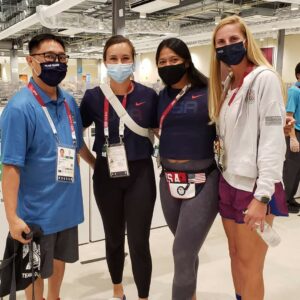 ——————————————————–
Former Guam resident Tre Taylor has committed to play cornerback for the Southwestern Junior College Jags.
Turner attended Harvest and FD before transferring to Hawaii where he played for Saint Louis, the 5th ranked team in the nation.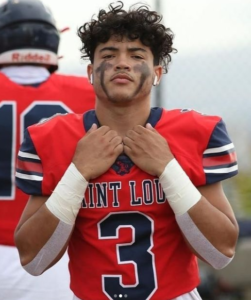 ——————————————————–
The big man Zach Banner getting to throw out the first pitch earlier today for the Pittsburgh Pirates!