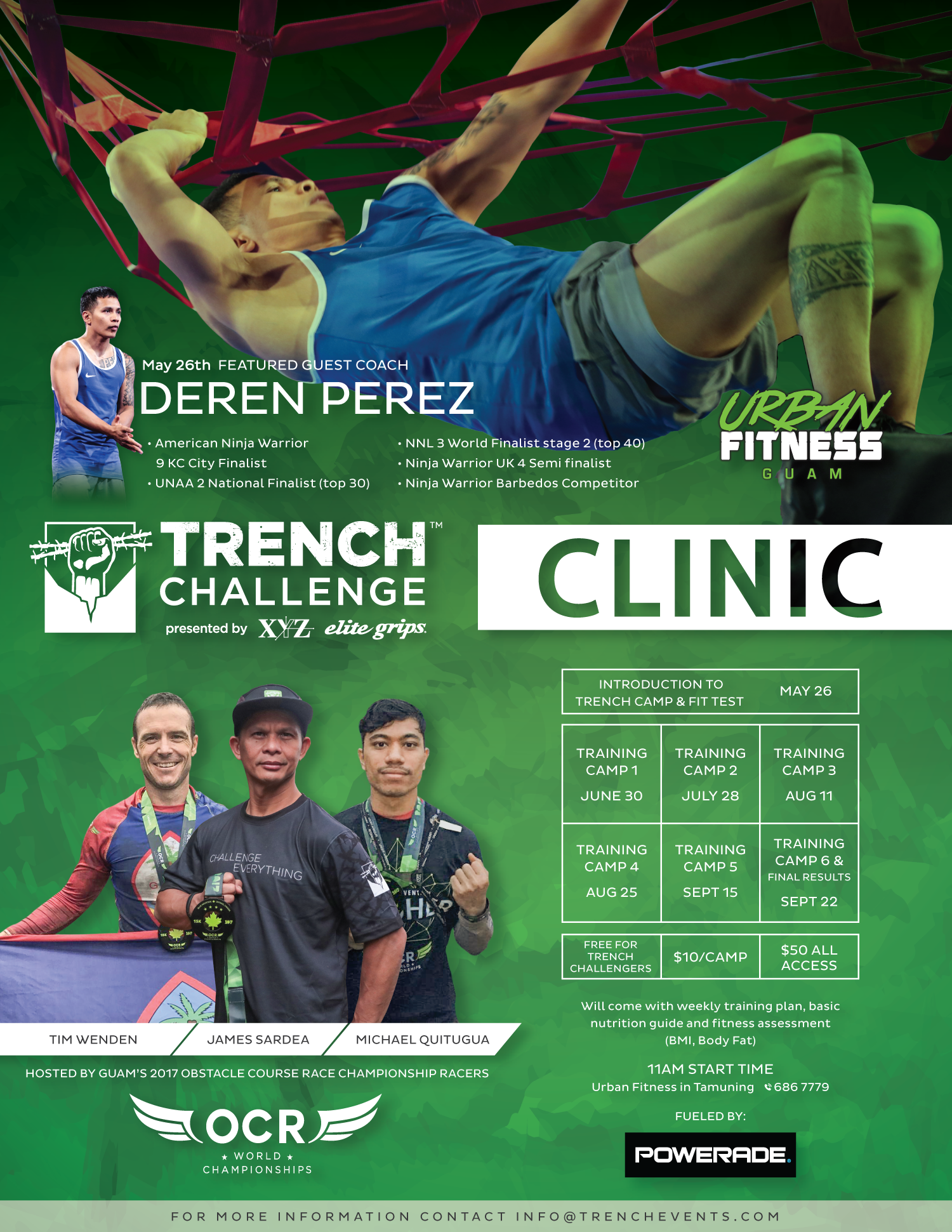 PRESS RELEASE – This Saturday, May 26th, TRENCH CHALLENGE – Guam's premiere Obstacle Course Race and only qualifier to the Obstacle Course Race World Championships in the region is kicking off a 6 (six) session training camp at Urban Fitness in Tamuning coached by top local athletes in the sport of OCR and Sasuke (Ninja Warrior).
May 26th is a FREE introduction and fitness assessment that starts at 11:00am (Showtime 10:30am) The guest coach is Guam's newest Ninja Warrior Deren "Mowgli" (The Jungle Book Kid) Perez who is on island for a short time visiting family. Perez has finished as a semi finalist and finalist at several Ninja Warrior events abroad representing his island.
• American Ninja Warrior 9 (Finalist)
• UNAA 2 National Finalist
• National Ninja League 3 World Finalist Stage 2
• Ninja Warrior UK 4 Semi Finalist
• Ninja Warrior Barbados 2nd Place
YouTube videos:
The Clinics will be conducted and coached by Guam's 2017 OCRWC competitors & first Ninja Warrior:
Tim Wenden – TC17 Overall 1st Place, OCRWC 15k Pro Division competitor
James Sardea – TC17 Qualified, OCRWC 15k competitor
Michael Quitugua – TC17 Qualified, OCRWC 3k and 15k competitor
Billy Navarete – TC17 Overall 3rd Place, American Ninja Warrior Season 5, 8, 9 Competitor.
After the FREE Intro and Fitness Test/Assessment on May 26th, the schedule of the 6 Training Camps are as follow:
June 30, July 28, August 11, August 25, September 15, and September 22.
This training camp is designed to get one ready for the 2018 TRENCH CHALLENGE set for September 30th. Whether participating in the Elite Division to qualify for the World Championships or just having fun in the Recreational Division with Family, Friends, or Co-workers, the coaches will prepare them for the obstacles they will be facing on the course.
The Training Camp/Clinic is FREE for those already registered for TRENCH CHALLENGE 2018 by the end of this month or $50 for all 6 camps / or $10 per camp.
The Training Camp will include a weekly training plan, basic nutrition guide, and fitness assessment (BMI, Body Fat) Hydration for each camp is sponsored by POWERADE.
For more information regarding the Training Camps contact: Urban Fitness at 686-7779 or email [email protected]
To register for TRENCH CHALLENGE 2018 go to: www.trenchevents.com
Upshift Ent. is the producer of TRENCH CHALLENGE & TRENCH KIDS and is responsible for producing all the major auto events on island since 2001. Visit www.upshiftent.com for more info.

QUICK HITS
The Figo Islanders 40s women's softball team took gold in the Senior Softball World Championship in Las Vegas. Figo came out of the loser's bracket and beat the Arizona Belles 17-3 in the AA division championship game Sunday afternoon.
Other Guam teams that played in the 40s tournament were: Team SOTTA (women's) and Bud Light Guam, Friars 671 and Sindalun Guahan (men's).
Sindalu finished a respectable 4th out of 24 AAA division teams.