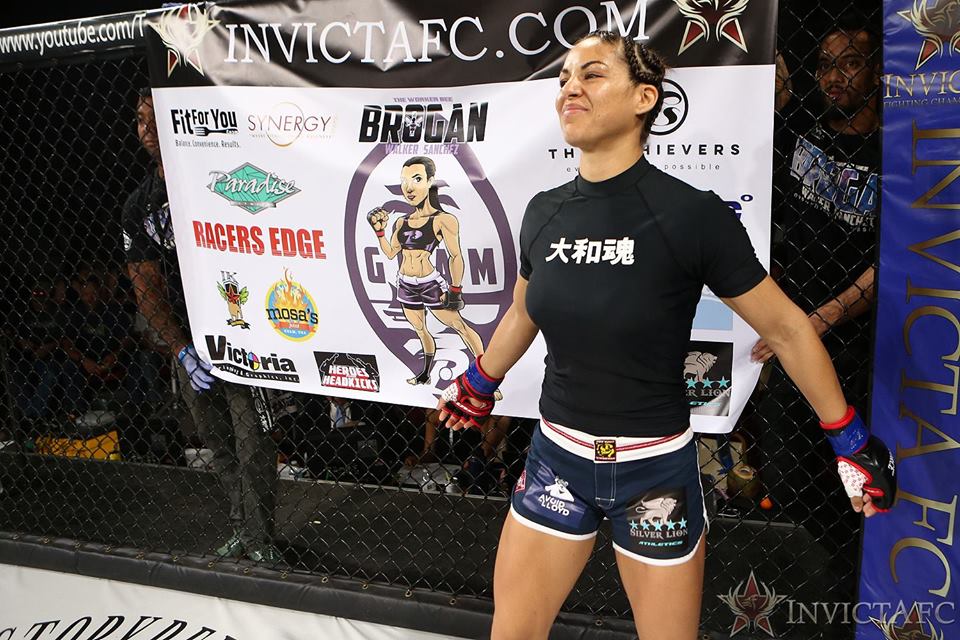 By Jay Leon Guerrero
Guam's Brogan Walker-Sanchez notched another victory in her MMA career after defeating Miranda Maverick at Invicta FC 30 in Kansas City, Missouri. The "Killer Bee" improved to 6-0 in her professional MMA career and continues to moves up the world rankings in the female flyweight division.
Walker-Sanchez returned home with her husband, Mike Sanchez, who accompanied and cornered his wife for the fight. The "Power Couple" train together at the Purebred gym under the tutelage of Stephen Roberto and strength and conditioning Coach Steve Oshiro.
"The belief that my husband Mike Sanchez has in me and my ability is unreal. There is no way I could have done this without him," said Walker-Sanchez.
The Killer Bee said she received many messages of congratulations and encouragement when she got home.
"I was and honestly always am completely overwhelmed with messages from my teammates and those who have been following me. The love is unreal and reading the messages from my coaches, teammates, sponsors, friends and family brings me to tears so I try to reply to everyone over the next few days or so," said Brogan-Walker.
She also thanked all her sponsors Silver Lion Athletics, Avoid the Lloyd, Mosas, Purebred BJJ Guam, Fökai, Racers Edge Guam, Synergy Guam, Fit for You Guam, Impact Kennels, Heroes & Headkicks, Churrasco, The Connect Guam, Paradise Fitness and Victoria Printing and Graphics.
Whats next?
Sanchez-Walker is now 2-0 in 2018 with a victory in January during her Invicta FC debut over Cheri Muraski. She defeated Muraski by split decision and won her bout last week via unanimous over Maverick. So now, what's next on the agenda? Walker-Sanchez said she will keep training but is open for a fight this year if the time permits.
"No immediate (fight) plans yet, I am looking at graduating from UOG in December majoring in Elementary Education so I will be pretty busy. I'm transferring my discipline of 'no days off' from training in martial arts to the work I will be doing in student teaching over the next few months. I will still train 5-6 days a week but my students will now come first. If I get a call and the timing is just right, then it's a go," said Walker-Sanchez.
Walker-Sanchez just arrived back on island and will enjoy a very short break from training.
"I usually take 1-2 days off depending on how my body feels. I do still teach my regular Muay Thai classes regardless of how I'm feeling," said Walker-Sanchez.
Walker-Sanchez has a passion to teach and she said her priorities are with her students.
"My students, whether it's DOE or my martial arts students they come first. It's their dedication and consistency that helps to keep me committed and on track, so that's my way of paying it forward."
The immediate plans are to continue preparing the Purebred team for a huge tournament next month.
"My team has already kicked off an amazing training camp for those heading to compete in the IBJJF Asian Open Competition in Tokyo.  We have Jackson Souza, yet another World Champion BJJ Black belt hosting classes at Purebred HQ in August so I'm really looking forward to that," said Walker-Sanchez.
"The level of commitment from them and my other teammates is why I am where I am today. Thank you team! BIBA PUREBRED!"

QUICK HITS
The Okkodo Bulldogs secured third place at the Far East Division I Girls' Basketball Tournament in Camp Humphreys, South Korea. Jasmine Samson and Haley Cabrera were named All-Tournament selections in recognition of their hard work on the court. Vaysia Blas won the 3-point shooting contest. The Bulldogs played nine games in three days with a squad of eight:
Erin Moldez
Jasmine Samson
Haley Cabrera
Sharm Tauiwei
Hanna Meinik
Jordyn Zacarias
Jordin Hernandez
Vaysia Blas