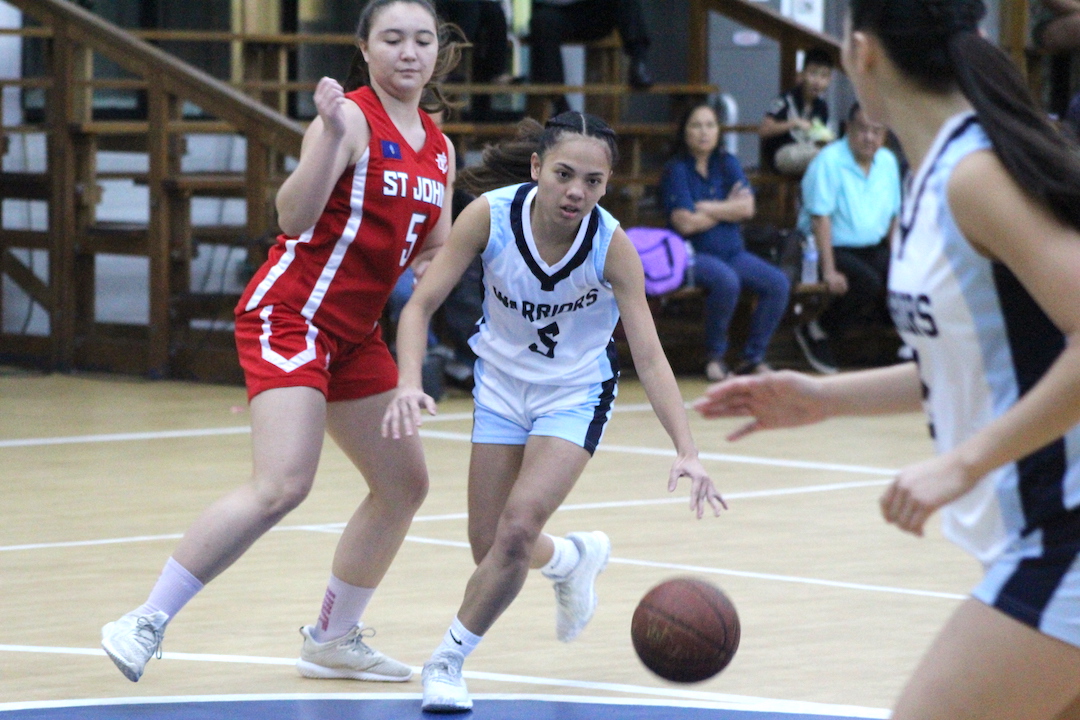 By Brandon Kinsella
In the IIAG Girls Basketball League, the defending champion St. Paul Warriors looked dominant on their homecourt floor, defeating the St. Johns Knights 70-16 in an interdivisional matchup played on Tuesday night. St. Paul's center Niah Siguenza played a near perfect game, finishing with 18 points, 13 rebounds, two steals, and two blocks, which would earn her co-player of the game.
The Warriors squad showcased great team chemistry throughout the matchup and were firing on all cylinders from start to finish. Siguenza gave insight on the foundation behind her team's chemistry.
"It all comes down to communication and discipline. Making sure that everyone is on the same page is extremely helpful to success come game time."
The Warriors were setup in a full court press for the duration of the game, which created many problems the Knights' ball handlers. This high-pressure press made it extremely difficult for the Knights to make it past half court and the Warriors showed great talent in being able to jump the passing lane and finish in transition. The bulk of the Warriors points would come off of easy fast break buckets. When the Knights did have good looks at the basket, they failed to convert on their opportunities, missing easy layups in the paint.
Warriors' Jan Quintanilla, who would also earn player of the game honors, had an impressive outing, scoring 19 points to go along with four rebounds and four steals – impressive stats for the young sophomore. Quintanilla has lots of potential to develop her game under Head Coach Paul Pineda's system, and is already putting up impressive stats as a sophomore.
The Warriors played well on both ends of the court. The ball movement looked smooth and unforced. Guard Isla Quinata lead her team at the point, finishing with 11 points, six assists, and five steals. Siguenza secured her double-double in the first few minutes of the third quarter but was not finished after the fact. She continued to be a presence in the paint, blocking two shots and continuing to get rebounds and score points on the low block.
A bright spot would come for the Knights in the 4th quarter when Tylee Shepherd scored seven points with three minutes left to play. She got her points by giving extra effort on the offensive glass, converting on two second chance opportunities and draining a three pointer. Shepherd would finish with seven points, four rebounds, and two steals.
A strong performance such as this one is expected from the defending champions. With this win, they improve their record to 3-0 and the Knights fall to 1-2.
PHOTO GALLERY BROUGHT TO YOU BY: