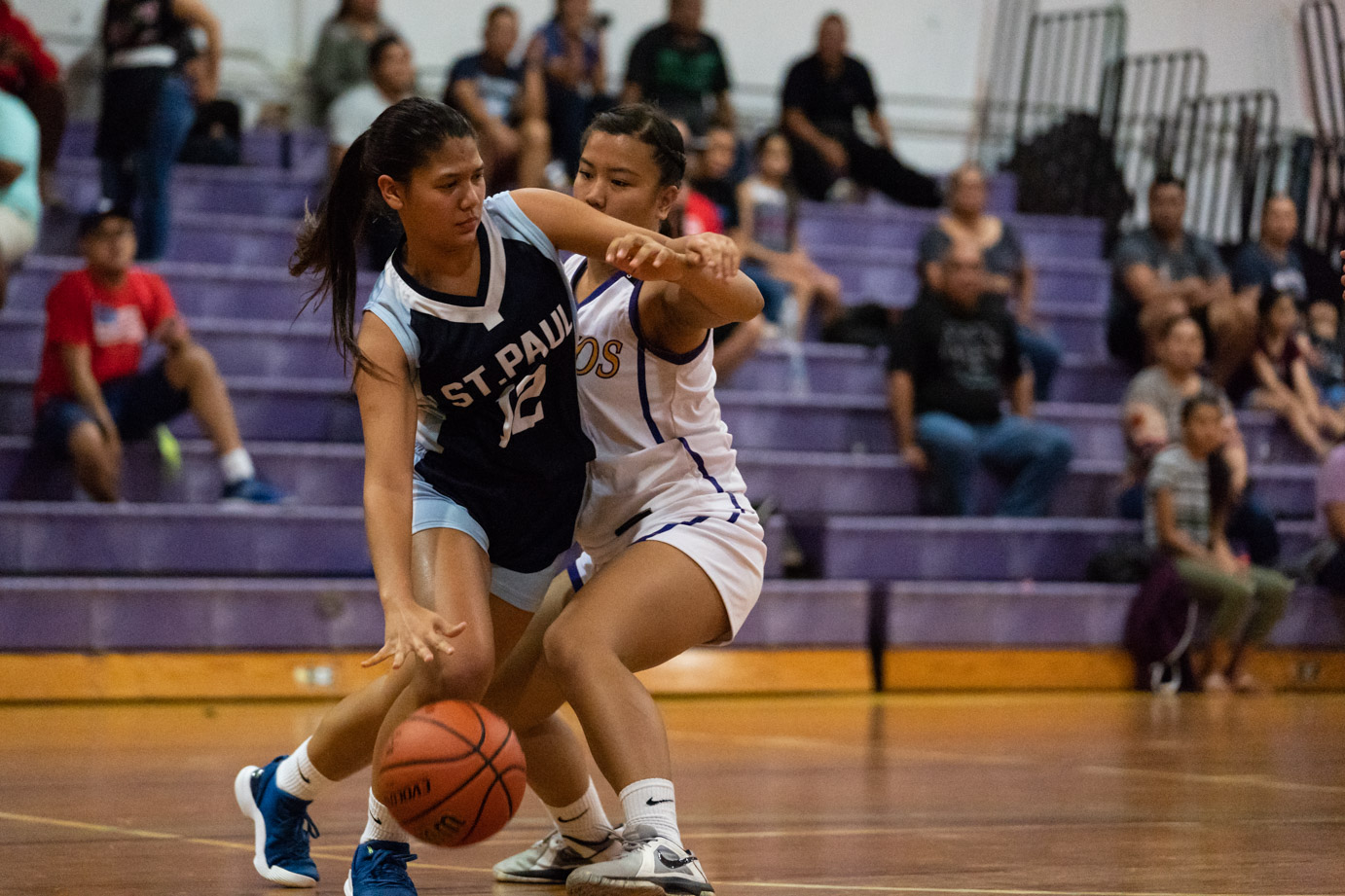 By Jay Leon Guerrero
The defending champion St. Paul Warriors move two steps ahead at being the top seed in the IIAAG High school girls basketball league after defeating the GW Geckos 60-30 at GW's home court.
After the ND Royals upset the Okkodo Bulldogs 42-40, the Warriors now have a two game lead and home court advantage in the playoffs seems inevitable.
The Warriors are now sitting atop the standings in the Taga division at 11-0, the Bulldogs fall to 8-2. In the Gadao division, the Geckos are now 6-2 and are tied with the Guam Panthers (6-2).
Jorda scores 45
Academy Cougars picked up a 74-64 victory over the Tiyan Titans, but it was Titan Yaya Jorda who stole the show. Jordan scored a league high 45 points as the Titans gave the Cougars a tough time Friday night. The Cougars improved to 6-2, and Tiyan falls to 2-8.
Siguenza, Quintanilla lead St. Paul
The Warriors started the contest with their signature press defense to sting the Geckos early. Four turnovers were forced in the first two minutes alone with Niah Siguenza and Jannailiese Quintanilla scoring from turnovers.
The bleeding did not stop as the Warriors went on a 16-0 run to start the game.
"We wanted to make sure we played good defense to start the game and to make sure we didn't let them (GW) get to our head," said Quintanilla.
The Geckos settled down and broke the press in the second quarter which led to a pair of layups. Haley Banez managed to score a fast break lay-up and nailed two shots from the charity stripe to start the second quarter.
The Warriors were just too much to handle with their pressure defense with guards Kirsten Silva and Isla Quinata forcing turnovers to build a 45-11 lead by halftime. Quintanilla had 14 points and eight rebounds by halftime with St Paul's top scorer Siguenza limited with foul trouble.
"When Niah was out I needed to bring up my game. Without her our team is smaller," said Quintanilla.
The Geckos took advantage of Siguenza being in foul trouble and got second chance points with Kirsten Santos and Alana Salas scoring from offensive rebounds.
Gecko power forward Mikayla Castro had a game high 14 rebounds but the deficit was too far for a comeback. Salas, Banez and Aubri Chargualaf each scored six points to lead the Geckos.
Pangelinan finished with a double-double with 18 points and 11 rebounds before fouling out in the fourth quarter; Siguenza scored 10 points as she watched most of the second half on the bench. Monica Giger had 10 points and seven rebounds for the Warriors who cruised to a 60-30 victory.
In the junior varsity game, the Warriors defeated the Geckos 56-36. Kat Santos led the Warriors with 24 points. Alexsia Aquino led GW with 18 points.
PHOTO GALLERY BROUGHT TO YOU BY: