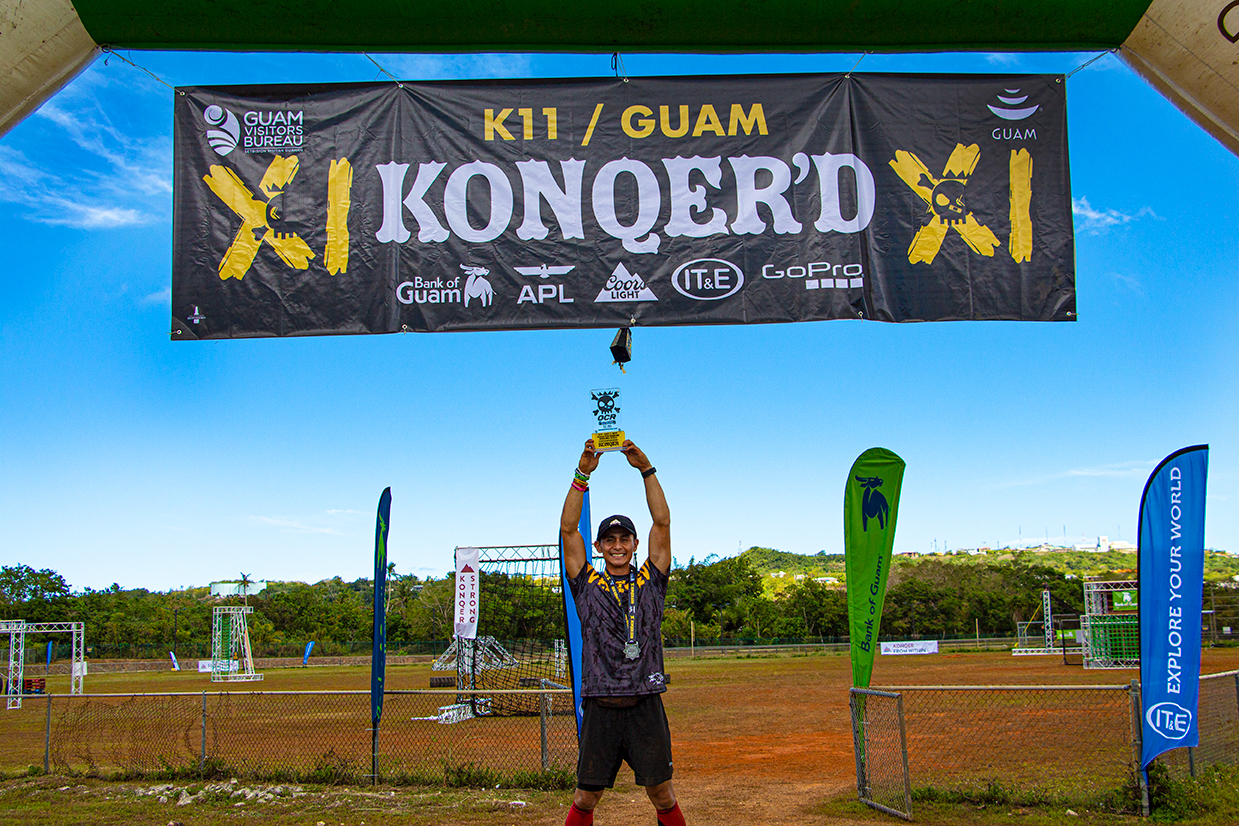 PRESS RELEASE – The 2019 KONQER GUAM (K11) OCR event officially concluded at 3PM on July 7, 2019.
Quick Facts:
Total footfall throughout the day totaled just shy of 1,300 people which included, participants (on and off-island), supporters and spectators
Total participants (aka. BRIGADE) 1,075 (men, women and children). 350 ran the 5K relay rally (includes both paid and free entries), 725 OCR participants (includes both paid and free entries). Over 100 free youth entries (17-under). 56 visitors (do not call Guam home).
89 total teams registered with 45 of them registered in competitive categories.
Teams could range from 5 to 20 members, depending on the category they registered for.

Business Category (competitive) – 5 members per team, 2 teams entered
Enduro Team Category (competitive) 5 member per team
Just for Fun (non-competitive/completion) 2-20 members per team

Two male enduros registered for a one-on-one "SPRINTS" style competition.

Billy Navarrette – 2019 Top Finisher, 7 points earned (*wins the tie-breaker challenge)
David Wilson 2019 Runner Up, 6 points earned

Top team overall – with combination of best times and zone completion (not all zones were timed), Dusit Thani "Commit" – 1H 17M 43S (01:17:43), second place GRMC 2 – 1H 21M 06S (01:21:06), third place MICROPAC 1 – 1H 22M 41S. In order to qualify for placement, teams must have completed all six zones and earned a point. See list below for additional ranking results.
Executive Summary:
ZONE 1: 5K RELAY / RALLY RACE
K11 – KONQER GUAM opened with a festive 5K zombie relay rally which included for the first time, a FREE TO THE PUBLIC entry to the morning race. Registered competitive teams took full advantage of the 'relay' format to save their strength for the rest of the day, while all others ran the 5K loop.
Unlike any other OCR event held so far, this year's race required teams and individuals to earn "POINTS" at each of the 6 zones. Points were earned by successfully completing each zone's mission. Some zones had expiration times, while others were purely a completion exercise.
For competitive teams, finishing the 5K relay in 40 minutes or less earned them a point. Failure to finish before the expiration time, gave them an automatic 41 minute time and they did not earn a point. Teams who did not field the required 5 member per team had to complete additional loops too make up the difference (5 loops were required in all). If a team had more than 5 on their team, the odd members paired up and ran along side so that 5 loops could be completed.
In the ENDURO (mixed gender) category, this year's competition fielded two names – Dave Wilson and Billy Navarete, both have competed in previous KONQER events. To take advantage of the pairing, it was decided that the two competition would take on the course in a SPRINTS format. This meant they would go one-on-one, with the first to finish the zone mission, taking on one point. First to 6 points would win. In case of a tie, a tie-breaker mission would be agreed upon to determine the winner.
Close throughout every loop, Navarete would edge out Wilson in the 5K sprints with a time of 00:21:36.7 vs. Wilson's performance of 00:21:44.3. 1 point Billy.
ZONE 2: KILL ZOMBIES
Teams lined up in one of either fields to take out some zombies. Teams had to collect 3 KILL FLAGS for each member to complete the zone and earn a point. Time was restricted to a 3 minute round. Each round included two teams of zombies vs. one team of humans (team chose randomly which 'zombie or human' they would enter the field as). If the zombie team could retain one flag for each member (each member were given 3 flags), then they would succeed the mission, and reenter the zone as default human. Those who failed to have have at least 1 flag each as a zombie, would remain a zombie and could not advance forward. By far, this zone was the most exciting high-paced part of the event, with plenty of heckling and cheering!
Enduro Dave Wilson earns his first point by grabbing a three flags worn by Billy Navarrette. The two enduros entered the field and similar to Roman gladiators, the two men locked eyes and battled to the end. Wilson as a human trying to get himself three flags, Navarrette the zombie protecting his flags though speed, agility and ninja-like spins. With time running out, Wilson looked like he would lose the zone, but in a last ditch effort, Wilson trapped Navarrette to a corner and grabbed his third flag with mere seconds left on the clock. The crowd went wild with excitement during this bout! 1 point Wilson.
ZONE 3: ZOMBIE POWER CHASE – presented by Steel Athletics
KONQER teamed up with Steel Athletics to showcase a mission that combined, power, speed and endurance. Individuals would hold up weights and dash through a course that included a sprint and leg tire obstacles. The Steel Athletic team (made of husband/wife owners JJ and Francesca Ambrose plus their daughter Juliet), would then chase participants after a delay start. If they tagged you before you crossed the finish line, you were dead and had to complete 10 burpees as a penalty to move out of the zone.
Enduro Wilson edges Navarrette and earns one point.
ZONE 4: CONTAINER CLIMB and CROSSING – presented by APL (American Presidents Line)
Four 20 foot containers was the backdrop of this challenging obstacle that included a rope climb up to the container then leaping across to another container, crossing a 10 foot gap on a cargo net bridge then leap across again towards the finish, a climb down the end of the last 20 foot container. This 100 feet, 10 foot high obstacle was the longest obstacle in the course.
Enduro Dave Wilson (00:00:24.86) narrowly beats Navarette (00:00:28.53) to the end of the 100 feet dash by 4 seconds. Earning 1 point!
Included in Zone 4 was the barrel walk in the Dead Man's Pit. Participants traversed down a rocky descent and carried barrels across 60 feet and back again. Although this was not a timed portion for teams, the enduro combatants were required to complete this obstacle via sprint finish. As both took off the same time for a sprint to the finish dash. Navarrette was first to cross earning him another point.
ZONE 5: POWER & GRIT – TIRE FLIP / ROLL
If speed, agility and endurance were required to earn points through zone 1-4, this time, raw power lifting power was put to the test. Tires weighting close to 200 pounds needed to be flipped forward 50 feet then rolled back to its original position. Teams completed this obstacle together by lifting in unison. Individuals could roll it forward and back if not in competition.
Enduro Wilson's large frame and size gave him the power to smoke this challenge, earning him another point over Navarrette. Wilson 4, Navarrette 2.
ZONE 6: BOSS OBSTACLES – Nina Skills Required
It would seem everything up to now has prepared the brigade to face its last and final zone mission – take on the BOSS OBSTACLES! But wait, this is a zombie themed OCR, so where's the zombies?!
Teams are randomly selected as either zombie or human. Teams enter the field as human holding one flag. Teams that enter as a zombie must take a flag from a human 'respawn' to a human and take on the obstacles. ONLY HUMANS can be on an obstacle, thus, a battle royal frenzy erupts in the last zone as teams and individuals charge at each other trying to secure a flag so that they can get on the obstacle and complete the 6 structures before 1:30 minutes elapses. Safety areas allow humans to get breather, while zombies sniffing an easy kill surround humans taking a break, waiting for them to step off (they are only allowed 10 seconds on safety areas).
Enduro Billy Navarrette must win this zone as it is worth 2 points. Winning this zone means he will tie up the score board with Wilson and force a tie-breaker challenge. The field is cleared so that the two men can go at it without any interference. The whistle is blown and they are off to the obstacles. Wilson takes an early lead on the incline nets called the WEB CRAWL (#1). Sensing urgency, Navarrette turns on his inner Ninja powers and flips off the nets and takes a lead on the course. The key is to get to the fifth obstacle first as that is the only obstacle in the field where two people cannot attempt it at the same time. Getting in front is critical to win. Both Enduros launch over the infamous WARPED WALL (#1) then off to the ROOF TOP (#3). At this point both men are relatively within each other's striking distance. As they both arrive at FIRE MAN (#4) Navarrette has a 3 second lead of Wilson who is not too far away and keep uttering to himself "COME BACK HERE" towards Billy to motivate himself. As predicted, the one that hits the TIRE SWING (#5) first will most likely win the race (unless he falls off and has to go to back and start again). Navarrette is first on the Tire Swings and manages through, with Wilson right behind him. After both struggle with this simple but evil obstacle, Navarrette successfully crosses and heads to the last obstacle The UP & OVER (#6) and sprints to the finish line and taps the bell. 2 points Navarrette. TIED SCORE!
ENDURO TIE-BREAKER
After both are given time to recuperate their energy, it is decided that the tie-breaker would be a mad dash from a starting point, to obstacle #2 (Warped Wall) and a sprint towards the finish line. The distance is about 100 yards from start to finish. Both men are tired, both men know each other's advantage over the other. They line up to break the tie … the whistle blows and both are neck-to-neck with each other. Both hit the Warped Wall at the same time. Both get successfully get on the top at the same time. BUT, on the decent, Navarrette pulls out a move he hasn't shown before – his parkour instincts kicks in has he fearlessly leaps off the 15 foot structure in two swift moves and lands perfectly (despite a surprised zombie sitting on the deck below him) on the ground with a roll, and sprints towards the finish line for the win! Navarrette 7 – Wilson 6.
Presented by : THE BANK OF GUAM, APL, GVB and COORS LIGHT GUAM
Sponsored by: IT&E GUAM, GOPRO (F&M Distributors), TRI-VISION, THE GUAM DAILY POST, VANTAGE ADVERTISING, DR SAFETY, FIESTA GUAM RESORT, NISSAN RENT A CAR, McDONALD'S OF GUAM, MID-PAC FAR-EAST, PARADISE AWNINGS, BENSON'S HARDWARE and DEPARTMENT OF PARKS AND RECREATION.
Special thanks to: ROIL SOIL, TRIBE MARIANAS, APS, THE RAY GIBSON SHOW, ISLAND CAR RENTAL SAIPAN, MATAKOS FOOD TRUCK, BONGDOZA'S FOOD TRUCK AND SUBZERO SHAVED ICE.
TOP 25 –  5K BUSINESS TEAM FINISHERS (ZONE 1)
MICROPAC 1 – 00:32:26.02

GRMC 2 – 00:33:56.06

Dusit Thani COMMIT – 00:35:31.25 

MICROPAC 2 – 00:37:53.02

B&G PACIFIC 2 – 00:38:36.44

GTA 2 – 00:38:51.18

GTA 1 – 00:38:54.75

B&G PACIFIC 1 – 00:39:14.98

Dusit Thani CAN DO – 00:39:53.70

GRMC 1 – 00:40:44.49

ASC TRUST 1 – 00:40:56.15

BANKPACIFIC – 00:41:00.00

IT&E – 00:41:00.00

PACIFIC PEST CONTROL

GSPN – 00:41:00.00

ASC TRUST 2 – 00:42:14.72

HYATT – 00:43:41.32

BANK OF GUAM 1 – 00:43:52.82

DRP – 00:44:19.28

DOCOMO PACIFIC -00:44:34.74

MORRICO 1 – 00:45:43.23

MORRICO 2 -00:47:01.69

DR SAFETY 1 – 00:47:32.32

BANK OF GUAM 2 – 00:48:27.44

DR SAFETY 2 – 00:54:41.09
Green= complete in 40 minutes
Red = did not complete in 40 minutes or less
TOP 25 POINTS EARNERS
B&G PACIFIC 1 – 6
B&G PACIFIC 2 – 6
Dusit Thani CAN DO -6
Dusit Thani COMMIT – 6
GRMC 2 -6
MICROPAC 1 -6
MICROPAC 2 -6
ASC TRUST 2 – 5
BANK OF GUAM 1 -5
BANK OF GUAM 2 -5
BANKPACIFIC -5
DOCOMO -5
DR SAFETY 1 -5
DR SAFETY 2 -5
GRMC 1 -5
GTA 1 -5
GTA 2 -5
HYATT -5
IT&E -5
MORRICO 1 -5
MORRICO 2 -5
PACIFIC PEST CONTRAOL 2 -5
ASC TRUST 1 – 4
DPR -4
GSPN -4
TOP 10 OCR (ZONE #6) FINISHERS
ASC TRUST – 00:37:22.18
DR SAFETY 2 – 00:39:21.12
BANK OF GUAM 2 – 00:40:25.03
BANK OF GUAM 1 – 00:40:43.22
IT&E – 00:41:25.18
Dusit Thani COMMIT – 00:42:12.32
DR SAFETY 1 -00:46:25.73
GRMC 2 – 00:47:10.59
GRMC 1 – 00:47:22.14
MICROPAC 1 – 00:50:15.22