A little late, but still important. The league officially released the 2018 IIAAG Boys Soccer All-Island highlighted by Harvest Eagle defender Ethan Elwell taking MVP honors.
MVP
Ethan Elwell (HCA)
GK First Team
Allan Aranas (JFK)
GK Second Team
Saena San Nicolas (SPCS)
GK Honorable Mention
Alexander Stenson (SJS)
Marcus Delrosario (HCA)
Shawn Sablan (FD)
Defense First Team
Ethan Elwell (HCA)
Nichika Fermin (SPCS)
Morgan Mckenna (FD)
Camden Camacho (FD)
Defense Second Team
Cody Maestrocampo (SHS)
Bradly Lubas (JFK)
Emilio Babuata (JFK)
Napu Concepcion (JFK)
Defense Honorable Mention
Noah Bamba (FD)
Jadon Duenas (GH)
Christian Ruder (GW)
Luke Kim (SJS)
Roan Carlos (SSHS)
Erjel Sanchez (SSHS)
Krystopher Martinez (THS)
Martin Iseke (THS)
Masaki Tsuboyama (HCA)
Ryan Root (HCA)
Midfield First Team
Kyle Halehale (FD)
Joshua Bamba (GHS)
Eddie Cho (JFK)
Christian Kido (JFK)
Midfield Second Team
Austin Rioja (SHS)
Micah Hennigan (HCA)
Shawn Paul Martinez (ND)
Michael Lee (SJS)
Midfield Honorable Mention
Joshua Miller (FD)
Matthew Iseke (THS)
Tyler Presto (SPCS)
Phoenix Paul (SPCS)
Logan Concepcion (OHS)
Darin Pascua (OHS)
Kyle Potter (SSHS)
Noah Meuller (JFK)
Alan Thomas (HCA)
Forwards First Team
James Lee (HCA)
Tayler Bonner (JFK)
Forwards Second Team
Joshua Calvo (FD)
Mark Iseke (THS)
Forward Honorable Mention
Jesse Manglona (GW)
Dylan Fegurgur (SHS)
Nainoa Norton (FD)
Johnathan Sevilla (SPCS)
Alex Jimenez (OHS)
Utility
Robert Nui (SJS)

2022 GSPN I MÅS METGOT COMPETITION
2022 GSPN I MÅS METGOT COMPETITION
2022 GSPN I MÅS METGOT COMPETITION
2022 GSPN I MÅS METGOT COMPETITION
2022 GSPN I MÅS METGOT COMPETITION
2022 GSPN I MÅS METGOT COMPETITION
COMING SOON …
GNYFF Championship Saturday
2nd Annual Greg D. Perez Fishing Tournament on Saturday
GML Playoffs
1st Quarter Sports
QUICK HITS
Team Onslaught represented Guam at the National X-Ball League paintball tournament in Sacramento, CA. The squad finished in 3rd place out of 12 teams in the Division 5 category.
Front L-R: Frankie Borja, Robert Delos Reyes
Back L-R: Marvin Reyes, Ericka Camacho, Gavin Santos, Nick Rivera, Nikki Tan, Adrian Mora, Ralph Sgambelluri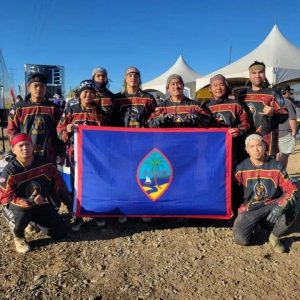 ———————————————–
Purebred Jiu-Jitsu Guam adds three more to their black belt stable. Daniel Cayanan, Cameron Mantanona and Peter Ungacta received their black belts on Saturday from Professor Stephen Roberto.