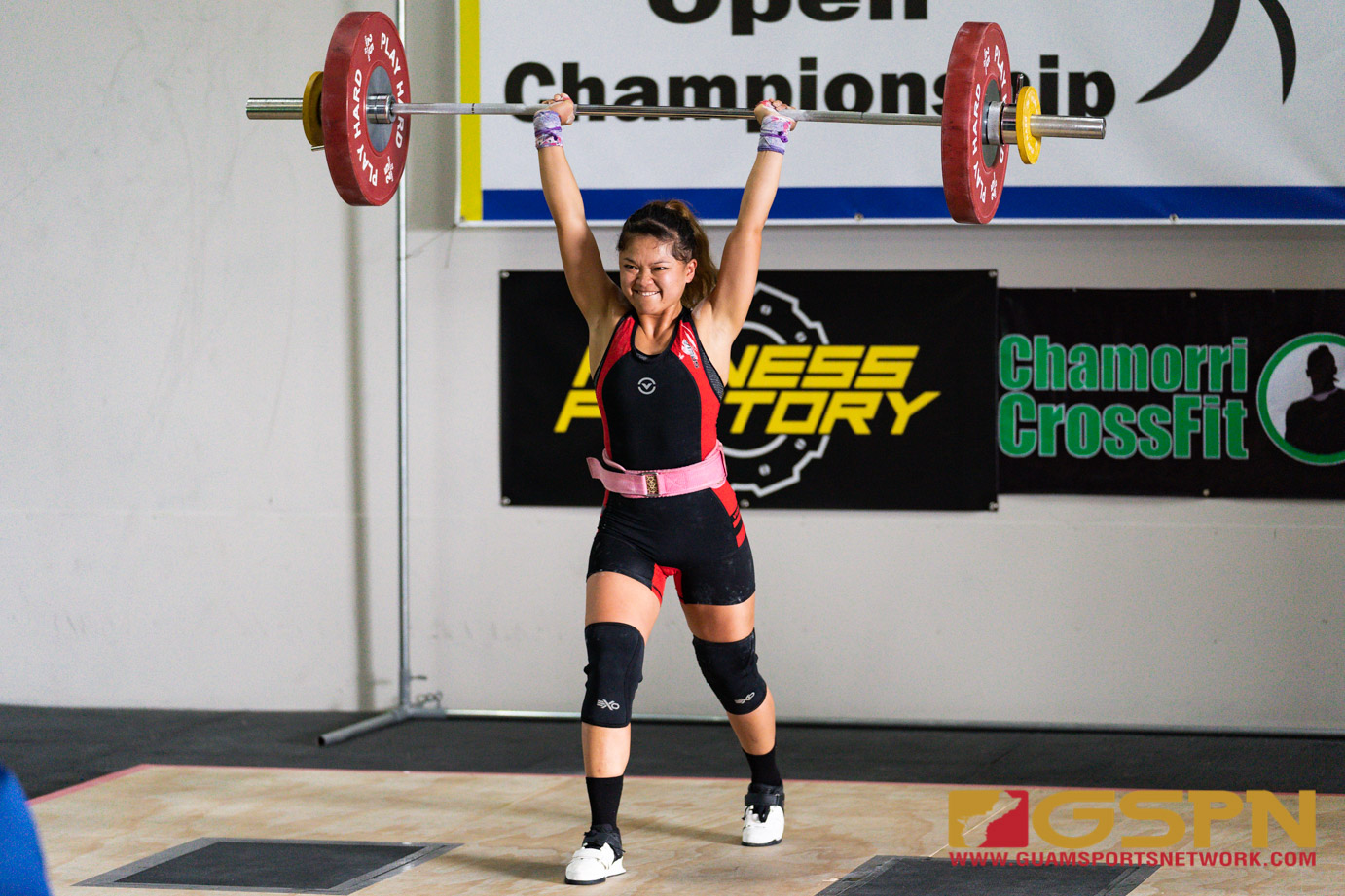 By Jay Leon Guerrero
30 athletes took the spotlight Saturday afternoon to compete in the Guam Weightlifting Open Championships at the Chamorri Crossfit Gym in Tamuning. A total of 18 females took to the floor first after the 9:00am weigh-ins. The competition attracted a wide range of athletes from youth athletes to potential Pacific Games qualifiers.
Jacinta Sumagsaysay, a Guam National record holder in her weight division, also competed in the event with high hopes to qualify for the National Team. Sumagsaysay said that she was pleased with the turnout and the increased interest in the sport, especially amongst females.
"I'm happy with the amount of people who showed up today to the event. The sport is growing and I am also happy with the number of females who came out," said Sumagsaysay.
The number of female competitors was 18, six more than the males at the event.
"The more we showcase the talent Guam has to offer will only make people interested and want to try it out and test their strength," added Sumagsaysay.
Brandon Holm, a participant in the previous Pacific Games in Papua New Guinea, said he is happy with the direction of the sport.
"When I first started weightlifting, we would only have a handful of competitors. Now, we have more who come out including youth weightlifters," said Holm.
Athletes from Saipan also competed in the event. Antonette Labausa, from Saipan Weightlifting, got the crowd cheering after she snatched 68 kilos. "This competition showed the athletes from both Guam and Saipan where they stand. We will all take the experience to show where we need to improve in training," said Sumagsaysay.
The top performers from the event with residency qualifications will qualify for the Pacific Games in Samoa this Summer. Guam National Team head coach Edgar Molinos was at the event and will announce the team after the results have been tabulated.
…FULL RESULTS COMING SOON…
PHOTO GALLERY BROUGHT TO YOU BY:

QUICK HITS
The Figo Islanders 40s women's softball team took gold in the Senior Softball World Championship in Las Vegas. Figo came out of the loser's bracket and beat the Arizona Belles 17-3 in the AA division championship game Sunday afternoon.
Other Guam teams that played in the 40s tournament were: Team SOTTA (women's) and Bud Light Guam, Friars 671 and Sindalun Guahan (men's).
Sindalu finished a respectable 4th out of 24 AAA division teams.