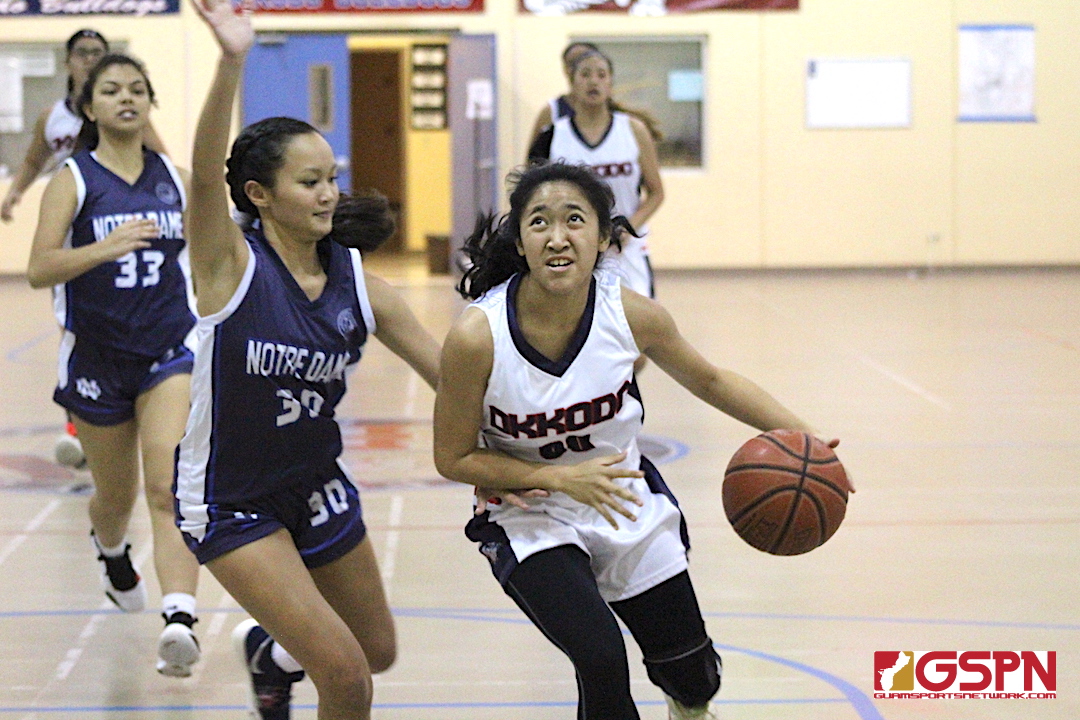 By Brandon Kinsella
The Okkodo Bulldogs picked up a Quarterfinal victory on Saturday night, after defeating the ND Royals 51-34 on their home floor. Strong play by center Angeli Dacanay spurred the Okkodo victory as she finished with a double-double with 16 points and 12 rebounds. Dacanay's efforts helped secure her team a spot in the Semifinal Game to be played against Academy Cougars next week. 
Semifinals
St. Paul vs St. John's
Okkodo vs. Academy
It wasn't until the second quarter that the Bulldogs started to find an offensive rhythm. Only holding a three-point lead after one quarter of action, the Bulldogs began to make some adjustments and good defense would translate into easy buckets in transition. Back-to-back layups by D'Shanae Cruz would be the beginning of a 10-2 run to close out the first half, a run that put Okkodo up 29-13.
After halftime, the Royals looked rejuvenated and attacked the paint early on. After being fouled on a shot attempt in the paint, forward Haley Salas was sent to the line and nailed both free throws. Then, the crafty guard in Nicolette Perez scored three quick points on a free throw and a fast break layup. Salas found another opportunity to score in the paint and this time converted. The 7-0 run to start the second half trimmed the Royals deficit to just nine at 29-20.  
But four quick points by Dacanay, who had already acquired eight points and eight rebounds in the first half, would get the Bulldogs back on track. The points by Dacanay were followed by a three-pointer by Jastine Samson and more of the same from the Bulldogs as they looked to close out the game. Okkodo continued to score at ease the rest of the game, as their full court pressure setup opportunities to score in transition. They would finish the game with a 51-34 victory.
For the Royals, Nicolette Perez finished with 17 points.
Without a doubt, Dacanay's double-double was a key factor in Okkodo's victory, but when asked about how she thought her performance helped her team, Dacanay was higher on the total team effort.
"It's more about how my team helped me perform well, I wouldn't have been able to do this without them."
She closed the interview talking about how it feels to advance to the semis and her hopes to close her senior year with a championship.
"It felt pretty awesome, we're really excited. To prepare for next week, we're going to continue to practice our best, focus on playing our game and playing good defense and hopefully our hard work will get us to the championship. It would be amazing to close out my senior year with a championship." 
PHOTO GALLERY BROUGHT TO YOU BY:
Bulldog D'Shane Cruz gets in the crowded lane for a shot attempt.

Bulldog Angelo Dacanay reads her options after receiving the ball at the top of the key.

ND Royal Nicolette Perez uses a spin move to get free on her way to the rim.

ND Royal's Lauren Phillips looks for an opening to attack.