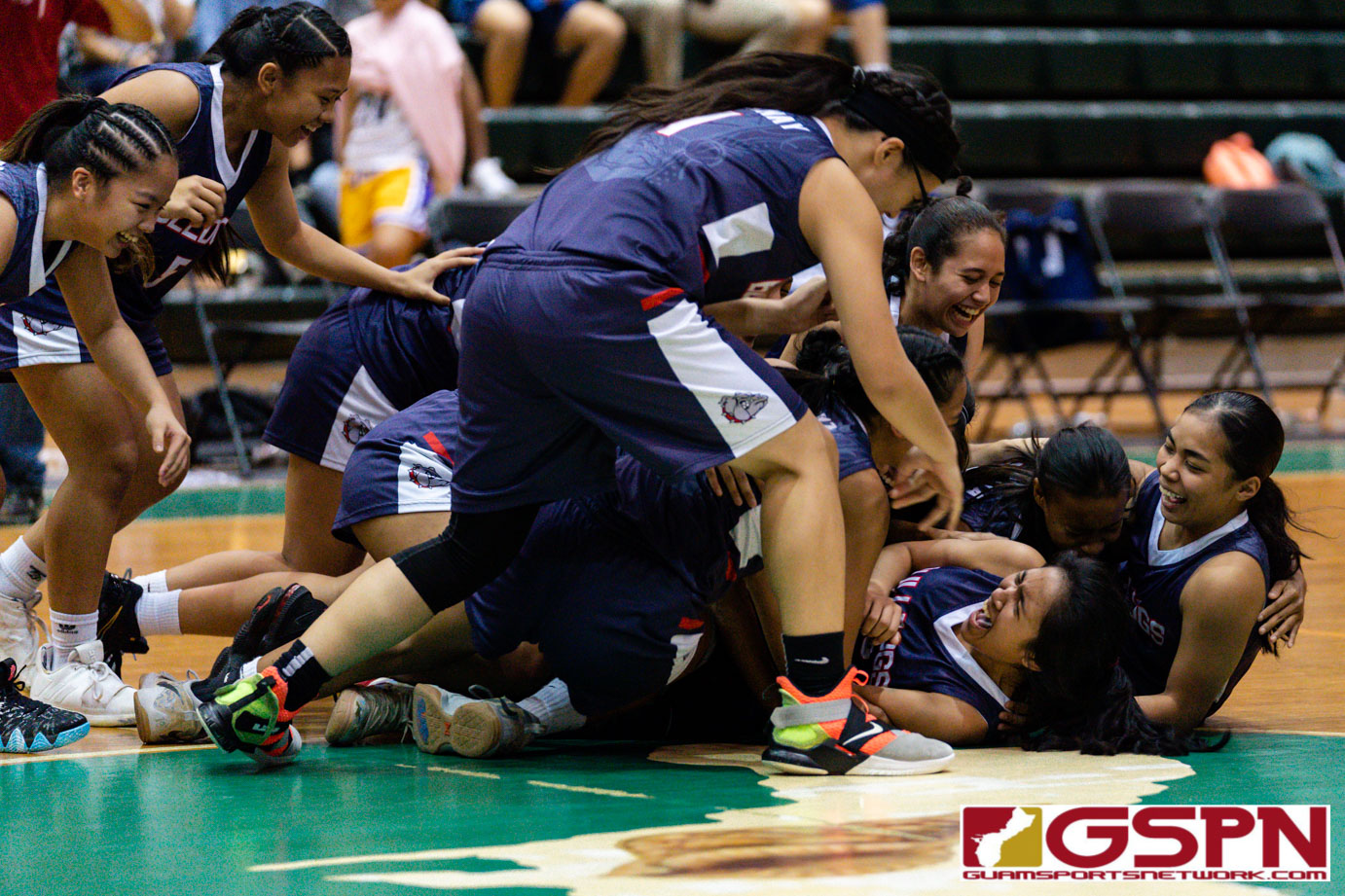 By Robert Balajadia
The Okkodo Bulldogs had to fight tooth and nail to pull out a win in their IIAAG Girls Basketball semifinals game against the Academy Cougars Wednesday evening at the UOG Calvo Field House. Four quarters weren't enough as the contest went into overtime with Okkodo coming out on top 46-39.
Okkodo will meet the St. Paul Warriors in the finals which will mark the third meeting between the two teams this season alone. Both games were decided by just two points as St. Paul won both games in the regular season.
The Bulldogs were led in scoring by center Angeli Dacany and Vanezza Gustilo with nine points. Cougar Oriana Sevilla led all scorers with 15 points.
Frantic ending
Both the Bulldogs and Cougars were given chances to take the lead in the final seconds of the game in regulation.
Okkodo's D'Shane Cruz came up with a big steal on Cougar Maria Taitano and Cruz would get fouled on her way to the basket with 17 seconds left to play. Cruz would miss both free throws and a fight for the rebound went to the Cougars. Academy failed to get a shot up in the closing seconds as Okkodo's perimeter defense held on.
Dacany would net the first bucket early in the overtime and a put back from Amaya Fontanilla moments later had the Bulldogs up 41-37. The Cougars couldn't find any good looks on offense and Gustilo would come up clutch at the free throw line, going 5-of-6 in the extra period to ice the game.
Breakdown
The lead would change hands three times in the opening period with the Cougars taking charge on defense, converting six straight points off turnovers to hold a 12-8 lead. A three from Cruz to end the quarter would prove big for the Bulldogs.
Academy's 20-13 2nd quarter lead was quickly erased as a three pinter from Racquel Camacho capped off a 9-0 run to put the Bulldogs back ahead 22-20. A Cougar steal and score from Myka Joe Terlaje ended the first half with Okkodo up 24-22.
Sevilla would reclaim the lead for the Cougars, hitting a three from the wing to get back up 25-24. Sevilla would hit another corner three to go up 30-27 with the Cougars leading through three quarters.
Sevilla carried the Cougar offense late into the 4th, netting a personal 7-0 run to put the Cougars up 37-36 in the quarter. Bulldog Aryanette Ponce would split her free throws to leave the score knotted at 37 to set up the frantic ending.
The Cougars will play the St. John's Knights in the consolation game Saturday at 5:30 pm and followed by the Bulldogs vs. Warriors.
PHOTO GALLERY BROUGHT TO YOU BY: