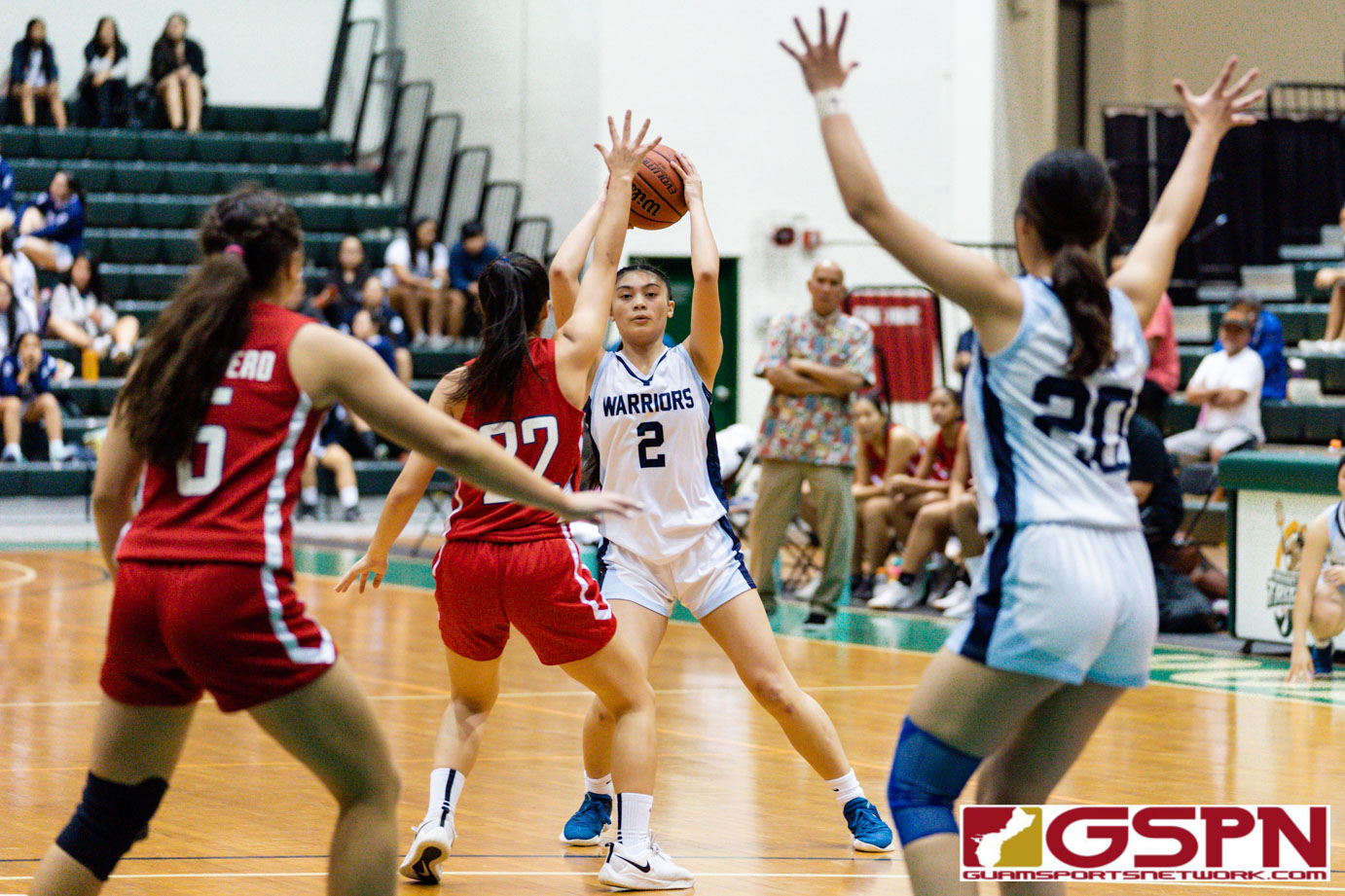 By Robert Balajadia
The St. Paul Warriors are headed back to the IIAAG Girls Basketball Finals after defeating the St. John's Knights 43-34 in the semifinals Wednesday evening at the UOG Calvo Field House.
St. Paul will face the Okkodo Bulldogs in the finals this coming Saturday evening after Okkodo defeated the Academy Cougars 46-39 in the other semifinals game.
It was anything but smooth sailing for the undefeated Warriors with the Knights keeping close all second half. After trailing 23-10 at halftime, St. John's closed the 3rd on a 7-0 run to get within 33-30 to put some pressure on the two-time defending champs.
The Warriors relied on their stars as Jan Quintanilla, who was in foul trouble majority of the half, scored eight of her 12 points in the 4th quarter alone. Quintanilla kicked it in to high gear scoring four straight points on layups off steals to keep her team ahead.
St. John's went cold from the field in the 4th with their only field goal coming in the final minute off a put back from forward Kaia Malakooti.
St. Paul's Kirsten Silva led all scorers with 13 points and Quintanilla added 12. St. John's Palomares had a team-high 12 points and Malakooti added 11 in the loss.
Breakdown
Both teams had to shake off early game nerves with neither team able to put up any points in the first three minutes. The Warriors got a bucket from Kim Santos to get on the board and Monica Giger added four in the quarter to put St. Paul ahead 9-4 after one.
Five different Warriors scored in the 2nd with Silva leading the way as St. Paul sat with a 23-10 halftime lead.
St. John's opened the 3rd with a deep three from Malakooti. Palomares would score six points the quarter with the Knights showing signs of life to get within 33-30. Quintanilla would pick up her third foul early in the quarter which forced her to sit most of the period out.
Jan would break the ice on a scoreless quarter at the midway point, netting a layup in transition. She would follow up with a steal at mid-court that lead to a layup to put the Warriors up 37-31. Late game free throws from Silva and just one made field goals from the Knights all happened in the games final minutes.
PHOTO GALLERY BROUGHT TO YOU BY: