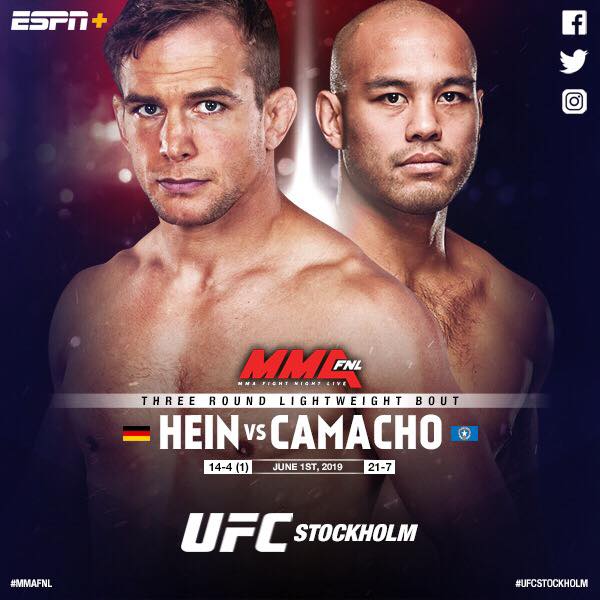 By Patrick Lujan
Happy birthday to Frank 'The Crank' Camacho. Fighting professionally since he was 16-years-old, the husband and father of two boys prepares turns 30 today in the midst of yet another fight camp before his next bout with Nick Hein at UFC Stockholm on June 1st.
We recently got with our webmaster (yes, Frank is GSPN's webmaster) to look back at his career and of course, his upcoming fight.
GSPN: More than eight months since your last battle in the Octagon. How antsy are you to bang again?
FC: You know me man, always hungry and ready for a scrap. Hahah. On the reals though, the eight months have felt amazing. Enjoy time with family and friends, and reassess the next steps in the event I do get another UFC fight.
GSPN: Despite your 1-3 UFC record, they liked you enough to sign another multi-fight contract after your last fight, but at lightweight. How has that changed your fighting approach?
FC: Second chances do not come along often, sometimes they never come at all. It's really a true blessing to be able to fight for the biggest organization for the sport once again and represent our islands. Lightweight always makes me cringe because of previous experiences of missing weight and suffering, but I am at a point in my life where I'm more disciplined than ever, and the support system my wife Sarah provides is phenomenal. Fight approach stays the same, the preparation has definitely changed for the better.
GSPN: Let's face it. Your CHamoru bones makes it difficult to cut weight. You had weight cutting issues in the past where your wife didn't want you fighting at lightweight anymore. What changed?
FC: GOSH DONUTS THE FIESTAS AND PARTIES YAN TODU! lol. Yes, because of the dangerous issues I've had in the past fighting the scale making lightweight have been grueling. The only way we would agree the move back to lightweight was if I showed the desire, discipline, and sacrifice I need to make to get there. I'm a father of two beautiful healthy boys, the last thing I want is to hurt myself even more from poor preparation.
GSPN: The UFC hasn't let you off so easily, giving you some tough opponents so far and the upcoming one is no different. What are your scouting reports say about Nick Hein (14-4)?
FC: Hahah, maybe because us being islanders, we are down to fight and compete with ANYONE at ANYTIME! lol. If you Google Nick Hein, you'll first notice he's built like a tank and most likely hits like one. He's gone to decision a lot which means he's fundamentally sound, doesn't take too much risks, which may be issues to create openings. At the end of the day, I always bring the fight out of anyone. Coach Colin Oyama and I have some stuff we want to show on June 1st!
GSPN: What type of fight do you want the fans to expect?
FC: I always laugh out loud when I hear this question. I stop giving super orchestrated game plans of how I see my fights go, because of my island fighting style, I keep it simple. I'm gonna go in there and see what you got!
GSPN: It's birthday week for you, turning the big 3-0. Father of two sons now. You've been doing this fight thing for almost half your life. What would you tell the 16-year-old Frank Camacho before his first fight versus Bernie Neth in November 2005?
FC: DANG Totally forgot about that. Now I'm getting mahalang being away from home and family. BTW this is such a great question. That's why you guys at GSPN are badass! lol. 1st I would tell 16 year old Frank Camacho the winning numbers to the lotto, and then, I would tell him to enjoy every moment of everything the way I have all my life. Of course it's about reaching your goals, but the relationships you make with people, the friends you make, the hardships of the process…. Enjoy every second of it! Be good to people. Never forget your roots. And represent yourself and your island to the best of your ability!
GSPN: You're in California now in training camp. What's your plans from now until Stockholm?
FC: Earlier this year and early on this fight camp we have been forging the steel of the sword. From now, until Stockholm, we are sharpening the blade!
Happy birfday CRANK! Time to #CRANKITUP.

COMING SOON …
High School Football starts Sept. 29
Brawl 3: Oct 13
Guam's Strongest Man and Woman Competition October 29
QUICK HITS
The Figo Islanders 40s women's softball team took gold in the Senior Softball World Championship in Las Vegas. Figo came out of the loser's bracket and beat the Arizona Belles 17-3 in the AA division championship game Sunday afternoon.
Other Guam teams that played in the 40s tournament were: Team SOTTA (women's) and Bud Light Guam, Friars 671 and Sindalun Guahan (men's).
Sindalu finished a respectable 4th out of 24 AAA division teams.