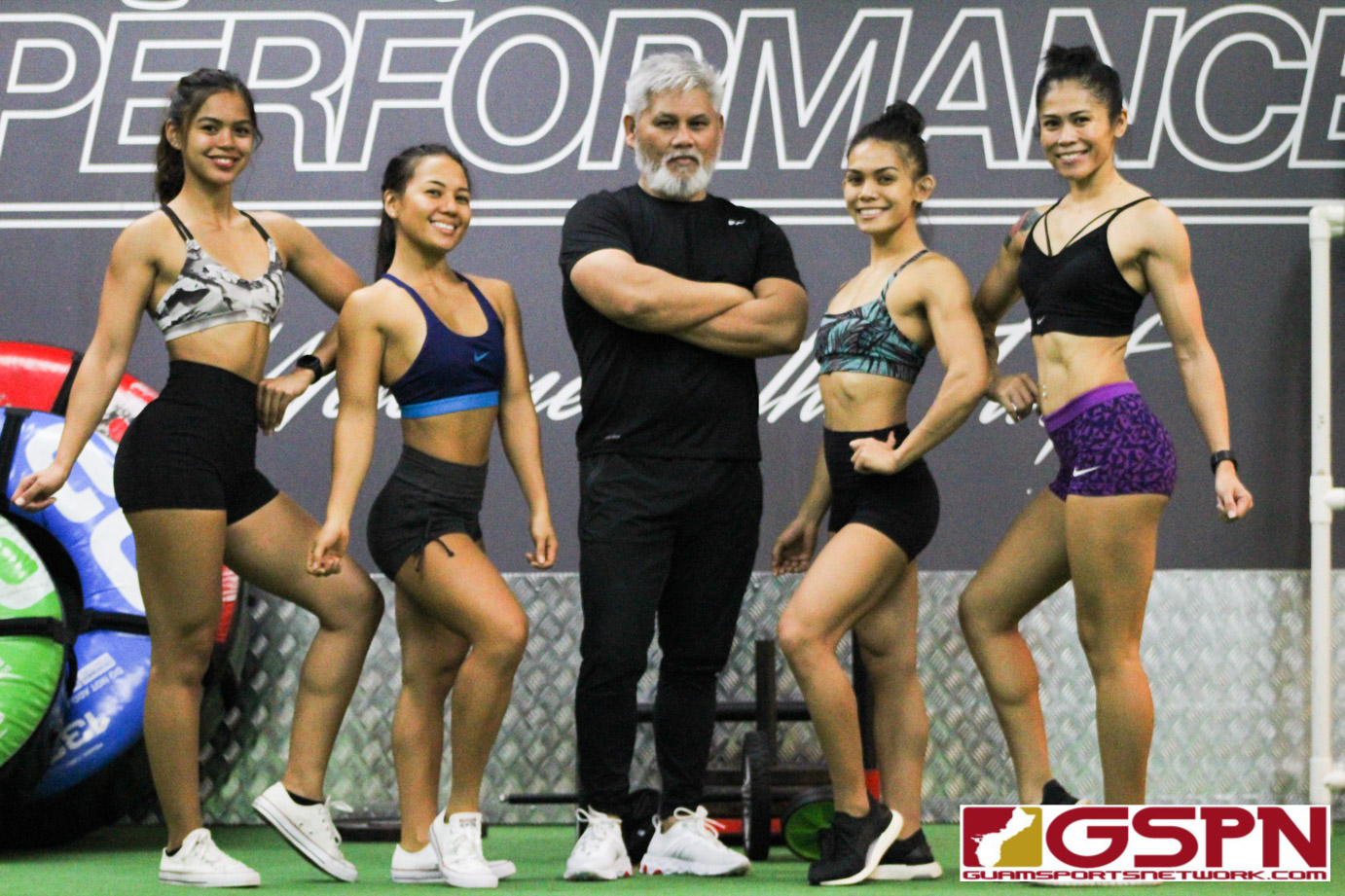 By Robert Balajadia
Steve Oshiro's long history of playing sports ignited his love of strength training, which in turn built the foundation for his career as a personal trainer for over 20 years. When it comes to building the body right, many high profile athletes turn to Oshiro year round, which has become a natural selection from organic growth.
So, it's to no surprise that Oshiro has become a household name in the Guam Bodybuilding scene, not only as a former competitor and committee member, but a successful coach as well. Oshiro has coached up over 10 gold medal winning champions* [info below] and continues to help shape competition hopefuls year round.
"I'm not going to take all the credit for it, but I know how to keep people on path and work with their personality. This is a lonely sport and once you commit, you kind of isolate yourselves so there's a big mental aspect involved. I think I have a good rapport with the athletes and I've never been a coach that leads by the whip, I'm more the type that leads by the carrot. I set small milestones for them, and the next thing you know, they're looking great and they become even more committed to the plan," said Oshiro on his approach and why athletes often trust in his process.
With Guam averaging at least one bodybuilding event each year, the Fall season for Oshiro often becomes quite busy, especially the closer the competition date gets. Oshiro has to fit in group training with all his athletes during the final week while trying to get everything ready for the show floor since he's part of the Guam Bodybuilding Organization.
Steve has become adept at training female competitors, though he admitted training and coaching male bodybuilders is an area he hopes to get more chances at.
'Steve's Angels'
This year, Steve was sought after by five different ladies set to train to compete in the 2019 NPC Bodybuilding Championships this weekend and he's somehow managed to find the time to cater to each of their specific needs. Building five different workouts, nutritional focus and routines was no easy task, but the girls are hitting the final week before the show in stride.
"I've been watching them week-to-week and they check in with me at least three times a week. They do get their own workouts in too and I'm just making sure they're covering their weak areas. Even their nutrition is different. Someone like Jeralyn is the smallest of the group, but she eats the most," said Oshiro on the task of training the five ladies.
Returning bikini champion from 2018 in Jeralyn Mesa has stuck with Oshiro since her debut last year and returning competitors Mar O'Conner and Ava Ramos have also returned to the competition stage, but this time to train with Steve. First time competitors Muñeka Taisipic and Ha'ane Keele both requested for Oshiro's assistance even though all five girls knew that some of them may be competing against each other after the weight classes are officially established.
(not pictured: Ava Ramos)
Instead of a sibling rivalry, the girls have become a rather close knit group as they often do pose training with each other under coach Tiara Lizama and are akin to spending their free time and gym time together. The group has even dubbed the title 'Steve's Angels' on social media, a play on the classic 70's hit TV show 'Charlie's Angels'.
"They've gelled and I'm happy about that. They're already planning their own little after competition party. But these girls have their own posing practices without [Lizama], they do cardio together and they all sometimes just meet each other on their own," said Oshiro.
The final week before the show is known as 'peak week' which has forced Oshiro to have the girls all train together aside from their normal individual workout sessions. Their 'peak week' training started Monday morning and they've been hitting the gym all week in roughly two-hour sessions.
"These type of workouts during peak week is to expend all their glycogen so that when we give them a big refeed closer to the show, they'll really fill out and their muscles will get tight and as it pulls the water from underneath their skin," said Steve.
Never gets old
Along with being their coach, Oshiro is also often his athlete's biggest fans. Oshiro will post workout sessions on social media daily along with encouraging messages to shine more spotlight on what the athletes are trying to accomplish. And even after 20 years, seeing his athletes shine never gets old.
"It feels new all the time," admitted Oshiro on seeing his athletes achieve their goals. "I put my all into this, even with my other athletes, I'm living vicariously through them and I want them to do well. The more people that I'm able to help, the more the sport grows. We had myself and the late Tony Morrison the only ones helping train [bodybuilders], but now we're seeing those who used to work with us also helping others and we're seeing it spreading. With that, the knowledge is spreading and the quality of athletes are getting better and we're only seeing this sport develop."
Oshiro's History
Oshiro competed in his first bodybuilding event in 1986 at age 17
Won gold in three different classes bantam, light and welterweight
Has been working with athletes in physique and other sports in 2000
*Notable champions coached under Oshiro include Flo Burke (women's), Kevin Leon Guerrero (bodybuilding), Desiree Eay (figure), Robert Lizama (bodybuilding), April Cain (figure), Miriam Howard (figure), Jeralyn Mesa (bikini), Shannon Wong (bikini)
PHOTO GALLERY BROUGHT TO YOU BY:

QUICK HITS
The Figo Islanders 40s women's softball team took gold in the Senior Softball World Championship in Las Vegas. Figo came out of the loser's bracket and beat the Arizona Belles 17-3 in the AA division championship game Sunday afternoon.
Other Guam teams that played in the 40s tournament were: Team SOTTA (women's) and Bud Light Guam, Friars 671 and Sindalun Guahan (men's).
Sindalu finished a respectable 4th out of 24 AAA division teams.