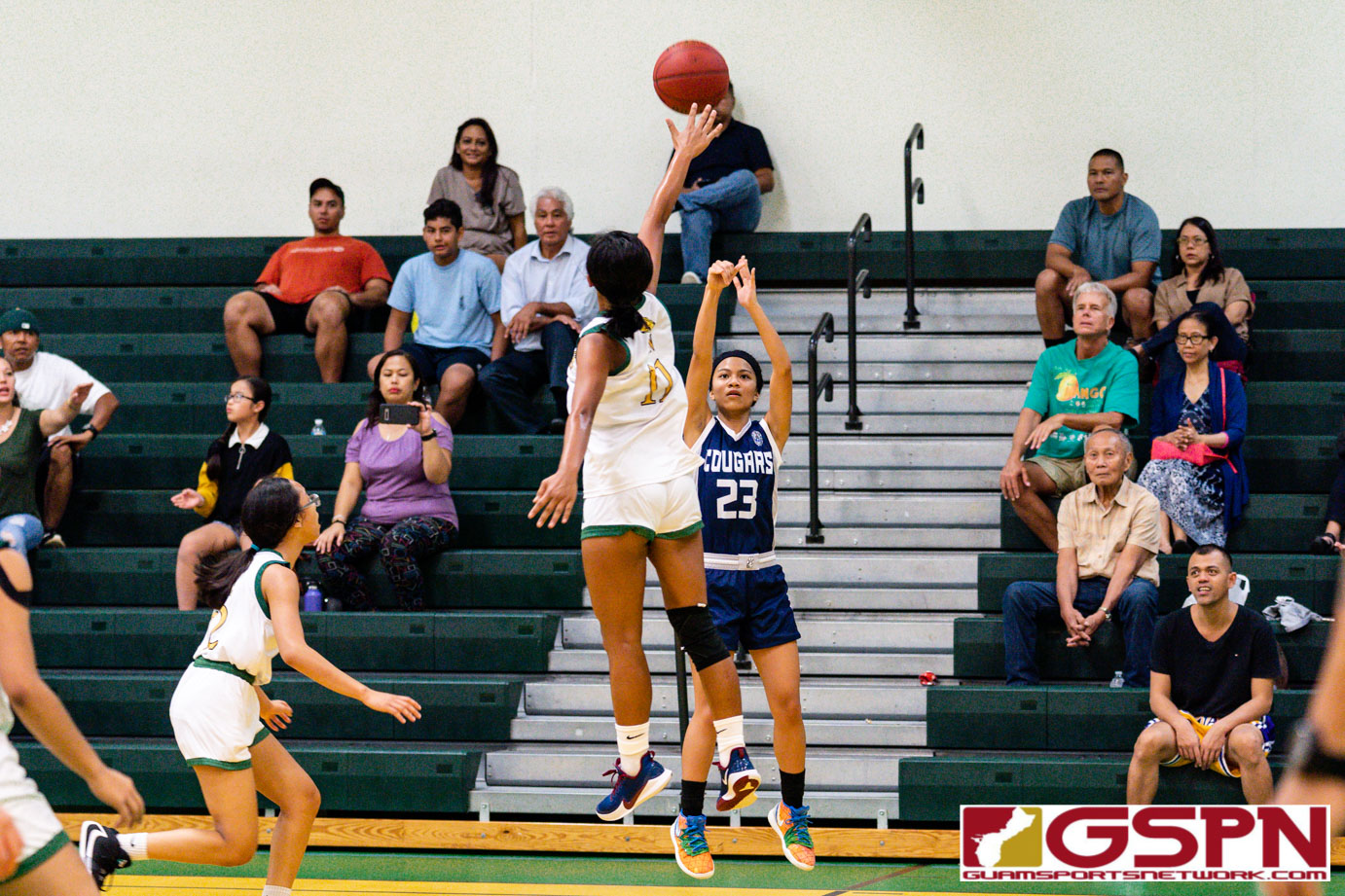 By Robert Balajadia
The Academy Cougars were much in the clutch against the home team JFK Islanders, stealing the victory 35-31 in a tightly contested IIAAG Girls Basketball Tuesday evening matchup. Cougar Oriana Sevilla poured in a game-high 15 points, including three three-pointers , for the visiting Cougars.
JFK struggled from the free throw line shooting 8-of-26 on the night. Islander Frencine Villena would lead the team in scoring with 11 points.
The Cougars put together a strong rally in the 2nd quarter down 16-8 midway through, ending the period on a last second three-point shot from Sevilla, her third of the quarter, to steal the lead heading into the half 19-18. Taking back the lead was an important play for Academy after the girls never put their heads down and continued to fight.
"JFK's defense played us pretty good and I think that's why we struggled at first. But after a few timeouts we knew that we had to wake up," said Sevilla on the 2nd quarter spurt.
Down 21-19 in the 3rd, Cougars point-guard Cori-Nicole 'Coco' Paulino would energize the team with a pair of big plays, hitting teammate Madison Borja for an easy two points followed by a bucket of her own from the right wing to take the lead back 23-21. Academy would regain the lead off a bucket from Myka Taitano 27-25 to head into the final quarter.
JFK would grab the lead back in the 4th quarter on a steal and score from Jada Han, but Taitano would answer with her own strip and score for the Cougars to knot the score at 29 as the games intensity started to ramp up.
"Coach always tells us that it's always about trusting each other and to put trust in each other the whole way," said Terlaje on how the Cougars managed to keep cool in the intense moments.
A floater from Paulino with two minutes left to play would give the Cougars a 31-29 advantage. JFK would struggle to get good looks in the late game and the Cougars would respond in transition with back-to-back buckets from Terlaje, courtesy of Taitano, to give the Academy the late game advantage 35-30 with 10 ticks left.
"Communication is key for us. We weren't communicating well in the beginning, but that's definitely what got us back in the game," said Terlaje on their late-game positioning.
The Cougars would play keep away in the final stages to secure the win.
PHOTO GALLERY BROUGHT TO YOU BY: